Paris is always a good idea!–Audrey Hepburn
When my girlfriend and I were planning our wine trip to Burgundy, I jumped at the chance to spend extra days in the City of Light, Paris! It's such a lovely city and I was itching to try a few restaurants.  Luckily she is the adventuresome sort and instantly and emphatically agreed.  Thus hatched our plan for Three Days in Paris–to eat and drink our way through Paris and explore sights lingering on our respective lists. We spent the entire trip searching for our next glass of Champagne and had a glorious time!
In this three-part series, I'd like to share our Three-Day adventure with you because, as Audrey Hepburn said, Paris is *always* a good idea!
Day One
Paris is a moveable feast–E. Hemingway
We arrive in Paris only to be stuck in the Immigration line from Hell.  When an attendant suddenly went on break, there was a revolt in the EU immigration line a la Germinal…the wave of complaints began as a wave in the background–barely noticable…but then it grew in velocity to such a degree it was roaring… That is how slow this immigration line was!! But no fear–our trusty Private Driver was patiently waiting for us! (For more on why I recommend a private driver, click here.)  Never have I been so happy to see a driver…and leave an airport!!!
Our driver took us to my favorite boutique hotel (only 28 rooms) in St. Germain (6th arr.) right near St. Sulpice, the Hotel Esprit St Germain.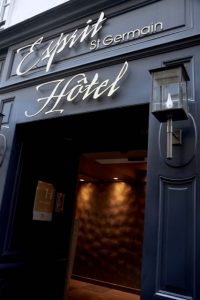 The Esprit sits in a charming location–I think the best in Paris if you like the old-style neighborhoods (which I do!).  While we waited for our rooms to be ready (we had early check-in–one of the perks I offer my clients), we enjoyed coffee and tea by the fire and then, of course, a glass of champagne.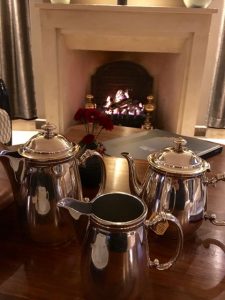 Our suite was just lovely! It offered a private living space with a sliding door, two bathrooms (perfect for two ladies to get ready for dinner), and a very large closet.  The king bed was split apart into two twin beds with the end table moved between them.
The charming view made me squeal with delight–we are in Paris!! I opened the windows to hear the bustle of the neighborhood and the church bells–I just love church bells!  We clinked our champagne glasses together in a toast–To Paris!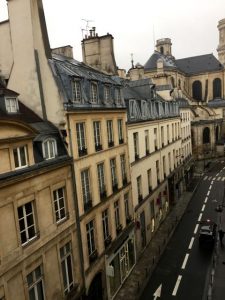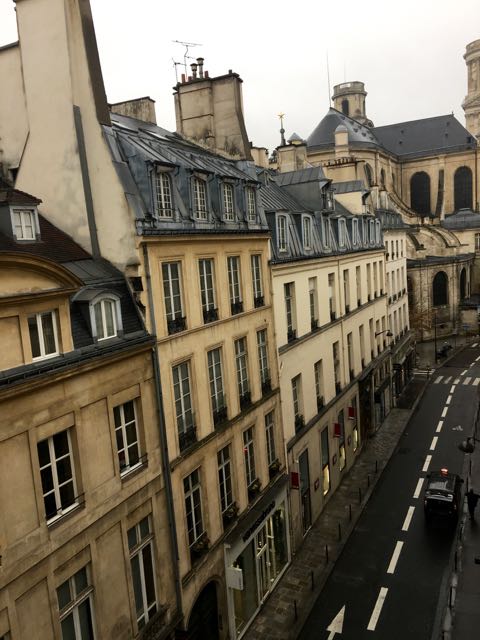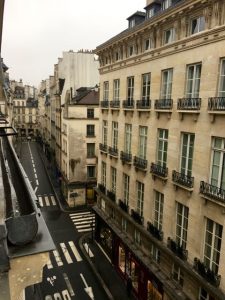 The complimentary mini-bar contained sparkling and still water, and the honor bar in the lobby was well stocked with wine, champagne (yay), and spirits.
Our Virtuoso Amenities include breakfast for two daily (they will make eggs upon request), an upgrade upon arrival if available, and a special wine and cheese plate served whenever you like.  My clients receive VIP status and early check-in and late check-out if available.
The hotel staff and concierge were great to work with! Their expert concierge always gets my clients (and me!!!) the best tables at the best restaurants and the best seats in the house for artistic performances. They are polite, friendly, and super helpful!
We had 12:30 lunch reservations at Guy Savoy's Les Bouquinistes, which was a short walk away. The hotel concierge gave us detailed walking directions and upon our request, directed us through the most charming streets of the neighborhood.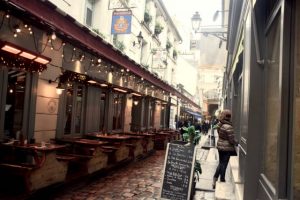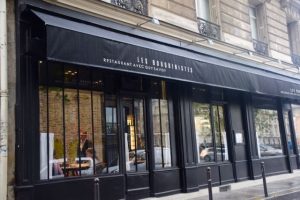 The restaurant sits across the street from the Seine and luckily, we had a table next to the window!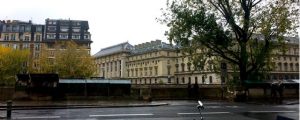 We began with a glass of Champagne (of course) and toasted to a fabulous trip (again)! Being that our mission was to eat and drink our way through Paris, we ordered the tasting menu.  The courses were creatively prepared and the atmosphere very modern.  It was the perfect site for our first lunch!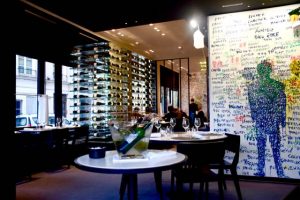 After a short nap (a must on that first day), we made our way to L'Atelier Joel Robuchon.  We had what seemed like an uncivilized dining time of 6:30pm. Robuchon has one seating for their tasting menu–at 6:30.  Afterwards, the restaurant is walk-in only with no tasting menu option.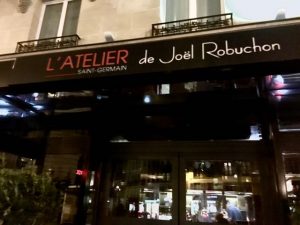 Just Wow! What a production!!! We sat along the bar area, which formed a giant U shape with the kitchen in the middle.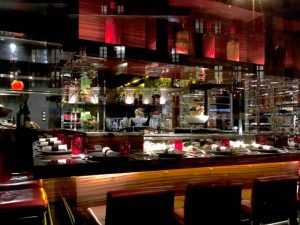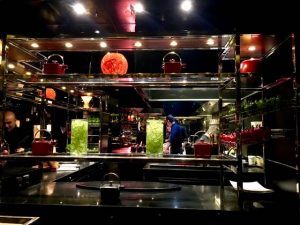 It was hustle and bustle and the courses came out in perfect time.  Good golley it was delicious–and pretty!!!  It was one of the best meals I had in Paris–perhaps ever.
Here food is truly art!
How beautiful is that??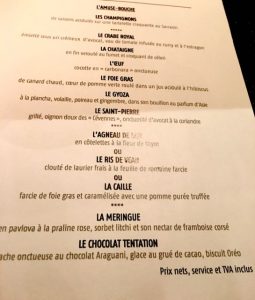 Our only speed bump was the somm never appeared (although we had assurances he would come). Our questions regarding pairing options from our server seemed a bit…boilerplate.  A couple of pairings were off.  I sent one glass back because of a mis-match with the wine profile explained to us, which spurred our server to send over someone more knowledgeable. (Yes, I was *that* person, but remember, *I* am the picky one so I know how they'll treat my people if this type of thing arises)  After we had a dedicated wine person, it was smooth sailing and we were deliriously happy!  Looking back, we should have simply chosen our own pairings and asked to split a glass of each selection (we did not know that was possible).  That said–I would go back in a heartbeat–even to dine at 6:30pm!!!
What a food experience!!!
My friend and I taxied back to the hotel and immediately fell into a happy wine-and-food fueled sleep.
Now on to Day Two!