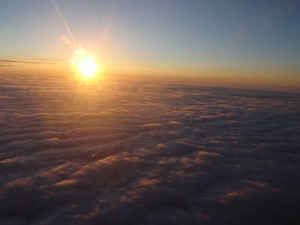 The countdown for Santa has begun.  As your destination Christmas looms closer, it's time to plan ahead for your traveling strategy—yes, strategy.  Holiday travels need strategy.  The week of Christmas is THE busiest travel week of the year and airports are crowded and crazy!
It's the beginning of December, if you have not purchased your flights and hotels, you will expect to pay more for flights – the average daily increase in the days between Thanksgiving and Christmas for flights is $5 per day.  Remember, the more seats sold on a plane, the higher the fare.  If the flight you want is close to full, it could cost you hundreds…yes hundreds more.  You are also increasing your risk of sold out flights to your destination…….so raise your right hand and repeat after me
 I, (state your name), promise to plan ahead for holiday travel this year.  I promise to book my air six to eight months in advance and use my savings for wine and chocolate.  #justsayin
(1) Get to the airport early.  Repeat – get to the airport early!!!  Plan to arrive an hour and a half before departure for domestic flights and two to three hours before departure for international flights.  It's not just about getting through security in the nick of time, it's also about comfort and easing your stress levels.  The minimum check in time for domestic flights is 30 minutes and 60 minutes for international travel.  This means that if you have not made it through the line to check in for your flight 30 minutes before your flight leaves, your seat will be given away.  Some airports also have minimum baggage acceptance times of 40 to 45 minutes (60 minutes internationally).  If you do not check your bags within that time frame, you will not be taking your bag on your flight.
(2) Get to your gate early.  I cannot stress this enough.  Nothing is worse than waiting an hour at your gate standing up.  Some carriers also close boarding ten to fifteen minutes before departure – don't cut it too close.
(3) Bring a book, a magazine and a deck of cards.  Sometimes a change of pace will keep bored minds at bay.
(4) Plan ahead for your gifts.  If you are bringing gifts with you, be sure to keep them unwrapped as TSA will require you to unwrap them at the airport.  Consider shipping your gifts to your destination ahead of time.  Remember, putting expensive items in your checked luggage is never a good idea.
(5) Be mindful of the weight and bulkiness of your carryon.  Even if your carryon is the correct size to go into the overhead bins, if the bag is overweight, the flight attendants may require you to gate check it.  Also, heavy bags in the overhead bins can hurt other passengers as you put them up or take them down.  Don't risk ruining your holiday because of a slipped disc because you had to bring every shoe in your closet.
(6) Connect smart – be sure to use the flight displays to get up to date gate departure information (departure gates do change from time to time).  Consider waiting until you get near your gate to do any airport shopping, noshing , drinking or restroom breaks.
(7) Snacks.  Bring non-liquid snacks with you in your bag to mitigate airport munchies and keep you out of the long holiday-season restaurant lines.
(8) And lastly, remember your holiday spirit.  Smile, wish your check-in agents, gate agents, and flight crew a happy holiday…..they may need to hear it and it does wonders for the heart!