Multi-generational vacations are a great way for families to reconnect!  Every other year my family has a destination Christmas extravaganza.  We rent a home somewhere warm, plan dinner nights, happy hours, pool time, and lots and lots of fun.  It's nice to catch up….and most importantly, to build new memories.  Since we share a home for a full week, prior planning is an important element to break up the monotony and keep the television and internet time to a minimum—after all, we are there to connect with each other not to the world. 
I've spoken in the past about scavenger hunts and other activities.  You can read about those here. Here are a few activities we enjoyed on this year's vacation. 
Minute to Win It.  This zany Olympic type competition is a family favorite.  Modeled after the Game Show with the same name, this series of wacky activities are all done in one minute.  How many teddy grahams can one move from their forehead to their mouth, how many drink cans is one able to knock down with a yo-yo tied to their backside, how many jingle bells can one hop out of a Kleenex box tied behind your back….all in one minute.  Our family has a traveling trophy (a giant Santa M&M dispenser).  We ask each person (or couple) to bring one Minute to Win It game for our Olympics.  The favorite this year was the Marshmallow Move, the Jingle Bell Hop, and the Reindeer Games Antler Race.  One can simply google Minute to Win It games for ideas—or even create your own.
Chopped Ginger Bread Edition.  This fun activity came as a move of desperation to keep my dad from shutting us out of the more crafty competitions (stocking contests, ugly sweater contests)….he always has the ringer and we needed to dig deep and get creative.  Each person was asked to bring an item to decorate a gingerbread house—enough for four teams.  We purchased graham crackers and royal icing (from a local cake shop) and put the Chopped Boxes together.  We drew for teams.  Each team had a box of items they must use to decorate their homes—they did not have to use all of each item, but each item must be included.  The homes were peer judged on (1) creativity and (2) presentation (think real estate presentation).  We had forty minutes to complete our homes.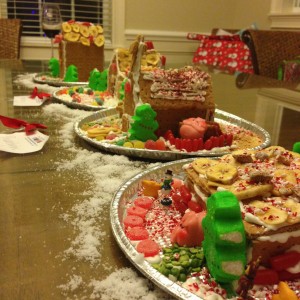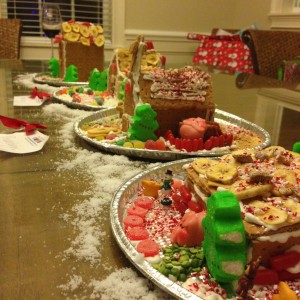 Pub/Café Crawl.  This new activity was a riot!  Chickadee created a Pub Crawl bingo card with activities, drinks, and double dog dares for us to participate in to get a prize.  We walked together from pub/cafe to pub/cafe ordering one drink item and choosing our bingo square dare.  Since we were on Anna Maria Island, our pubs and cafes were walk-able and we utilized the trolley where the distance was a bit farther.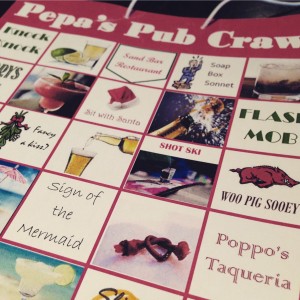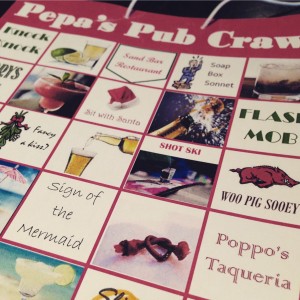 Movie Exchange.  This is another family favorite!  On Christmas Eve, we have an annual movie exchange.  Some years we have a theme (this year's was best villain) and some years we leave it completely up to chance.  Movies are in gift bags (we use shoe boxes when we are not traveling) with movie treats along with the movie.  We draw for numbers for our turn in line to choose a new unwrapped movie or steal an already opened one.  Some years, we limit the number of steals a person can have by having the stealer pay in candy, and some years we let it be a free for all.  It's a great way to grow your movie collection and have a bit of fun. 
Our family activities give us a chance to create new memories, have hilarious photos to share, and just enjoy our time together.