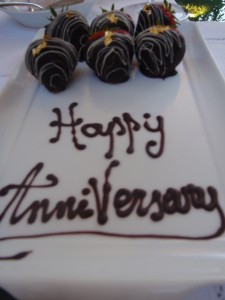 A client asked me this week for tips to make their anniversary trip more romantic and fun.  Sometimes, when you have been married for a long time, you get into a conversational and even relational rut.  We talk about the same things….do the same things and even fight about the same things.  A romantic weekend is a great way to get out of that rut….even for just a moment.  Leave your conversational to-do list behind, forget you have kids from time to time (ie: find something new to talk about), and flirt with and date your partner.  Try to discover new things together and new things about each other…..that is what romantic getaways are all about!
Of course, I recommend using a travel agent to get the best resort for your vacation dollar!  A good, professional agent has the experience and the client feedback to help determine a good resort match for you.  A good travel agent will advise the resort of any special occasions you are celebrating and will make special requests on your behalf.
Get a pedicure before you go – there is nothing like the pampering of your toes to make you feel like you are going on vacation!!!!  Pretty feet are sexy!!  Try a new polish color—something daring or fun.  For my last trip, I chose a soft purple.  It was fun and every time I looked at my toes, I was happy!
Pack half of your clothes in hubbie's suitcase and vice versa – that way, if your suitcase gets misplaced by the airlines, you both have something to wear.
Bring a sundress you feel pretty in (or two or three).  Remember the days when you agonized about what to wear on your date with your man??  I mean REMEMBER those days……and dress up for each other.
If you have an iPod, iphone or other Mp3 player, create a playlist for your room.  It always makes me happy to have music with me.  Spend a few dollars and buy new songs for your trip—think about a theme….do you want to relive the 80's?  How about steel drums?  Throw in a little Louie Armstrong or Dean Martin to mix it up…. Find songs that set a mood or make you and your partner smile.  They make teeny tiny portable rechargeable speakers these days (around $30)–I carry these when I travel so I can enjoy my tunes.  Instead of turning on the tv, turn on Barry White and see what happens.  You might be pleasantly surprised.
Put your swimsuit, sandals and a coverup in an easy to get to side pocket or in your bag.  When you get to the resort, your bags may take some time to get to your room.  This way, you can relax in resort gear as soon as you get to the resort.  Nothing kills a romantic room like sitting in your travel gear waiting for your suitcase.  A little preparation makes the difference!  In the winter time, think about layering in such a way that will make it easy to transform yourself into resort wear instantaneously.  I wear white capris with a cute summery top and layer a sweater over it and pull on a pair of brown boots.  Totally winter appropriate, but when I arrive at my destination airport, I simply switch my boots for sparkly flip flops, roll up my pants a bit, take off the sweater and voila–I am on vacation.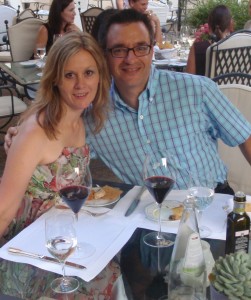 Take more pictures than you think you should – I never seem to have enough……take fun pictures of the two of you together….the Man and I lately have forgotten to take pictures together while out together—it's not that we won't remember our time together, but it is sure nice to flip through the photo albums and see our smiling faces together.
Use your leftover champagne/bubbles to make mimosas in the morning. Simply order orange juice with room service.
Start every meal with a toast to each other.  Think of something genuine to say about your partner with no expectation that they will return in kind.  Your words are your gift to them.
Tell everyone about your special occasion – waiters, the hotel check-in agent, your butler, your cleaning lady.  People are typically suckers for romance and love to help make an occasion extra special.
If you are at an all-inclusive resort, treat it just like a regular resort.  Feel free to order everything exactly as you want it — just like you would at a regular restaurant.  The pool drinks are not typically too strong, so feel free to have one at 10:30am.  Try everything – different restaurants, new foods, a new drink—if you don't like it, you can always order something else…it's an all-inclusive.
Take advantage of special moments your resort offers – private dinners on the beach, couples massages, excursions and room service.  Remember you are creating memories.
If you find yourself talking about just the kids and nothing else, you might make a fun conversation list – kind of like a "Would you Rather" list — think of interesting, fun, thought provoking questions and write them down.  Sometimes, even though you are married for a long time, answers can surprise you.  🙂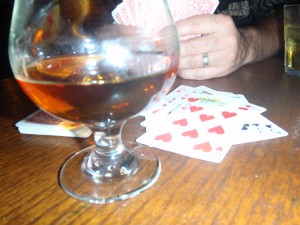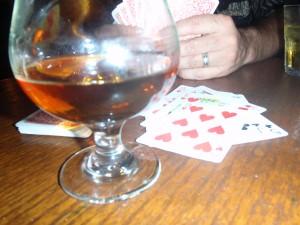 Pack a deck of cards and remember you have them.  I always take a deck when I travel – there always seems to be an opportunity to play.
Let yourself get on island time.  If you feel those same old irritations springing up, change the subject in your mind.  Avoid areas of conflict – you can do that at home.  If your hubbie watches tv at the sports bar instead of gazing into your eyes, suggest going to the beach for a romantic walk instead of the sports bar.  If there is a special game on tv, be sensitive and cheer for his team with him.  Remember how you overlooked those quirky habits while dating…..yes, REMEMBER how you overlooked them.
Your trip is about romance and rediscovery….vow to smile more, laugh more, kiss more.
And finally….. Just remember to breathe!!!