Each year I head west to Vegas for our annual Virtuoso Travel conference where I rekindle relationships with the best hotels, tour operators and cruise lines in the world. It's a whirlwind!
I always arrive a few days early to eat—yes eat! There are so many good restaurants in the city that doesn't sleep and I am eager to find new favorites!
Last night, I dined at the brand new Bardot Brasserie. Oh my goodness, it was fantastic! Bardot is the creation of the amazing chef, Michael Mina in the Aria Hotel on the strip in Las Vegas. It replaced his earlier American Fish restaurant that I liked a lot—but Bardot (in my opinion) is a better use of the space. It just oozes charm!!!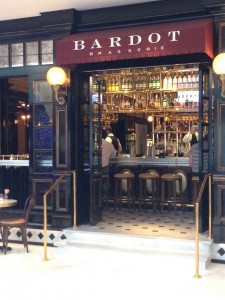 The restaurant offers traditional French brasserie cuisine and doesn't break the bank (unless you want one of everything, which is my style of dining). Chef Joshua Smith (I got to meet him for about half a second) creates beautiful and tasty elevated rustic French fare! The wine list was a thing of beauty with pages upon pages of old world wine. In short, I was in Foodie Heaven!!
As soon as my fanny hit the seat, I ordered a glass of Henriot Brut Rose. Hey, a girl needs her bubbles!! Soon a warm, crusty baguette wrapped in paper appeared at my table (and quickly disappeared). Oh how I love a good baguette!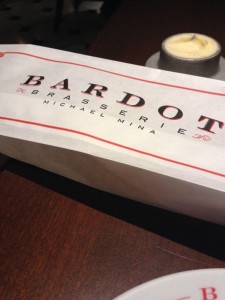 I started with the King Crab Crepe with a buckwheat crepe, black trumpet mushrooms, sunny-side egg, and cider beurre blanc. The addition of slightly sour granny smith apple sticks pulled the dish together beautifully! The dish was so delightful that I slowed down my bites just so I could savor it longer! The William Fevre Chablis went perfectly with the dish!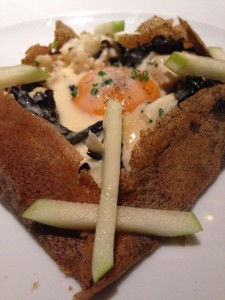 I struck up a conversation with the person next to me, who was a foodie (and who saw the chef on a show called Munchies—hence the chance to meet the chef). The chef gave small amounts of each dish for him to try—and he shared with me (my lucky day for sure!!). I had bites of Duck A L'Orange (so savory—and so tender!) and Prime Steak Tartare (holy moley that was good—it had a nice almost pickle acidity to it).
My main dish was the Parisian Gnocchi with black trumpet mushrooms, celery root, goat cheese, and roasted garlic cream. This gnocchi was different than the gnocchi I've had in the past as each piece was pan-seared to a bit of a crispness on one side. The inside was fluffy and dreamy. Also, the gnocchi were not covered in great amounts of sauce, but stood on their own and combined perfectly with the goat cheese and mushrooms. Sadly, my phone died so I do not have photos of this dish.
To end the night (as if I needed something else), I chose the Coupe Glacee for dessert. It had an early gray ice cream (they had me at early gray), baby oranges, and these beautiful little meringues on top. It was a thing of beauty and although I was so stuffed I could not eat the whole thing, it was one of the best desserts I've had in a long, long time.
My (wonderful) waiter told me they have a rockin' brunch, which I am going to have to try sometime soon!!
Next time you are in Vegas, make reservations! You'll be glad you did!