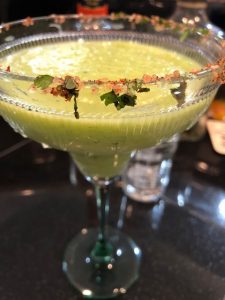 I love a good Margarita!!  If you watched our Facebook Live post this morning, you would have seen our morning cocktail shenanigans involving a blender, an avocado, and tequila.  It was a cold, January morning in The ATL and a beach hat and a Margarita hit the spot!  It was 20 degrees outside and I was freezing….so don't judge….
The recipe came from a cooking class The Man and I took at the Ritz Carlton Cancun where we sat around a chef's table sipping margaritas, drinking Mexican wine, and creating fabulous cuisine creations.  I was a bit surprise at how much I liked the Avocado in my cocktail as I initially thought it might taste like a guacamole smoothie (which would be fine) and be quite heavy.  Delightfully, the lime juice brightened the avocado to make a smooth, enjoyable margarita.
As promised, below is the recipe for our avocado margarita.  Enjoy!
Mix together coarse salt (I used a Hawaiian salt, but any coarse salt will do), chili powder, and finely chopped cilantro in a plate.  Rub a sliced lime over the rim of your margarita glass and press the glass into the salt mixture to coat the rim.
In a blender, combine one peeled, seeded avocado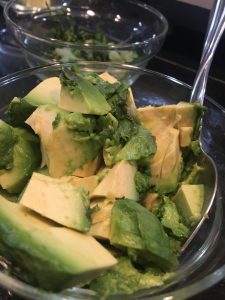 with 3 ounces of fresh squeezed lime juice (don't use the jar stuff–it will taste bitter), a tablespoon(ish) of cilantro, a dash of cayenne (optional), 4 ounces blanco tequila (blanco is better in this recipe than reposado), and 2 ounces of triple sec or cointreau.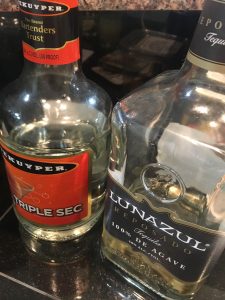 Add enough ice to make a light slush (a few handfuls–to personal taste consistency) and pulse until blended.
Pour in a margarita glass, turn on some mariachi music, and enjoy.  Olé!
1 Avocado – peeled and seeded
3 oz fresh lime juice
4 oz tequila blanco
2 oz triple sec/cointreau
1 Tbl Cilantro
Dash Cayenne Pepper
Becky Lukovic is an experienced luxury travel advisor and fabulous margarita maker–have blender will travel… She and her hubbie live in the Roswell/Johns Creek area.  Follow her adventures real-time on Instagram at Bella Travel Planning.