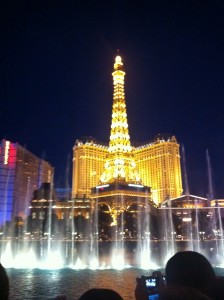 Last week, I had a marathon Vegas Week….at the tables…looking for that jackpot supplier that will make my clients' dream vacation become a reality.  I met with the top hoteliers, cruise executives and tour operators in the world – for four minutes each – from 8:15am until 4:00pm four days in a row.  I discovered tented arctic expeditions, hotels who kept bees on their rooftops to make their own honey, Argentinean working ranches, sites for the 2014 World Cup, and an elephant polo club.  Sitting through hundreds of four minute presentations, I learned which hotels have been renovated, who has added organic and sustainable practices and, of course, specials good through the end of the year.
Over the coming weeks, I will be sharing my finds in short blog posts….but of course, the best way to find out what's hot in the travel world is to shoot me an email, give me a call or stop by the office.
Also feel free to leave your questions in comment form on my blog.
For now, it's time to start the blender…add some ice….and celebrate the completion of a travel conference marathon.
Cheers!