Imagine walking into your hotel suite, gazing at the wonder around you, and then announcing "They can't make me leave here!  I want to stay forever!"  Those were my exact words when I walked into the Nayara Suite at the Arenal Nayara in La Fortuna, Costa Rica.
La Fortuna offers much in the way of adventure traveling options:  waterfalls, hanging bridges, the volcano and natural hot springs to soak your worn body after a day of high adventure.  Arenal is Costa Rica's most active volcano.  He regularly rumbles and smokes and during active periods, one can even see lava and sparks.
The Nayara Suite was not your average room – it was a spacious octagonal casita-like suite with a bathroom substantially bigger than my living room at home.  We had his and hers sinks across the room, ample closet space, a double shower inside and a double outside shower inside a walled-in garden.
The deck…..oh my goodness the deck…..it's where we spent the majority of our time!!  The deck felt as if it were in the middle of a secluded rainforest.  On our large wrap-around deck, we had a woven hammock, two adirondack chairs, a table and chairs and an outside jacuzzi.  All of this had a spectacular view of the Volcano!  I felt as if I could reach out and touch it!
The service was impeccable.  Travel and Leisure named the Arenal Nayara as having the 8th best service in the world for Resorts, Inns and Lodges.  It was second in Central and South America–just 0.49 points away from the top hotel, the fabulous Explora Patagonia.  The staff is friendly and helpful – greeting guests in that warm Tico style.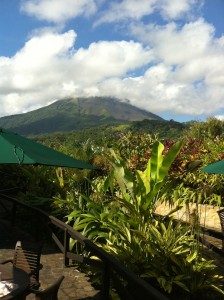 Breakfast every day was a delight – I ate my weight in fruit and Costa Rican fare.  The main dining area was surrounded by flowers and overlooked Arenal.
The small pool offered a swim up bar and cozy pool pod-like chairs.  At the pool are three independent whirlpool jacuzzi tubs.  The pool was my favorite place to unwind after a day of adventure!
Walking through the resort was like walking through a large garden.  Secluded scenic palapas with comfy hammocks were strewn throughout the resort.
The spa area felt as if we had been transported to the middle of the jungle.  The man and I had one of the best couples massages we had ever experienced!  My massage therapist worked out every knot in my body–wonderful after a day of rappelling down waterfalls!
Although the hotel was almost at full capacity, we felt at times like we were the only ones there.
Any stay in the interior of Costa Rica would not be complete without a stay at Nayara…..and I highly recommend the Nayara Suite.  Trust me, you will not want to come back home!
The Nayara is one of our Virtuoso Preferred Properties–our clients receive special amenities  and perks at this resort.
Next: Tranquillo – Costa Rica Adventures
Becky Lukovic, CTA is a specialist in Costa Rica, Honeymoons and Adventure Travel.  You can make an appointment to visit her in her Carmel, Indiana office by calling 318-805-5746.  She is also available for phone and Skype appointments.