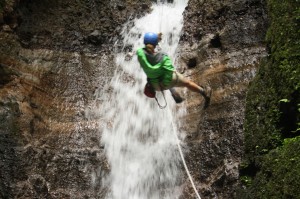 Here we are just outside Arenal, Costa Rica, standing at the top of the waterfall, the cool morning air kisses my face.  Nervous chatter surrounds me.  Just don't look down, Becky…keep your gaze level and don't look down.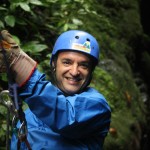 The Man—cute in his rappelling helmet and worker's gloves—asks me:  "Are we really going to do this?"  "Yes!" I reply…..more confident outside than in.
A young woman in her early twenties goes first—screams of terror turn into squeals of delight.  Why did we have to go down the tallest one first??
It's my turn.  I lean over the edge of the cliff backwards….heart beating….I can do this!!  I push off with my feet and let the rope slide through my fingers.  I am determined not to get wet—at least not the first time.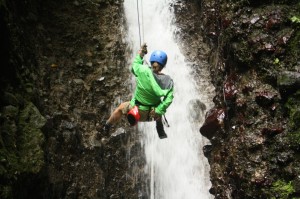 I jump from side to side—experiencing the waterfall in it's glorious middle.  The roar of the water fills my soul.  Moss covered rocks drip pure Costa Rican water—reminding me of their saying—Pura Vida—pure life…and right now, every fiber of me is alive!!!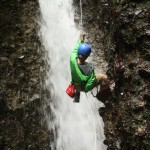 I hear the cheers of the guides—I've made it!!  Hooray, I didn't get wet!!!!  Confidently, I look down to my guide who is on-ballet (the person at the bottom keeping the rappellers safe).  I am mere inches from the bottom….my final destination…..in the middle of a pool.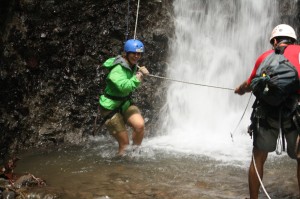 I guess my boots will get wet after all.
I watch The Man descend—and I see a broad smile on his face—We did it!!!  Six more glorious waterfalls to go!!