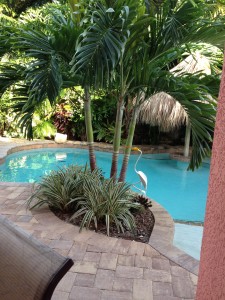 Every few years, my family spends time together over Christmas in a warm destination.  We live all over the United States and sometimes it's tough to spend extended time together—-just being a family.
Our destination of choice this year was Anna Maria Island outside of St. Petersburg, Florida.  Anna Maria Island offers pristine beaches, a free Trolley, and a myriad of restaurants and activities to enjoy.  Over Christmas, it seemed like a quiet, sleepy town full of families from all over the world.
Our home was a well-appointed six-bedroom house with a heated pool and a hot tub (site of many political discussions), a pool table and a large dining room table.  When looking for a vacation home, we visualized our experience to make sure the home was a good fit—we needed an outside area to congregate, a large dining room table for meals and games (there are 11 of us), ample room to vege on the couch with Christmas movies, and a kitchen large enough for two cooks to move around plus the bartender of the day.  The people at Island Realty went the extra mile to ensure our family vacation experience was top-notch.  Their level of service and follow up was outstanding!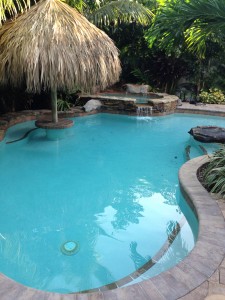 We enjoyed an island scavenger hunt, excursions to the local outside market, as well as walks on the white sand beach.  Our family is large and we divide up the household responsibilities:  Cocktail hour, dinner, and game each day.  This gave everyone a chance to share their favorites and give the others license to sit back and enjoy.
Anna Maria Island and the surrounding area was a delight to discover!!  My favorites include:
Hurricane Hanks – THE place to purchase wine and liquor!  They are knowledgeable, friendly and have the best selections in town.  Plus, they seemed to have the best prices.  Hurricane Hanks also has a café which we didn't have time to explore……it will definitely be on the list next time!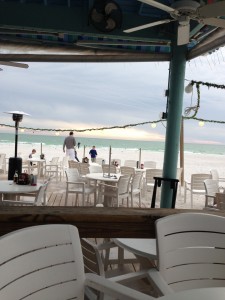 The Sandbar – what a beautiful setting!!  The bar is right on the beach – a beautiful white sand beach.  Great place to be at the end of the afternoon to watch the sunset!
Hometown Desserts – I purchased their coconut cake for our Christmas dinner there – it was heavenly!!!  Their cakes and desserts are delicious and their prices were outstanding!!!
The Trolley – we loved the trolley!!  What a great way to explore the area!!  The Trolley on Anna Maria is free and for 75 cents, you can go to Longboat Key and St. Armand's Square.
St. Armand's Square near Sarasota.  Fun, fun, fun area with shops and restaurants.  Worthy of an outing.  If you are driving, expect to park and walk a ways.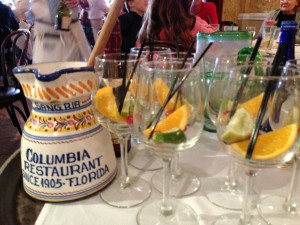 Columbia Restaurant.  We loved this Spanish restaurant in St. Augustine and it did not disappoint in St. Armand's Square.  They have THE best Sangria I have ever had in my life – even if you don't normally like Sangria, it is a must try!!  The sangria offers balanced flavors of fresh fruit, tempranillo, and Spanish brandy.  Their mojitos are divine!!!  Buy a pitcher and stay a while! 🙂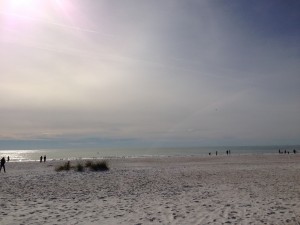 The beach – this well manicured beach had the softest sand I have ever sunk my feet into!!  The sunsets were magnificent!  The beach seemed to go on forever!!! Even in December, the weather was pleasant, the sun was shining and the waves were soothing.  We spent many an hour strolling the beach looking for shells and catching up on our reading list.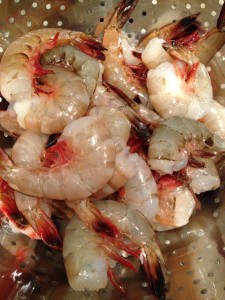 The shrimp!!  The area offers the most beautiful and tasty shrimp I have ever had!!  We purchased our shrimp at the fish market in Cortez – we tried several places and their fish and shrimp offering was the best!  There was a restaurant on property that we added to our "must try" list for our next visit!
In the end, the very best thing was spending time with family and creating new memories to share!  We laughed and played together and spent some good quality time–a necessity in this hustle and bustle world we live in!  My kids were able to reconnect with their grandparents and aunt and uncle.  This is what makes multi-generational vacations magical!!
Our family will definitely be returning to Anna Maria for another week of Christmas joy!
Next: Photo Scavenger Hunt