Last fall, my mom and I spent a glorious day exploring all things Louis. It was Mama's first time in France (really the first time anywhere in Europe) and I was looking forward to delighting in the grandeur of Versailles. The Chateau Versailles is a delightful exploration of the whims and wants of the Sun King–where everything not moving is dripped in gold. Mirrors, lights, fountains, art–the Chateau does not hold back in its predilection of excess. It's the very embodiment of excess in a wonderful way.
Of course, upon entry to the Chateau grounds, you see the amazingly loooong line of tourists waiting to get in. Even though I've been to Versailles many times, the entry point seems to be ever changing, so I had a moment of….well…concern when I saw the line. Surely these were not the skip the line people. My initial thought was that these were the regular ticket holders, but I did not see that "skip the line" line. If I was wrong, I was going to have to do a huge mea culpa with my mama! I grabbed Mom's hand and walked towards the entry bypassing the snake of tourists in their sun visors, selfie sticks, and guidebooks and presented our tickets. We were waived right in and I breathed a sigh of relief!
Once inside, we explored the labyrinth of rooms pondering on the daily lives of Kings and Queens, courtiers, guards, and emissaries. Every time I step inside Versailles, I am brought back to my first visit at age 25 when I too had been nowhere out of the country. Versailles captured my imagination with it's larger than me fireplaces, its mirrored walls, and the patterned wallpaper which is very….well….French.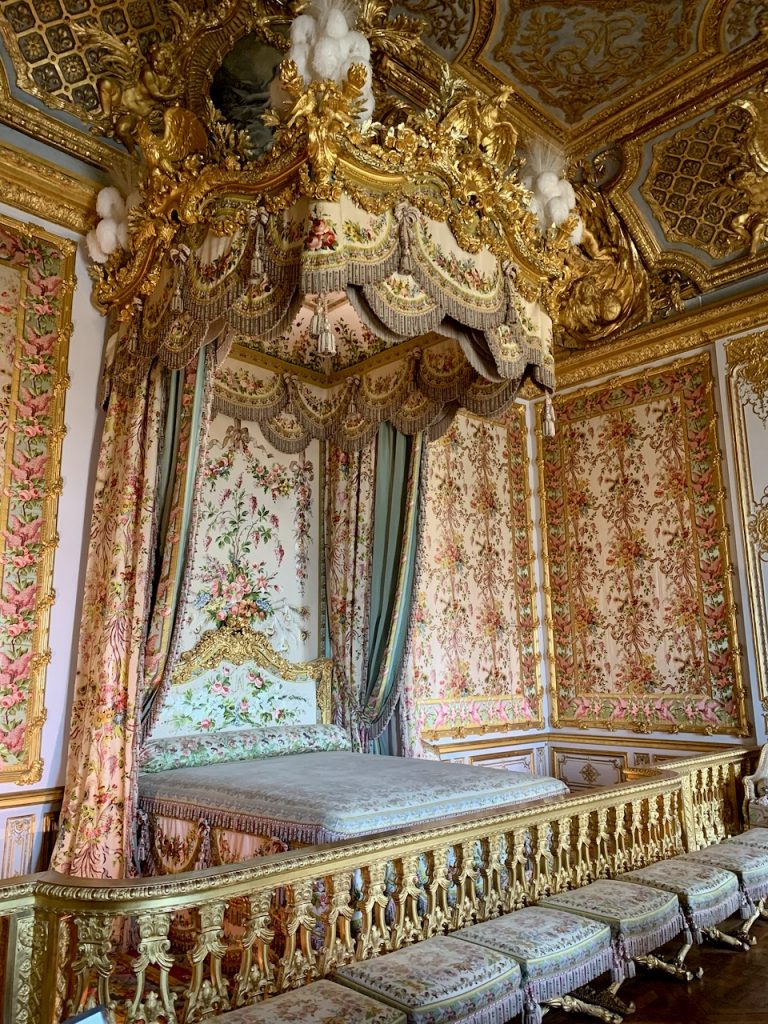 The Stunning Hall of Mirrors
We found places where we could be out of the path of the multitudes trudging along behind their flag-toting tour guide glancing at the furniture in the room, taking selfies shuffling into the next room wondering where they are going to have lunch.
In our little out of the way corners, we were able to ponder upon the art in the room, wonder if that bed was really king sized or made for a little person, and listen to our audio guide apart from doing the museum shuffle.
Really, I was most excited about visiting the Chateau Versailles gardens. It was the weekend, so the fountains were running in all their glory—something I've missed the last few times I visited. When I was last in Paris, it was winter and the fountains were turned off for the season. On my last visit, I discovered the golf cart service, which I was now trembling in anticipation of taking advantage of this service! This is truly a must-do experience. It makes exploring most of the gardens easy peasy. You simply rent the cart by the hour and then settle up at the end.
When you rent a golf cart at Chateau Versailles, you are able to easily visit the Trianon and the Petit Trianon along with some other areas that can be a bit far reaching if you walk. There is a golf cart path to follow. If you get off the path, the cart stops – thwarting any rebellious off-path exploration (not that I would try anything resembling off-path exploration……but I may or may not have had my cart stopped a time or two…).
When you peruse the gardens, you find those quiet places away from the tourists and the hordes of group travelers in their sneakers, fanny packs, and t-shirts that read I ♥️ Paris. Many times, all we could hear was the gravel crunching underneath our tires and our audio guide – that's it. It was glorious!
Having a golf cart with my mom was especially helpful to keep the sheer amount of walking to a minimum. Mom gets around great, but like many of us, has a finite number of steps before rest, snacks, and wine need to be involved…. The cart in Versailles also had an automatic audio guide playing on the ceiling speakers when you reached certain stops. This was quite enjoyable.
When we neared a site we wanted to explore further, we simply parked our golf cart and walked to the fountain, the building, the garden we wanted to explore. Honestly, I could have stayed there for days discovering new corners of the gardens. After one-such exploration, we went back to our golf cart only to find it had been pinched by a fellow unobservant tourist who thought it was their cart. We walked around saying, "I know we parked it here…where did it go??" We saw another cart, but were hesitant to hijack someone else's wheels lest they start running after us yelling "Stop–Thief" in French.
A quick call to the rental booth got us a shiny new golf cart and we decided lunch was in order. There are a few places on the golf path just outside the gardens where one can have a casual lunch. Being on vacation, it had been a few hours since my last glass of wine….and I was feeling the need for a cool, crisp French white.
The restaurant, La Flotilla, was bustling with tourists of all nationalities–there was a fun energy buzzing around. We shared a salad and some pomme frites and took some time to just be.
One of the things I really enjoy about being in Versailles gardens is the ability to just sit on a bench and watch the world go by with no agenda, no to-do list, no Chateau Shuffle. You can rent bikes, row boats, golf carts, whatever your heart's desire and just be. Have some ice cream, have some wine, sit in sculpted nature and pretend you are a courtier in the days of the Louis…. in the little gold-covered hunting lodge….
Even if you've seen Chateau Versailles a gazillion times, I recommend still going to Versailles, but skipping the palace and spending a day in the gardens away from the hustle of Paris – away from the should sees and the wanna sees and just be. Those are the elements of my favorite travel memories – those times where you just be a part of something – engage in a leisurely experience – and let your imagination wander. I am grateful I got to show my mama the beauty of Versailles and my style of travel.
Next: Three Days In Paris
Becky Lukovic is the owner of Bella Travel Planning and is an expert in traveling in France. You'll find her in a cute cafe in Paris watching the world go by sipping champagne because it's Tuesday and Tuesday deserves champagne. Follow her adventures near and far on Instagram here.