Lately, I've been thinking a lot about cruising and those little nuggets of advice that makes your cruise adventure go more smoothly. I've been asking my colleagues for their best cruise tips, looking in my Bella archives of document handouts, and checking out the latest blogs. Why would a travel advisor be looking for cruise tips you might ask?? Well, the industry is always changing and evolving and as much as I try, I don't know everything (I know—shocker, right??)…..plus I am going to Alaska…..on a cruise….with my Mom, Sis, and The Chickadee!!! An Alaskan Girls Adventure!
I've never been to Alaska. Okay – I've said it! It's true. I'm surprised they won't take my travel advisor credentials away from me now that the cat is out of the bag….It's kind of one of those embarrassing things one says in quiet corners in hushed tones…. Why has it taken me so long? I don't know. It's not that I am adverse to visiting Alaska or even ambivalent—I remember hearing stories about this wild, vast state as a child and thinking it would be a great place for an adventure….but it's cold—yeah Alaska is cold….but whales, icebergs, salmon, eskimos, totem poles, dog sleds…. When my mamma mentioned she wanted to celebrate her milestone birthday with an epic trip with epic scenery all from the comfort of a cruise ship, I decided…..it's time to go to Alaska.
So now there are shore excursions to plan—helicopters, dogsleds, kayaks, independent pub crawls (or perhaps a crab crawl)—shoes to buy, gear to scope out, coats to find (we are southern and so a winter coat is typically something light with long sleeves), etc. etc. etc. Lots and lots of things to plan.
Traveling with three cruise-newbies (and newbie family members who know they can ask #allthequestions) has made me more sensitive to the questions and concerns about cruising from the perspective of someone who hasn't cruised before. For that reason, I've come up with a cruise tips list to share with you all.
Bella Travel Planning's Super Helpful Hints to an Amazing Cruise Experience:
Packing, Luggage, and Pre-Travel:
Please read your cruise documents very carefully. If you have any questions, give your travel advisor a call for clarification.
Make a copy of your passport and IDs in case they are lost.
It is always a good idea to have a supply of $1.00 and $5.00 bills when traveling. You'll need more than you think. Also bring some larger bills so you aren't carrying around a mountain of singles – your hotel can make change for you.
Be sure to attach permanent luggage tags along with those provided by the cruise line. I suggest purchasing those clear cruise bag tag holders – they come in handy and won't rip off your bag. The cruise line tags show the luggage handlers where to deliver your bags, so they are quite important. Have one on every bag you are going to hand over. Also, it is wise to put identification inside all pieces of luggage and take a photo of our bags with your phone. If your bags get misdirected, you'll be able to easily describe the bag to the lost bag people.
You are typically allowed to bring one checked suitcase along with a carry-on. Your carry-on should have your cruise documents, airline confirmation, make-up, medicine, bathing suit, travel size sunscreen and change of clothes for your convenience. If you are going to need something from your checked bags in your first few hours on the ship, keep those items in a handy area for easy retrieval to add to your smaller bag before you board the ship. Once aboard, you may not see your checked bag for several hours after embarkation, so be prepared.
Pack a travel-sized power strip.
Bring a power bank – these come in super handy on long flights and times when you are using your phone a lot for video and pictures. You don't want to miss an amazing shot because your battery went from green to red to empty in zero.point.six seconds…
If you like to hang clothes, put some light-weight hangers or foldable travel hangers in your bag.
If you like your coffee in volume, remember to bring your personal coffee mug.
Bring a light weight water bottle as many ships are reducing their single-use plastics consumption and water bottles may be in short supply. Many ships have bottle filling stations, or you can get water at the buffet area.
Download all music, movies, tv shows, and podcasts prior to departure from home as you may not be able to do this internationally and the ship's wifi bandwidth may not allow downloads.
Check with your cruise line. You may be allowed to bring one bottle of wine per person.
Cruise Tips Aboard the Ship:
On Embarkation Day, many people go straight to the buffet for lunch, which gets quite crowded.  Ask a crew member or check the daily newsletter to find alternate dining areas (if any).  To me, the buffet area on Embarkation Day on a large ship is a version of my own private hell….on a these ships, in my opinion, it's better to have a late (and fabulous) breakfast ashore beforehand and just explore the ship after you board (and wait for the bar to open).  If you are traveling on a smaller, luxury ship, the Embarkation lunch can be a delight, so plan accordingly.
Ask your cabin steward to show you all of the storage areas in the room. Sometimes they are hidden in plain sight (like under the bed and drawers under the couch).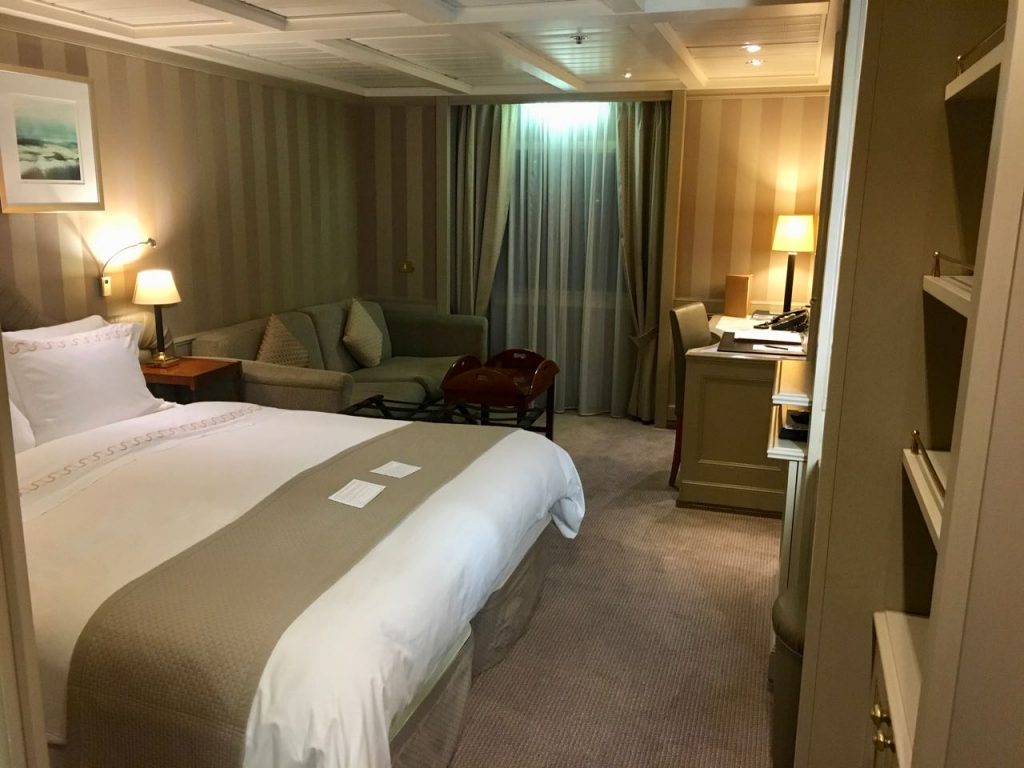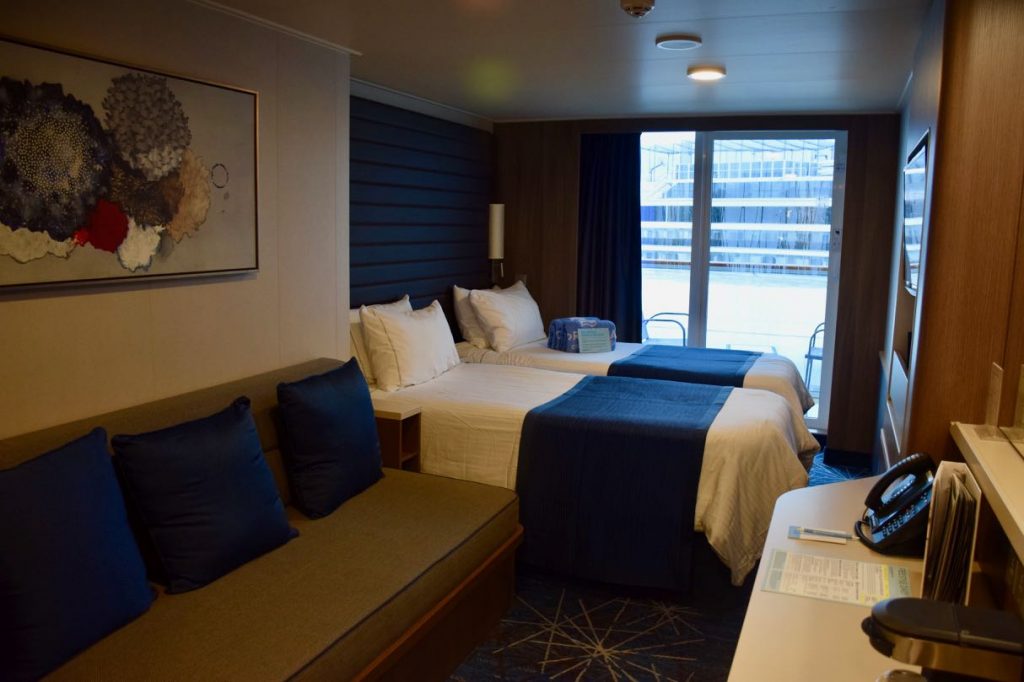 If you are not on a drink package, it is less expensive to purchase a bottle of wine than drink it by the glass. Your waiter may be able to reseal your bottle and serve it to you on another night (leftover wine apparently happens to some people, but it's not a concept I'm am familiar with….but it happens). Be sure to ask for details is this applies to you.
Some cabin walls are magnetic. Bring or purchase a few magnets to hang your invites and newsletters on the walls or doors. You might also consider bringing a small magnetic dry-erase board for your door (or post-it notes) to leave messages to family and friends or for your own reminders.
Dress up and enjoy the formal-optional night. It's a great time to get a dressy photo of yourself.
Many ship spas will have an embarkation day or port day specials.
In the dining room, feel free to order exactly what you want. You do not need to go straight off the menu. If you want another appetizer or side, feel free to ask.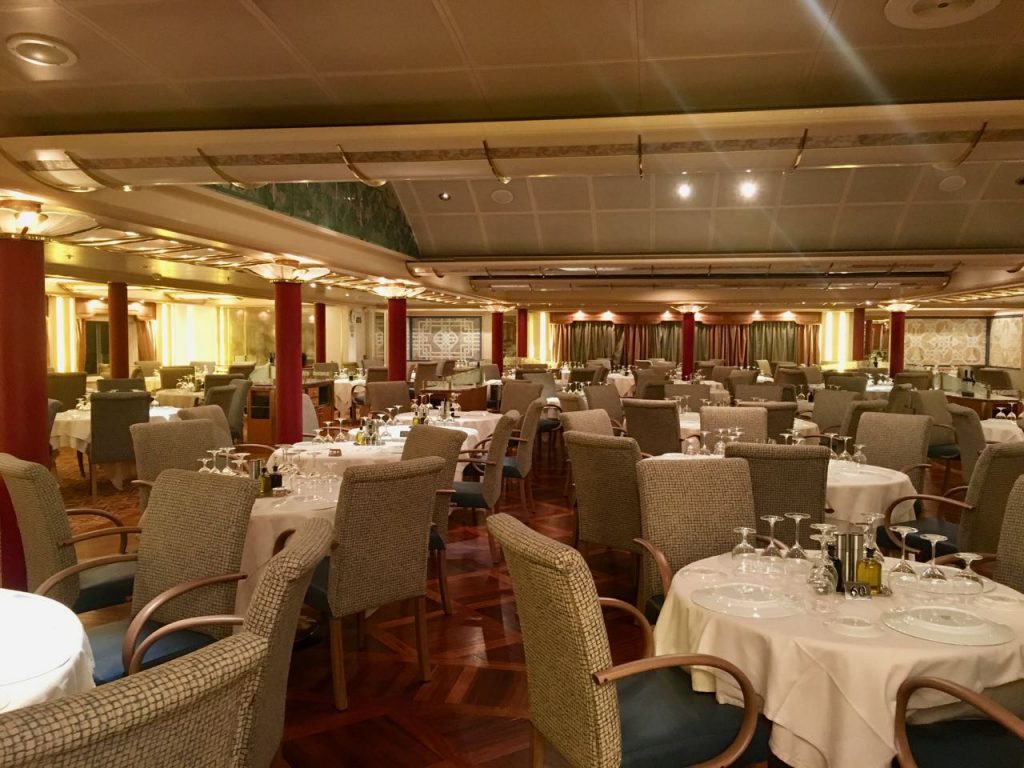 Consider attending shore excursion talks while on board the ship as they will answer any questions you have about activities on shore and shopping tours, along with dos and don'ts. Some shore excursions fill up quickly so don't wait too long. Pay attention to the cut-off dates and times for booking the shore excursions for each port stop.
Be sure to keep receipts of all purchases as it will help in filling out the custom re-entry form.
If you explore on your own or hire a guide apart from the cruise line, pay careful attention to the embarkation times so you do not miss the ship. Pay attention to the ship'stime as this will be the time it disembarks (not necessarily the port's time). Take note of the local cruise agent's contact information when departing on an excursion. The info should be on your daily activity report. This is who you'll need to contact in case of emergency or if you miss the boat.
Enjoy your time together and bring back some wonderful cruise memories. That is the most important part!!!