Disclaimer:  I am not a Mouseketeer Poohbah Status Disney Fan.  I like The Mouse.  I love Pluto.  I've even buried the memories of riding It's a Small World as a teen….somewhat.  But when the Chickadee and her little Minis request the presence of MiMi and Poppie at Walt Disney World…just like with the Queen, one goes.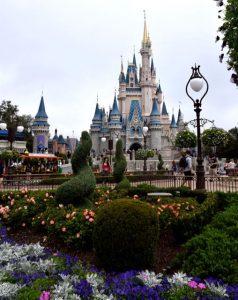 We spent seven (yes seven!!) days at Walt Disney World in February.  Our gang was there for the Princess Half Marathon Weekend.  The Chickadee, her Hubbie, and the Minis stayed with The Man and I in a two-bedroom villa at   Saratoga Springs.  The villas are the bomb! Given–the decor was from 1992 but with a fun horsie theme (hence Saratoga…), but it had a kitchen, living space, a washer and dryer (essential for the Minis), a balcony overlooking the resort, two full bathrooms, and two bedrooms.  I think the addition of some villas into general reservations (they were formerly just for the vacation club) was a great move!  If I had to deal with the Disney crowds all day long and come back to a crowded room, I would have a Mickey Meltdown of epic proportions.  The Villas in Disney are a client favorite and I seem to book these more than any other room category.
Magical Express at the Airport
Be sure to utilize Disney's Magical Express service.  If you provide your flight details prior to final payment, you will receive luggage tags in your documents.  Put these on your bags before you check them at the airport.  The Disney crew will gather them at the luggage carousel and take them to the park.  DO NOT PUT YOUR MAGIC BANDS INSIDE YOUR SUITCASE!!  This is important!  Your bags will take a bit of time to get to your room, so be prepared to let the magic start the moment you arrive and have your Magic Bands ready for park time.
To get to the Magical Express, you have to go downstairs to ground transportation and follow the signs to the Magical Express (turn right).  It's beyond the car rental desks and is quite the hike so just keep walking.  Once you reach the Magical Express desk, they will scan your Magic Band and direct you to the appropriate line for the bus to your resort.  Busses will stop at a couple of resorts.  It's about a 30-45 minute ride to your resort (depending on traffic).
Once at the park, use the bellman storage area to hold your carryon items while you explore the park if your room is not ready.
Saratoga Springs Villas
The resort is extremely convenient to Disney Springs–just a walk across the bridge. We loved this feature more than we could imagine.  Dining, cocktails, shopping, walking along the lake…with no busses to deal with.
The villas are fully stocked with the essentials:  coffee maker, tea kettle, pots, pans, plates, cups, wine glasses, utensils.  Ours even had a blender.  The villa also came with a pack and play.  We requested extra blankets and towels as the service was just like with a traditional hotel.  Assistance was just a phone call away.
Have several pools (some heated) to enjoy. We wish we would have enjoyed the pool more!
Are a bit far from some of the parks making a long journey there and back–especially when you factor in the bus wait time.
Have lovely housekeeping staff.  On our 5k day, we left a mess of dishes and disorganization when we departed at 3am.  We returned to a completely clean kitchen (dishes and everything) and a smiling housekeeper who refused to accept a tip I tried to hand her and asked me what else she could do.  (I did later leave a tip on the night stand)….
Have a quiet, residential feel.
The resort's Airport Check In is the best thing since sliced bread!!  Seriously!!  I did a happy dance!!!  If you have the Magical Express service, on your departure day, you have your boarding pass on your room door.  Go to the Airport Check In desk and deposit your bags and you are done.  You will see your bags upon returning home leaving you free to enjoy the parks, pool, whatever sans luggage.  No schlepping it to the airport no waiting in line at MCO to check in and deposit your bags behind large families with screaming kids…  Caveat:  you must check your bags at the resort at least THREE HOURS prior to departure.  Even if you don't have or use the Magical Express, you may still use this feature.  The Man had to depart early and we had family photos that morning.  He checked in via the Resort and simply Ubered from the Magic Kingdom Transportation Center.  Easy Peasy.
  
The Magic Kingdom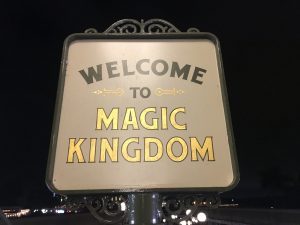 There is still a bit of magic for me when I walk down Main Street and see Cinderella's Castle.  There's a whole heap of magic when I see Space Mountain!  The key:  you have to buy into the magic.  On many occasions, I had to repeat this "Magic Mantra" to keep my head in the Disney game and not disappear somewhere (ie: the bar for a cocktail)…  Speaking of cocktails–don't expect to find those at The Mouse House.  Apparently, good ole Walt had very specific instructions about offering spiked jungle juice in his park and until last December, there was no alcohol in the park except at Be Our Guest (circa 2012).  Starting December 2016, additional restaurants are able to serve beer and wine with lunch and dinner only (although I did score a bottle of Moet champagne with breakfast–Miss Lillie did the happy dance when she saw Cinderella….Mimi did the happy dance when she saw Moet!!).  There are no Mouseketeers Gone Wild at this park!! (Pro-Tip: there is a tequila bar inside Mexico in Epcot)…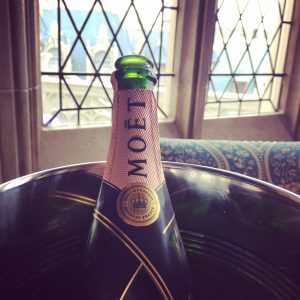 According to the Orlando Sentinel, Tony's Town Tavern on Main Street serves Italian wines and beers (how did I miss this!!!!), Liberty Tree Tavern serves beer, cider, and domestic wines, Jungle Navigation Company Skipper's Canteen offers global wines, and Cinderella's Royal Table offers champagne and sparkling wine (YAY!!).  Please note that these all require reservations and some can be difficult to score.
Space Mountain is still *all that* in my book!  Rode it twice!! Could have ridden it every day!  Rock and roll Roller Coaster was great, too.  I still love The Haunted Mansion.  It's goofy, but fun!  Everest in the Animal Kingdom was amazing!! I was a bit disappointed in the new (or new to me) Pirates of the Caribbean.  I missed the Yo Ho song being sung the whole time!  They've replaced most of the singing with Captain Jack Sparrow comments.  That song was etched into my childhood and I am sad.
Use your fast passes and book them early! They are a must!! I do miss the days where one didn't know how long the line was until you got on the ride–we turned down many a 60 minute ride opportunity on this trip, which meant we did a lot of walking around saying Nope, Nope, Nope.  If you sign up on My Disney Experience, you may book three fast passes per day in advance–at the same park.  After you use those three, you may book additional fast passes.  To me, this is both good and bad.  I saw a lot of people running frantically from fast pass to fast pass.  Gone are the days when one can just enjoy a park section by section and see everything.
Be prepared for long lines to get inside the park.  You have to go through bag check, a metal detector, then the admission line.  Arrive early or after the rush.  The security people are super nice, though.  They should train our TSA agents.  They make an effort to connect with each person, which is refreshing and appreciated!  To the Puerto Rican Security Guard at Animal Kingdom who told me to keep my sunglasses on when going through the metal detector because "Fashion cannot be deterred by security–keep your cool look, Princess"–Bravo! You made my day!!
The Magic Bands are the best new thing the parks have come up with!!!  It's your room key, wallet, fast pass, park ticket…You do not need to even bring your wallet (which helps you miss the aforementioned back check line!).  Just be aware that if you are a certain age, you may be carded for alcohol, so be prepared.  It's such a freeing feeling of not having to schlep a purse around, but it's also dangerous (as my final bill can attest).  The Magic Bands are used in combination with your electronic fingerprint at the park entrance to ensure you are using your own band.  For purchases, you create a pin code to verify the band's purchase.  Bands in one room may be assigned different credit cards, but this must be done at the front desk.
With the exception of weekends and peak travel times, the rides are a ghost town during the fireworks celebration.  The Man and I were able to walk right onto Space Mountain one night.
At night, if you are entering the Magic Kingdom near the fireworks time, look right on Main Street to get to Tomorrowland.  Many times, they will open the normally closed gates so the crowds can get through.
Cinderella's Royal Table is worth making the reservation in advance!!!!!  This was *the* best character dining experience we had.  The food was great!! The service was outstanding.  The princesses each came to our table and spoke to the Minis.  Our servers made sure we saw everyone.  The Minis were so excited to go inside Cinderella's Castle–so.very.excited! The designers did a fantastic job of presenting a castle feel to the venue!
Crystal Palace Character Breakfast with Pooh and his friends–meh.  Overpriced buffet.  Servers don't seem to care.  Characters keep going on break.  We were there for an eternity….waiting….waiting…waiting on Pooh…. Food…we won't even go there.  No champagne.  MiMi was grouchy when we left!!
Avoid weekends at the Magic Kingdom like the plague.  Avoid the parks on the weekend like the plague.  Spend time at the pool with People Magazine and a cocktail.  You will thank me (you will probably ignore this advice and later say you should have listened to me….).
The Festival of Fantasy parade with Maleficent is just WoW! What a dragon!! She breathes fire and everything! Quite impressive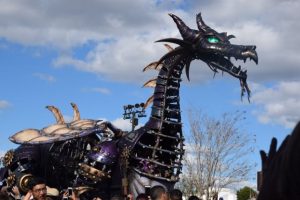 Disney Springs
Splurge for the Vintage Car Boat ride in the lake.  It's a real car…and a real boat!  They also have a Venetian power boat one can rent for champagne on the lake and wine tastings.  It holds several people.
Go on the Balloon Ride – it's way cool!
The Hangar–the best fries in Orlando! Food was good.  Right next to the live music at the pavillion (which is a bonus unless the Beastie Boys wannabes are singing…the Latin guitar player was incredible, though!)
House of Blues – live music (although it starts a bit late), the food is okay
It just feels civilized.  The Man even loved this area!
Ride the ferry! It's just pretty to see The Springs from the water–especially at night.
Epcot
At night, the lines are short–especially at the prime dinner hour.
For a lunch or dinner with a fantastic view, make reservations at San Angel Inn Restaurante.  We tried to walk in for a late lunch with no success so make sure you make advance reservations.
Monsieur Paul.  This was a very good experience.  Probably one of the best in Disney for us.  It's pricey–we spent about what I spent in Paris for a tasting menu, but worth it to feel a bit civilized in everything Disney.  The food wasn't fabulous, but it was good–much better than most in Disney.  I did find it interesting that every time we ordered a bottle of wine, eyebrows were raised and the server asked "the whole bottle???"  Apparently, most Disney Diners order by the glass and we are just lushes.  🙂
Restaurant Marakesh.  Loud….service seriously lacking…had some decent bottles of wine (again the bottle??? question)…belly dancer was entertaining….food was decent…the Lamb was very good!
Tutto Gusto Wine Cellar.  Great wine selection! Charcuterie boards.  We ordered off menu (a bit of this with a bit of that) and that was fine.  I would go there every day if I could!
Wine Carts!!! Italy has a wine cart where you can get a plastic glass of Prosecco or Pino Grigio.  Oh man.  This is civilized!  It actually serves "to go" food and gelato as well….but I have a one-track mind–hence my moniker Wine Cart!
Champagne to go! Yes, in France for $16, one can get a glass of Veuve Cliquot To Go!
I love the floral characters! It's so fun to see your favorites in floral display! They were preparing for the Epcot Flower show for March, which is supposed to be quite nice!
Take-Aways
Nap time is always a good thing.
Plan your days where you can best experience the parks and resist the urge to uber park hop.  Each time you travel from park to park, add an hour of travel time realistically.  Unfortunately, with the advent of fast passes and breakfast/lunch/dinner reservations, it's very difficult to just wing it at a park.  A good plan is essential.
Do purchase the Park Hopper option, though.  It expands your dining options considerably.
Resist the urge to spend excess time in the parks because "I paid a lot of money for these tickets." (Guilty!!).  As my horse training mentor used to say, you can't go through a pile of manure and come out smelling like a rose.  If you all are "done" for the day (or morning/afternoon/etc), redirect and do something fun that doesn't involve a line.
Even Ice Cream at Magic Kingdom involves a line.
The weekends are busy!  We spent Sunday at Animal Kingdom thinking it would be the least crowded park that day.  There were no tables to eat our lunch (we were table stalkers), no benches to sit, shoulder to shoulder people and no amount of To Go Margaritas could quell the imminent Mickey Meltdown.  I just wanted to find a quiet place and go "Bub Bub Bub Bub."  But I paid for that day's ticket and by golley I was going to use it!!  It was time for a nap!
The Animal Kingdom does a fabulous job of giving you a sense of place!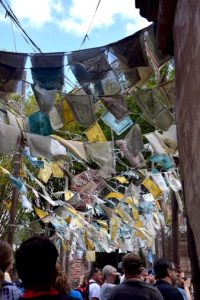 Sometimes the busses take way longer than expected.  Bring a deck of cards!  On three occasions, we waited over 40 minutes for our bus.  The wait time is typically 20 minutes between busses.
The Princess 5K is not timed.  Just be aware.  They don't tell you it's a fun run, but it's a fun run.  Still a great experience, though!
The celebration buttons are so much fun!!!  I am not the large I Am Having A Birthday Button type of person, but one cannot disappoint the Minis…and I found that having strangers wish me Happy Birthday all day quite enjoyable!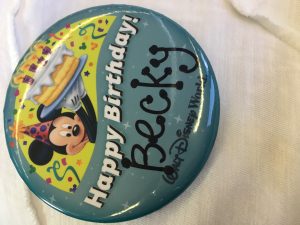 The parks are spectacular at night! The Man and I decided if we ever visited with just the two of us, we'd pool all day and park all night.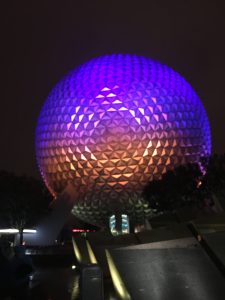 Lastly, I want to give a shout out to Boma in the Animal Kingdom Lodge–or perhaps give them an Oscar for best food experience in a Disney Resort Hotel (or Park for that matter).  The breakfast buffet was outstanding!!  Ham and corned beef cooked over a fire, wood-fire roasted asparagus and tomatoes, lots of fusion of American favorites with an African flair.  It was the best meal of the week!
All in all, it was a fun (albeit exhausting) week.  It was wonderful to see the Minis faces when they saw their first character, rode the rides, and had unlimited access to Mouse Ear Ice Cream.  I loved riding rides with The Chickadee (I am the Buzz Lightyear Champion) bringing back memories of when the kiddos were little. Experiencing Disney with The Man was fun–we had boozy ice cream, rode old school rides, took fun selfies, and had some good, quality time together.  You just have to buy into the magic….and then you will find it.
Follow my Bella Travel Planning Facebook Page and Instagram Page for more travel photos.
Becky Lukovic is a Roswell and Johns Creek area travel advisor with over 16 years of experience.  She plans custom journeys to Europe and beyond with a focus on food and wine travel.  Her cellar is filled with Barolo, Brunellos, and Burgundies.  She can be found on Instagram posting foodie photos and selfies with The Man. 
Next:  Four Fun Activities for a Fabulous Multi-Generation Vacation.