We had a busy (and fun!) year traveling halfway around the globe in 2017.   We like to travel independently, and our first trip was to Mexico.  In the Spring, we flew to Japan where we spent five days in Tokyo before boarding a ship for a transpacific voyage to Vancouver. We traveled to new and some favorite places in the US and Canada before ending the year with a cruise to celebrate our 28th Anniversary in the Bahamas!!
Mexico
Our trip to Mexico started with a visit to Cancun.  Definitely not halfway around the globe, but it's hard not to love Cancun! Wide uncrowded beaches, crystal clear water and surf rough enough for a good workout. Our goal is always to finish the day with an almond passion on the beach as the sun sets. We headed south to Puerto Morelos. This was a new destination for us this year. We could walk for miles on the beach and hardly see another soul, plus the pool attendants and the bartender made us feel like we were most important guests. The welcome bottle of tequila and private transport from the airport were much appreciated!
We then hopped a plane to Guadalajara and a took quick taxi ride to Ajijic Mexico. I would say "SHHH" but the secret is out. Ajijic is a gem on the shores of the largest lake in Mexico. It's home to thousands of ex-pats who enjoy a slower pace of life with all the amenities of the 21st century. Wander the cobblestone streets in an authentic Spanish Colonial village while enjoying the locals, talented craftspeople, delicious food and for some, aesthetic medicine.
We took a side trip to beautiful Tlaquepaque. It's a haven for all that's fabulous about Mexican crafts – pottery, leatherworks, ironworks, blown glass, embroidery – all encased in a stunning town with traditional 17th and 18th century Colonial architecture. There's a lively town square and mariachi's to keep it festive.
I couldn't go home without seeing what all the fuss was about in San Miguel del Allende. Yes, San Miguel made all the travel lists in 2017. It's easy to see why. While Ajijic is a village, San Miguel is small City. Come here for the art and architecture and nightlife. Close your eyes and you could be in Spain (but without the jet-lag)!
Japan
Japan was last minute decision for us. Tokyo was not originally high on my destination list, but an opportunity presented itself and we jumped. This is my WOW destination of the year!! I love Tokyo! The architecture, the people, the food, the energy, the cleanliness – it was all just phenomenal! Definitely utilize the services of a Goodwill Ambassador (we spent the day with Ryoko and had a blast!).   We had 5 days here and could have used a few more to see and do everything we wanted. As a side note, almost everything is signed in English in anticipation of the Olympics in 2020. It was a less daunting experience than I imagined while planning. This was SO worth the plane trip to get halfway around the globe! Can't wait to go back!
While there, we took a day trip to Kamakura – just south of Tokyo and a great destination to learn more about Buddhism and Shintoism.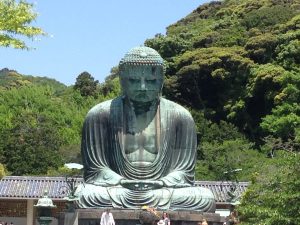 The temples and shrines here are beautiful and inspiring. This is an easy train ride from either Tokyo or Yokohama. Don't fear the trains system. The map looks intimidating but the ticket machines and signage are in English and train travel is quick and easy. The Locals are extremely helpful if you need assistance! We also stopped in Yokohama as a bucket list item was to experience a Japanese Baseball game. I can't even describe how much fun we had. Just go!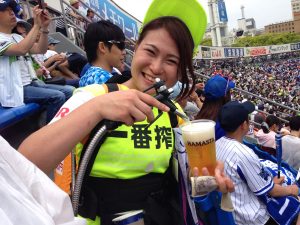 We boarded our ship here for the beginning of our transpacific voyage. Our first stop was Hakodate. Again we used a Goodwill Guide and again this incredibly kind gentleman (Akiro) ran us ragged! Lots of history in Hakodate as well as a most interesting fish market. I actually saw a $35 melon (what we call a cantaloupe and pick up on sale for $2 each).  I'll never complain about the price of fruit again! Our call in Muroran was just as memorable.   The school kids greeted us to practice their language skills and the high school band serenaded the ship as we prepared to depart from port.
Russia
As day broke our ship pulled into the peninsula of Petropavlovsk-Kamchatsky.  I was most excited about this port stop here on the transpacific journey. It was my first visit to Russia and I have to say I was blown away with the beauty of the setting. There was still snow on the ground in May but the buildings were warm (everything is heated from geothermal springs). A quick tour of the markets revealed caviar in buckets like Baskin Robbins serves ice cream (see below!!!). Unbelievable!

We didn't cruise away until after dark as the Russian subs were being maneuvered into their port.
North America
We arrived in Vancouver and the cruise ended here. Lucky for us, the transpacific voyaged allowed us to meet two other couples and before saying our goodbyes we made plans to meet up again before the year ended! So while we visited Seattle (love Seattle – don't miss the Boeing Museum) before flying home, we also began hatching plans for a New England/Eastern Canada adventure.
We flew to Boston, picked up a car and drove to Bar Harbour. This was another last minute decision for us and, as it was high season, we didn't really have our choice of accommodations.   We ended up in cabins in the woods, at a complex run by the nicest people with thoughtful touches and an unbelievable night sky. We took advantage of the direct access to Acadian National Park and enjoyed a day trek and later on a car trip through the park. I'm always impressed with our US Park Rangers – what an incredible group of helpful and knowledgeable pro's. And the scenery….. WOW!!
Next we were off for Prince Edward Island. We chose this destination to visit our new cruise friends but totally fell in love with it. Thank heavens it gets really cold there or I don't think I would ever have left. I ate my fill of lobster, although everything was delicious and frequently local/organic. We were impressed with the beautiful beaches, charming atmosphere, kind attitudes and my first introduction to the influence of the Bay of Fundy tides.
Moncton New Brunswick and the Hopewell Rocks were next! This is the place where you have to pay attention to the tide charts and get there early. If you miss it, you'll probably have to wait a day to see it again. Also, accommodations are exceedingly sparse if you want to stay locally.   We had a flash back to the 60's – both in motel accommodations and restaurant choices. It was a fun trip but bring your sense of humor and sense of awe. The Flowerpot Rocks in Hopewell Park are incredible. And the fact that you get to walk on the ocean floor at low tide is mind blowing.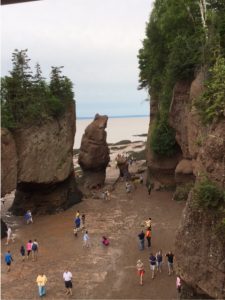 We drove back to Boston to drop off the car and fly home. Our flight was delayed but … Did you know that the Visitor Center in Logan Airport offers free public transportation into the City? We took advantage and hopped off the Bus at South Street and walked a portion of the Freedom Trail before having a bowl of chowder and a local beer. It was a beautiful day and hard to catch that plane home.
New York City – Like you could ever run out of reasons to go or things to do! The new Oculus at the World Trade Center Hub is spectacular with the view of Freedom Tower. We walked the High Line and admired the new Zaha Hadid condo's. We spent two days here wandering the sites before boarding a ship to celebrate our 28th Anniversary. The sailaway from Bayonne was at Sunset, with the sun sparkling off the NYC skyline as we sailed under the Verazano Bridge. Our destination was the Bahamas and November is a great month to visit. It's not too hot, not too crowded and always fun!
Our travel year ended with a trip close to home– Hilton Head Island. I need to be reminded that on the whole of planet Earth, some of the most beautiful beaches are a short drive from my house. People will fly all over the world in search of sand the likes of that on HHI. How lucky are we?