Our tour guide met us at the lobby of our hotel to give us a quick art-based walking tour of Venice on our way to the Venetian Mask Artist's studio. We strolled through the labyrinth of alleyways and bridges–soaking in the colors of the canals, balconies and shutters, plastered walls, and gondoliers. We arrived to the studio just in time to begin our private mask making lesson…I was a bit nervous as my artistic ability has been hidden away since second grade…..
We spent time in the artist's mask gallery determining which mask types and styles caught our eyes. The artist asked us to choose two or three types that interested us and we went over them with her—telling her our favorite parts of the masks and used that as our starting point for our artistic vision.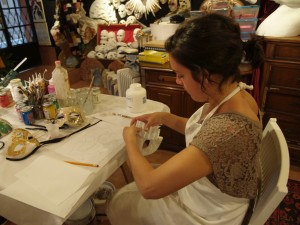 Our first step was to draw our design on our chosen mask form. We drew everything—the areas to paint, the raised relief and even the lips. Once I got over my sense of intimidation with the pencil, I was able to see my vision more clearly. Our instructor told us stories about how masks were important to the Venetians—how they allowed them a sense of freedom from social status and rules. Masks hid the identity of gamblers, dancers, and party-goers. Behind the mask, one had freedom of expression.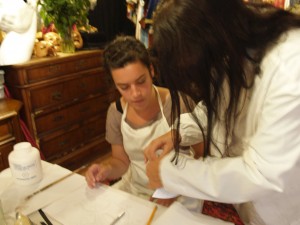 After our vision was complete and our ideas penciled onto our paper mache mask form, the next step was to choose our colors and paint our masks. There were so many colors to choose from!! After much deliberation (perhaps more than it took to choose my dining room wall color), I chose a deep Venetian red and purple—why not be festive…and Venetian! I drew inspiration from the masks of Carnivale with triangular shapes radiating from the eyes. My step-daughter created a beautiful musical motif with her mask with gold and silver tones. She inspired me to dig deeper into my creativity with her artistic vision and encouragement.  Our instructor was amazing–giving us tips and ideas while still insisting on good technique with the skills she showed us.  (I thought I would never get the glue gun skill mastered).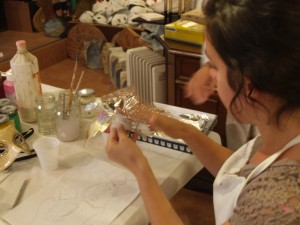 Next, we applied glue with the glue gun and then applied the gold and silver leaf by tapping sheets of the material onto the masks with our fingers and then sweeping it off with a fat brush…smush smush smush. Our masks were starting to come together in design and I was getting quite excited!! As we applied the gold and silver, a gondolier stopped to talk with our instructor—that was when I realized that our studio's window faced a small canal and we could see the gondoliers glide by—waving to them—and seeing their broad Venetian smiles…and the occasional Ciao Bella…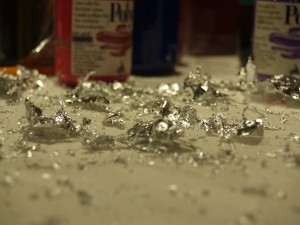 The gold and silver leaf fascinated me–it was similar to a super thin aluminum foil, but came apart easily like a thin foil chocolate wrapper.  As the leavings fell to the table, I wanted to scoop them up and put them in my pocket–as I do have crow tendencies toward shiny things…..
Our last step was to apply the antiquing stain….rubbing in the stain and polishing the mask until it shone. The stain turned my bright white mask a lovely old-ivory color.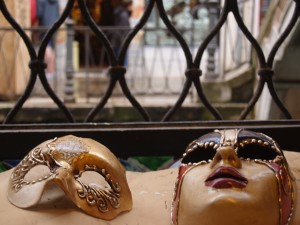 I will always remember our time in the mask studio—it gave me a glimpse into Venice that miles of walking and touring could never do. Although the excursion was not inexpensive, it was worth every single penny in watching my step-daughter, who is an art teacher, discover a new medium….and for me to reconnect with my artistic side and to discover there is still art inside me just waiting to come out. The masks are displayed in our living room—a reminder of our adventure to Venice and beyond.