A few nights ago, we celebrated Junior's birthday with a tasting menu at Restaurant Eugene in Buckhead (Atlanta).  Junior has been working in fine dining for several years now and is working on his sommelier certification.  Since he has never experienced a paired tasting menu, The Man and I decided to treat him with one of the best in Atlanta.
Restaurant Eugene is a small, upscale restaurant on Peachtree Road in Buckhead–just north of downtown Atlanta.  They offer local, seasonal chef-driven menus that are just spectacular!  Their Somm does an outstanding job with food pairing–just outstanding!!! This is why it is one of our favorites.  Last year, they began offering an a la carte menu in addition to the tasting menu.
Proprietors Chef Linton and Gina Hopkins have several restaurants in Atlanta in their Resurgens Hospitality Group (including Holeman & Finch Public House, Lintons at the Atlanta Botanical Garden, Hops Chicken at Ponce City Market, H & F Burger, and of course, Restaurant Eugene–their flagship).   In 2009, Chef Hopkins was selected as one of Food & Wine Magazine's Best New Chefs and named one of the magazine's 25 Best New Chef All-Stars in 2013.  He was awarded the James Beard Award for Best Chef in the Southeast in 2012.  In essence, he is a chef Rock Star!
Executive Chef Chris Edwards just knocked it out of the park on our visit!!  We began with gougeres….of course as all beautiful evenings begin with gougeres!!  Then a lovely plate of petit macarons appeared–pimento cheese macarons!!!  I was already in heaven!!  Since it was a birthday celebration, we began with a sparkler–a nice Italian Franciacorta rose produced in the methode champenoise–Ca Del Bosco.  Our server told us Restaurant Eugene was the only place in the Southeast where you can get this gem.
This was already starting out fabulously!!!
Our server brought out what was probably the best cornbread muffins in the history of cornbread muffins!!  It was so light and fluffy with a rich corn flavor…combined with the house butter…it's a good thing they only gave us one as I'd ben eating them all night!!!!
I look up and see three terrarium-looking dishes coming our way.  The bowls were covered by a glass cloche…and I was instantly intrigued and at attention!!!  The cloche held in the smoke, which slowly wafted up when uncovered bringing to mind a warm, cozy camp fire.  The dish was covered in a delightful foam that tasted like the crust of a perfectly toasted marshmallow–and underneath was a medley of beets with a lovely beet puree on the bottom.  The earthiness and sweetness combined perfectly with pieces of lardons in the dish–it was like a treasure hunt to find more of those lardons!!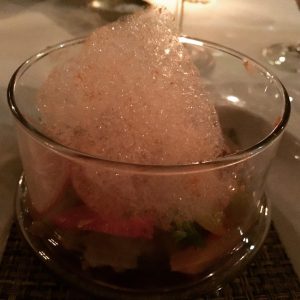 Next came a beautifully prepared scallop topped with caviar and olive oil powder (we had to ask) (I didn't even know such a thing existed!!).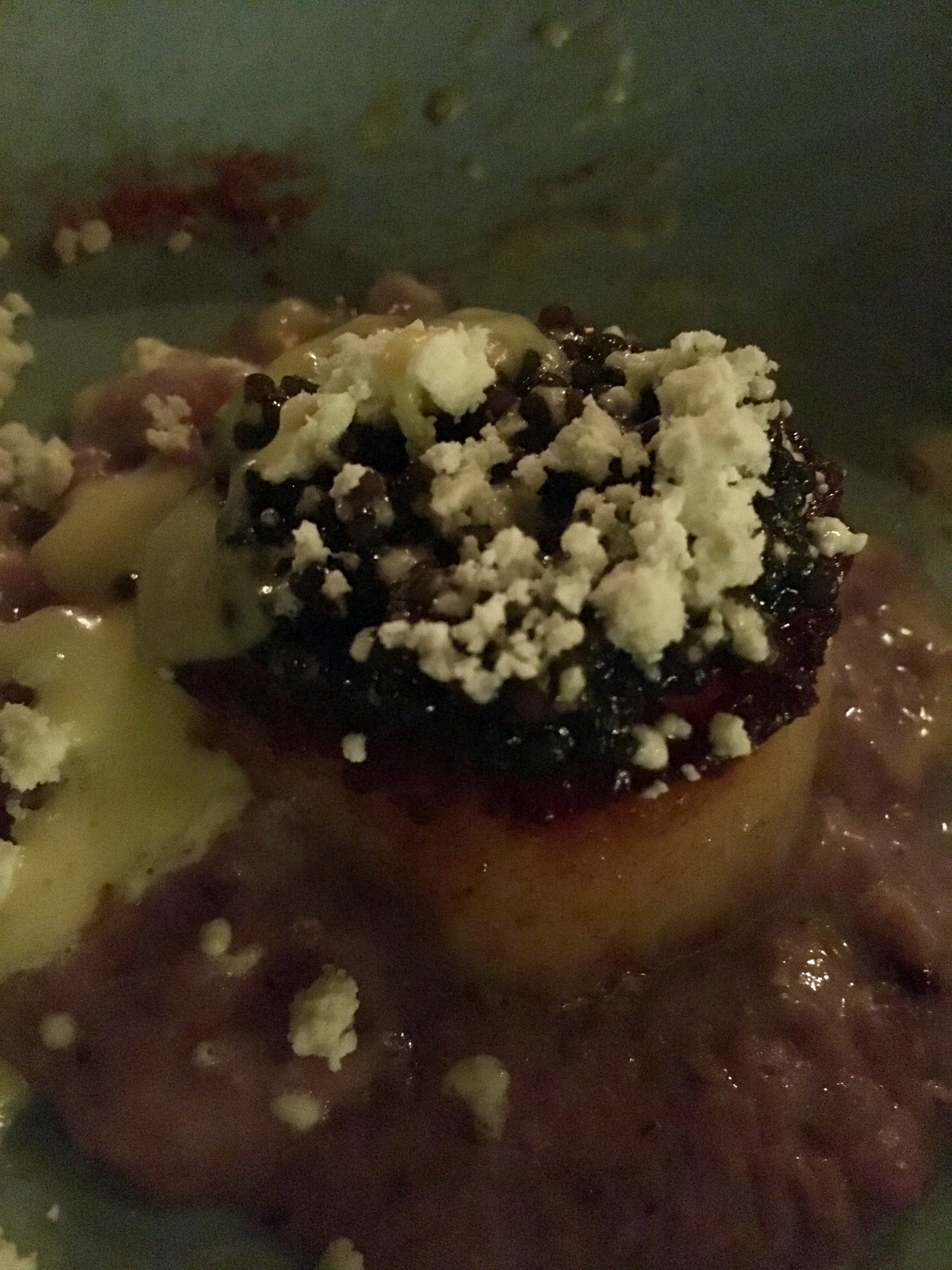 How to you follow caviar-topped scallops??  With Lobster of course!!  Lobster and an orange-like sauce (not too orangy though) was served…and we broke protocol and asked for some extra break to sop it all up because we were just not ready to leave this dish!!!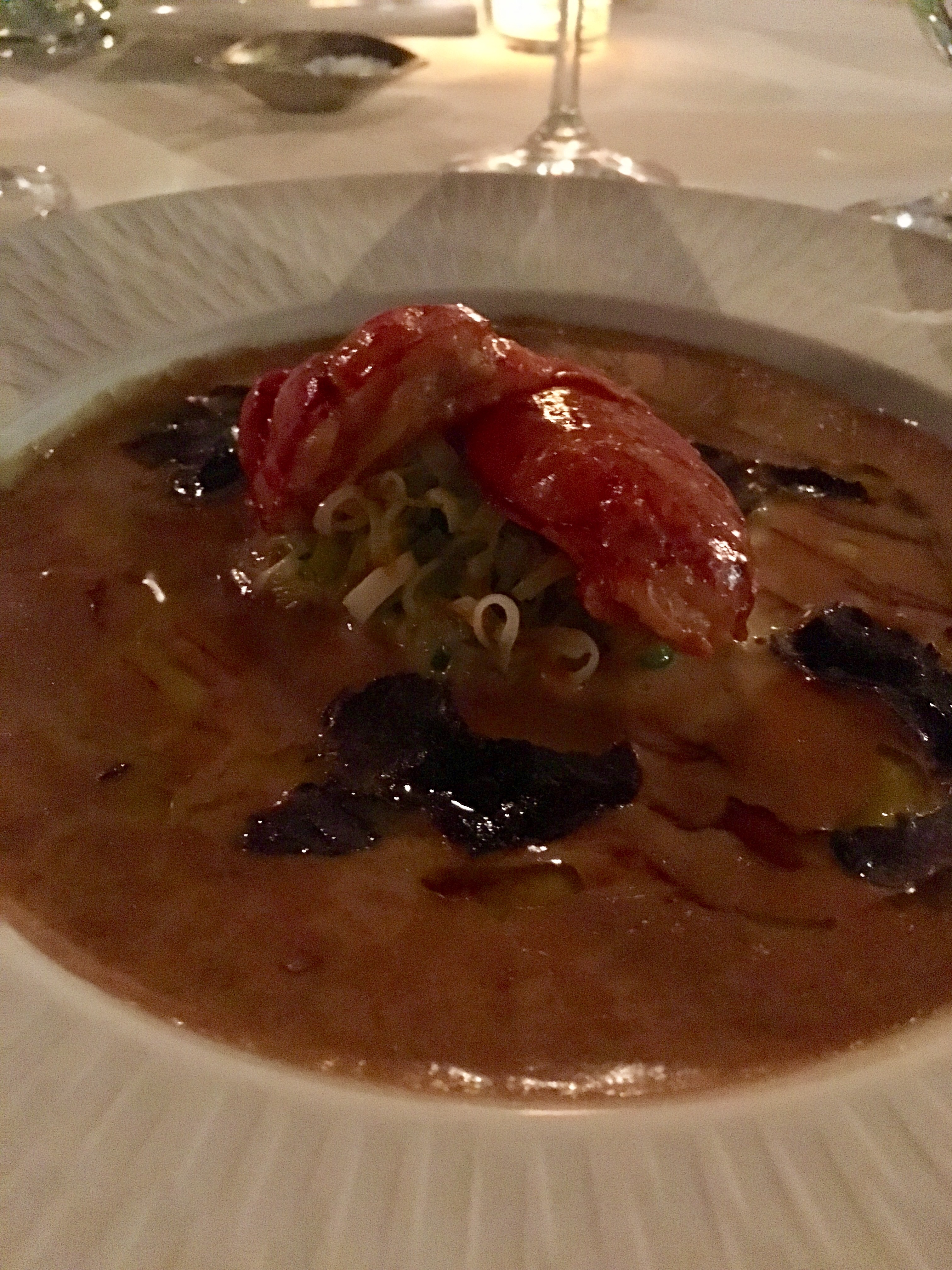 I love fun plating of dishes–especially the somewhat unexpected, so this next dish was a treat!  We had a boullion with a cheese-filled wonton in a delicate tea cup.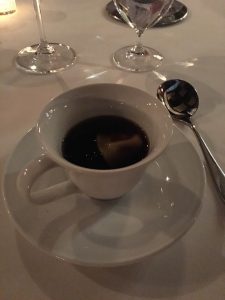 The chef appeared (Hi Chef!!) with an ornate silver tray (I just love silver trays!!) with our next dish…it was served family style.  Beautiful medium-rare lamb chops perfectly placed around rectangles of butternut squash and other veggies and over these house made salted potato chips.  A copper pot held a wonderful brown sauce to complement the dish.  My lamb was perfectly prepared and seemed like a huge chop (in a good way)–especially for a tasting menu (no complaints) and had a nice layer of juicy fat inside.  Junior's chop was a smidge over-fatty for his taste, but he agreed that the flavors were divine nonetheless!!!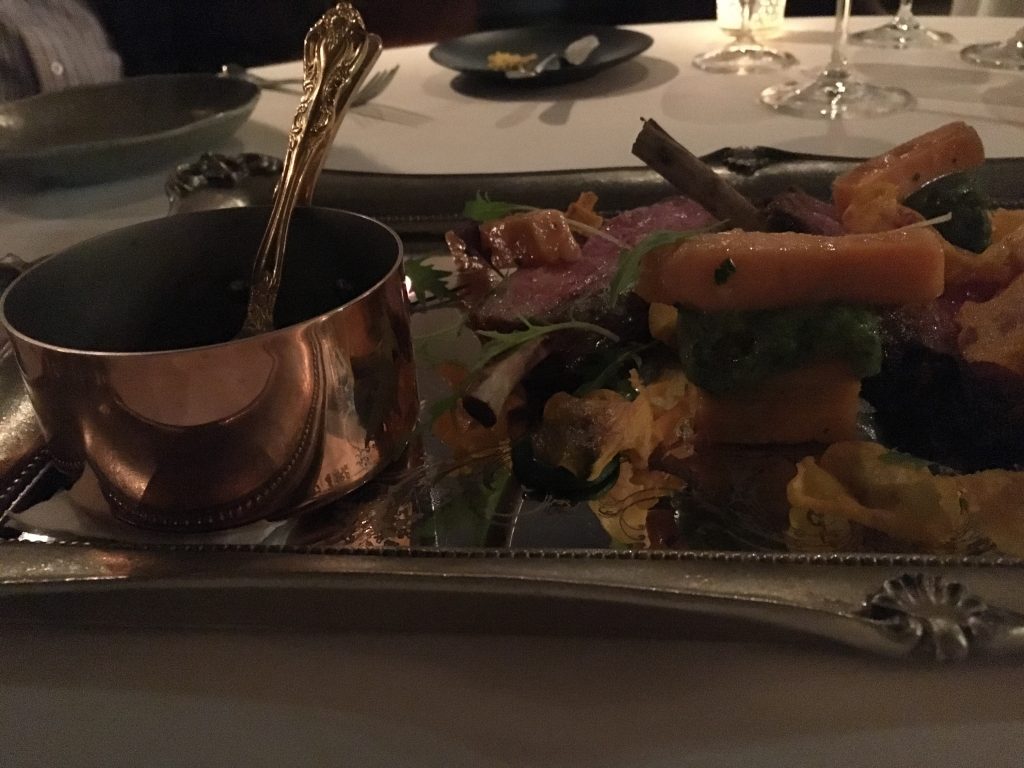 The Cheese Course—oooh the cheese course–it was a blue cheese cupcake with what seemed like a pate sucre crust.  It was pungent, but delightful!  And very well paired (although I forget the exact pairings…a red burgundy I think)…I dug in so quick that I forgot to take a photo!!  The Man was expecting sweet like a cupcake–so he had quite the surprise with the pungency…it was his least favorite course, but when paired with the wine, it toned down a bit.  I enjoyed it, but it was a smidge too much of a good thing and I could not finish it…
Dessert!!  Dessert!!! Citrus with a sugar nest holding a fennel sorbet egg…what a pretty sight!!!  As a finale, the team brought out a chocolate cake topped with a vanilla ice cream and a candle because, as our server mentioned:  everyone needs cake and candles on their birthday!
Next time you are in Atlanta celebrating a special occasion, you must try Restaurant Eugene!  The Tasting Menu is definitely one for a special occasion and not for the faint of financial heart or light of wallet–especially with the wine pairings, but you won't be disappointed!!
Restaurant Eugene is located at 2277 Peachtree Road in Buckhead.  All dish descriptions are from my wine-infused memory and may not be completely accurate.  
Becky Lukovic of Bella Travel Planning, is a travel advisor specializing in food and wine adventures.  She lives in Roswell, Georgia.  You may reach her at 770-702-0787.