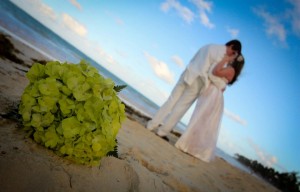 It seems so easy….so clear cut….a FREE destination wedding with a certain number of nights in a certain type of room. Free is typically never completely free…there's the fine print…the limitations to the "free" package. A Destination Wedding can still be a great value, but many times there may still be a hefty price-tag for all the bells and whistles. Although wedding packages vary from resort to resort and destination to destination, some fixed costs will apply.
I recommend having a budget template listing your requirements for your ceremony and discovering the cost for these items or services. Your travel advisor may have copies of price sheets from previous weddings to use as a guide in setting that budget or she may have relationships with certain hotels and resorts to get pricing of extras. This process takes a bit of prior planning, but will make the process easier and more enjoyable in the end. All it takes is doing a bit of soul searching to see in your mind's eye what you want your wedding and reception to look like: what do you see, what do you feel, what is important to you, what type of experience do you want your guests to have….and then plan accordingly.
Here are some of the most common costs for a Destination Wedding:
Saving the date. Most resorts require a non-refundable deposit to hold your wedding date. It's your commitment to have your wedding at the resort in exchange for them putting your wedding day and time on their calendar. This deposit can be $100-$500 or more. It's a good idea to compare apples to apples—wedding packages and hotel rates of a few resorts to ensure the resort is the right fit before committing. Remember to ask the right questions—if your heart is set on a beach wedding with 75 people, don't assume a resort on a beach can accommodate that many people on their stretch of beach…you must ask. Better yet, use a qualified, professional travel advisor to assist you in navigating the resorts. They have been there—done that and already have a basic understanding of how the process works and how certain resorts cater to their wedding parties. Their relationships are invaluable in planning destination weddings.
Room blocks. There are two ways to offer rooms to your wedding guests: reserving from general reservations at the current price or having a wedding block of rooms held. Blocking a certain number of rooms will give your guests the best pricing and give you, the Bride and Groom, the most additional amenities, but there will be a per-room deposit required, a contract signed, and penalties if the rooms are not released by the cut-off date. Your travel advisor will assist you in negotiating the terms of the wedding block, but you should be prepared to put down a deposit and sign a contract. The deposit will apply to your own wedding travel or it can be refunded to you.  Smaller weddings (under ten rooms) do not typically utilize the wedding block system as there are minimum room requirements to receive special amenities.
Site inspection. Some brides take comfort in coming to the resort a few months before the wedding to see the decoration options, have a tasting menu, and see the wedding planning team in person before the wedding. Some resorts offer to reimburse you for the trip in the form of a credit to your wedding package (land only) and give you special rates for this stay. When planning your destination wedding budget, think about whether or not this is something important to you.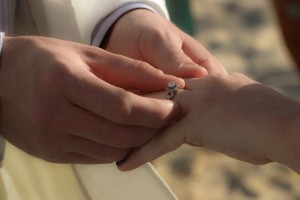 Government Fees. The fees and processes vary from country to country, but be aware that there are fees involved outside the wedding package to process your wedding documents. Some destinations require translations of documents (birth certificates, divorce decrees, etc.) in their native language, some require a certain type of ceremony or officiant to be present, and some have very unique requirements that sometimes have a nominal (or not-so-nominal) price tag. The key is to find out these fees and requirements in the planning stage and not after all has been committed.
Religious officiants. Many resorts have an extra fee for a religious ceremony as they have to bring in an religious officiant and follow the requirements of that particular religion. Be prepared that you may not have a lot of options for denomination choice but also be prepared for this fee.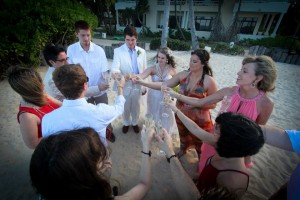 Extra guests. Your Destination Wedding package will typically accommodate a certain number of guests in the quoted fee (let's say 24 for illustrative purposes). Each additional guest will incur an upcharge to the package. Sometimes this fee is nominal, and sometimes it can be a bit hefty. Let's say you have 30 people attending your wedding and the upcharge is $60 per person. That is an extra $360 to your wedding budget.
Will you have guests not staying at the resort? Typically, an all-inclusive resort will charge an extra fee for guests not staying at their resort. This is basically a day pass for the guest to be allowed to eat, drink, and play at the resort. Guests staying at your wedding resort have this cost included in their resort stay. This amount varies by resort and many resorts limit the number of non-guests attending your wedding.
Outside vendor fees. Some of my brides choose to have their own photographers, hairdressers, officiants, and other wedding "vendors" instead of the preferred vendors for the resort. There is a somewhat costly outside vendor fee that will be levied onto your package. That said, typically, the resort will waive this fee if the vendor stays three or four nights at the resort. Sometimes the vendor does not use the room for any or all of the nights and the Bride and groom can use the extra room as a dressing room for the wedding party.
Delivery fees. Some resorts charge nominal delivery fees for group gifts and welcome baskets.
Restaurant Buy Outs. If your Destination Wedding is large and you want to take over a restaurant for your reception, be prepared to find out the fee for this service…even at an all-inclusive.
The extras. Upgraded bouquets, wedding flowers, additional decorations, upgraded table cloths, chair sashes, djs, photographers, videographers, extra reception hours, dance floors, bigger cakes….. all of the things you would rent or purchase for a traditional wedding should be considered for your destination wedding. A wedding package will give you a basic template and you can decide how much you would like to upgrade. Just remember to inquire about the extra costs and be sure to set aside funds to upgrade your ceremony—after all, it is your wedding…If you can dream it, chances are they can make it happen—a Destination Wedding doesn't have to be simple. It can be as elaborate as you wish….just remember to include those items on your budget template.
The best thing about having a Destination Wedding is the ease of planning. There is still planning involved, but the process is streamlined. If you plan a realistic budget ahead of time with all of the factors involved, your pocketbook will thank you.
Just remember….it's your big day…one you will remember forever.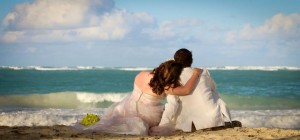 Happy Wedding Planning!
Next: Are You Planning a Honeymoon?
Becky Lukovic is a honeymoon and destination wedding specialist in her Carmel, Indiana office. You may reach her directly at 317-805-5746 or at becky@bellatravelplanning.com.