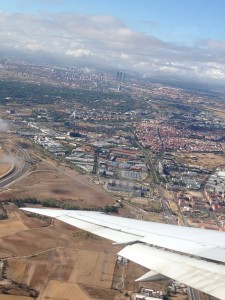 There we were—in the Madrid Airport running to our gate—me in my Sparkly Italian Wedges and The Man in his not-so-fashionable black flip-flops—running.
The Man looked at me and asked, "didn't your travel agent know that an hour is not enough time to connect in Madrid." My response was a large Southern smile concealing the true response immediately coming to mind. "We aren't changing countries, and I knew it was a smidge tight…..but I had no idea things would be this much in disarray……"
My old friend and horse trainer, Linda Black, used to tell me to plan for the emergency. Things may go right one hundred times, but the one time they go wrong, they may go wrong in a big way. When I plan air travel for my clients, I try to keep this concept in mind—to give even extra time to get to the gate….in case of a delay, an unexpected situation, and now…the Madrid Airport.
Like you, sometimes a good air price will coax me out of my comfort zone and into an air schedule that is "technically" a legal connection but not a feasible one. These days, as airlines are consolidating and streamlining their schedules, these legal but not feasible connections are becoming more and more commonplace and sometimes the only option on some airlines to certain locations—at least from Indianapolis. I continue to see 50 minute connections through Dallas, Newark, Philly, and Houston and I just laugh because there.is.no.way.
Sometimes (to the dismay of my man) I feel like one giant travel experiment to understand the true current airport situation. I am constantly gauging airlines and their connecting airports to ensure my clients have the best chance of arriving to their destination with the least hassle possible. Of course, I cannot predict emergencies, delays, air strikes, equipment failure, and sheer incompetence….but I do try to minimize by planning for the emergency.
Back to Madrid. We had an on-time 10 am arrival to Madrid from Bilbao and walked quickly towards our terminal—Terminal A (sometimes known as terminal 1). I spied the connecting bus sign and the Man and I walked down the stairs to catch the shuttle. I should have immediately trusted my gut as the shuttle area was a ghost town (insert Pale Rider musical foreshadowing). One man was on his phone and another lady came up right behind us….and we waited…and waited…and waited. This just did not feel right…why is no one here? Is it really the shuttle stop. I paced….checked the signs…pressed my nose against the window trying to spy a shuttle…paced…worried…and began to panic. There was no other route that I could find to Terminal A. The lady behind me left quietly…where did she go?
I asked one of the workers outside the waiting room in my best Spanish if this was the place for the shuttle. She confirmed it was and just told me to wait. She did mention that we could walk to Terminal 1, but it was a 25 minute walk….tick-tock. Our flight began boarding five minutes ago—and I know that they shut the door to the plane 20 to 30 minutes prior to departure for international departures. I imagined myself having a Clark Griswald moment where I left to walk and the shuttle came immediately after. So we waited….and waited…and spied the shuttle bus coming our way. It was 10:17 and our flight departed at 11 (with the doors shutting perhaps by 10:30 to 10:40). The Man said, we are good….we are good.
We boarded the bus and the driver disappeared. I think she went on break. The Man and I and Cell Phone Man waited…and waited…and waited. I considered getting her, but we were in a secure airport area and the glass doors back inside the building were locked and I certainly did not want to get detained for walking on the tarmac….so we waited. 10:23 she appeared and The Man smiled and pointed at his watch to ask if she could hurry. The woman laughed…I swear it was a James Bond villain laugh…and I grew quite concerned.
She drove a couple of hundred yards and stopped at Terminal 2. Cell Phone man told her this was not our terminal—he apparently flies this route many times. Driver Lady says we are to depart here and points to the sign stating Terminal A is that way.
Faced with no other choice, we climb the stairs and my heart melted at the sign that said Terminal A was a 15 minute walk. Dumbfounded. We waited 25 minutes to save ten minutes of walking time. Determined to make the time at half speed, we began to sprint—me in my Italian Wedges and the man in his black flip-flops…our carryons in tow—weaving through the crowd of lovers walking hand-in-hand and families with small children like wide receivers through the Denver Broncos defensive line—until we came to a halt. Passport control. Whaaaaaaat? My passport now has a lovely Madrid stamp as a souvenir of my visit to the Madrid Airport. Wait…wait…wait…tick tock tick tock. I've missed flights before…it's not the end of the world….we will make it work.
The line goes quickly—it is 10:45am and I feel a bit like Jack Bauer with the clock ever-ticking in the background. We sprint again towards our gate—the homeland—we see the light at the end of the tunnel…..and then again….stopped. Another passport and luggage check. The Southern Smile is now gone and in place comes the mouth of a sailor muttering under my breath. We cannot find our baggage receipt—I don't even recall being handed one in Bilbao—and this is apparently an issue. They cannot let me past the barrier without a luggage receipt. WTF? I hand over every single piece of information I was given and she goes to find my luggage number.
Apparently, in Madrid, they have a manual list of luggage to go on each plane and radio baggage claim for each passenger telling them where to bring the luggage. What is this, 1952? This is a recipe for luggage disaster….but I don't care. I hear my name over the loud speaker—The Man and I are being paged as last call before they shut the doors. I give the loudest "Woo Hoo, I am here!" I've ever given in my life. Woo Hoo…Woo Hoo!!! I wave and the lady at Luggage Control tells them I am awaiting luggage confirmation and sigh a huge sigh of relief when they agree to wait. The Man spies the luggage receipt taped to the back of our initial boarding pass in the hands of Luggage Control and we are back in business. Our luggage is radioed to go to Atlanta and we run the few steps to the gate to a beautiful, smiling Spanish woman who says "welcome to Delta Airlines." We made it!
As the plane departs, I spy a lone wagon of baggage sitting on the tarmac…peering in to see if my bag was there….I don't care….I am heading home.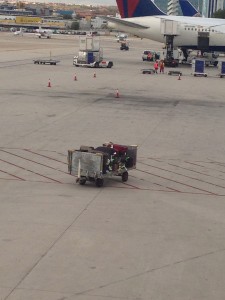 Plan for the emergency. Give yourself time. Stuff happens….sometimes crazy stuff happens. Plan for the emergency.