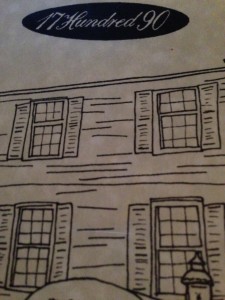 Last night, we revisited 17Hundred90 Inn Restaurant in downtown historical Savannah. It had been a while since I had been there and I've been itching to try the actual restaurant instead of simply the bar with the bar menu.
The restaurant is purportedly haunted and is on the haunted tours of Savannah. It is named after the year it was constructed.  The ambiance is of an old southern home; replete with cut glass chandeliers and old china cabinets—right up my alley! The service was spot-on with our only speed bump being we had to ask for an ice bucket because our white wine was not quite chilled enough….and a small speed bump that was!! Our waitress was astute enough to ask if we wanted a small sip to enjoy while the wine was cooling.
Unfortunately, the food was so good that I forgot to take photos.
We started with the shrimp and grits—which I think are my favorite in all of Savannah (which is saying something). Their rendition has a light creamy gravy over cheesy grits. Since it is an appetizer portion, it comes in a small mini-casserole dish and was perfect for our party to each have a bite or two.
We also had the spinach salad and their signature salad—both very nice with lots of flavor and balanced ingredients.
I had the Pan Seared Carolina Trout, which I have to say was one of the best things I have eaten in Savannah. The trout was set upon a bed of creamy risotto (holy yum) and roasted red peppers on top with a side of vegetables. My only critique would be that the trout was a bit overcooked, but that did not stop me from eating every.single.bite.
The hubs ordered the evening special of the Snapper (from St. Augustine), which came with capers and artichoke hearts and other yumminess . It was perfectly prepared!! I just love it when they tell me where my food comes from!!! He asked the waitress to send his compliments to the chef—which is a big deal.
My dining companions ordered the Neptune, which had seared scallops, crab cakes, shrimp, and again that lovely risotto and the Boursin Chicken–perfectly prepared chicken stuffed with Boursin herbed cheese served with mashed potatoes.
The dinner came with out-of-this world honey baked biscuits. Oh.My. I only eat bread if it is beautiful bread , and I had two…..two large biscuits….they were that good!
Although we were stuffed to the brim, we were enticed by the bread pudding and decided to split one with our party of six so we each had a bite or two. It reminded me of my moms with a firm buttery crust and moist inside. Our group was split over whether it should have more sauce. It was quite tasty with or without the extra sauce.
Lastly, I appreciated the inclusion of an interesting Italian wine (Rosso de Montalcino), which I understand is a new wine for them. The wines were reasonably priced, but still good quality—which sometimes can be difficult to find at a restaurant. We had the Rosso and a bottle of Ferarri Carano's Fume Blanc with our meals.
I am so glad we returned to this restaurant as it will now make it to the top of my list of places to dine in Savannah. I highly recommend!
Next: Savor Savannah