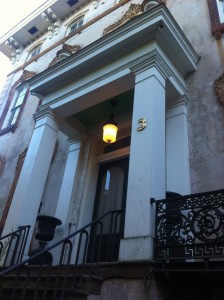 I first encountered Savannah with my book club. We read Midnight in the Garden of Good and Evil and were pining away for a girls' adventure.  Savannah seemed just the ticket. A few years later, my Chicadee and her little family moved to Savannah and my sister moved to Hilton Head Island, so I've explored this lovely area many, many times.
Being the foodie I am, opportunities for well-crafted, local food and beverages is extremely high on my list.  I am always on the lookout for my next best meal. The next time you are in Savannah, check out these gems….
Bella's Top 14 Food Experiences in Savannah and Hilton Head Island
1. Elizabeth on 37th. Savannah. Oh what an amazing meal! Our book club dined at this off the charts fine dining experience in a southern mansion in Savannah. Their take on traditional Southern and Low Country cuisine is outstanding! They even make their mozzarella in house…. One of my best food experiences in the city!
2. Hueys on the River. Savannah.  I am perpetually on the lookout for the best Shrimp and Grits—it's a bit of an obsession…..and the Shrimp and Grits at Hueys is quite amazing! The Crabcake Benedict is a thing of beauty!! And the beignets….of.my.goodness.  That said, the BEST thing (in my opinion) about Hueys is their bloody mary—it is a delight! Given, like most bars, they use a mix (Whiskey Willies – I checked the ingredients and it passed muster), but it quite well prepared, tasty, and well garnished. I was in Bloody Mary heaven! You may even get the drink to go—one thing I just love about Savannah!
3.  The Lucky Rooster.  Hilton Head Island. I cannot say enough about this restaurant. The last time we stayed on the Island, we dined there a few times. In a place full of chain restaurants and sub-standard tourist food offerings, it is a beacon of food yumminess. The Shrimp and Grits was divine! Many of the ingredients are locally sourced and the food is artfully prepared. They also offer several vintage-style cocktails.  It sits on the top of my list for HHI.
4. The Olde Pink House. Savannah. First of all, I just love dining at a place with a color in its name—especially pink and one who puts an "e" at the end of the world "old." This restaurant, inside an 18th century mansion, serves southern cuisine in a casual, yet elegant setting. The downstairs bar has tons of character—just tons! The mansion is said to be haunted.
5. Cocktails at sunset at the rooftop Bohemian Hotel bar, Rocks on the Roof. Savannah.  Get there early boys and girls as this one may have a line on the weekends as it gets late. The bar at the uber cute Bohemian Hotel offers sweeping views of the river, well crafted cocktails and outside seating.
6. Leopolds Ice Cream. A Savannah icon for almost 100 years! The ice cream is made in-house and without the use of artificial dyes. Leopolds offers a grand selection of ice cream including Johnny Mercer's favorite, Tutti Frutti. The shop is filled to the brim with movie memorabilia from Stratton Leopold's movie career.
7.  The District Café and Eatery. Savannah. What a wonderful place for lunch! I had the chamoozie, a champagne-spiked smoothie—quite refreshing!! The menu changes monthly to best use seasonal ingredients. They offer a wide variety of pannis–I had the black raspberry gouda one…just loved it!
8.  Black Marlin Bayside Grill. Hilton Head. Great place for fish on the Island! They offer outside seating on their large patio around the bar.
9.  Crystal Beer Parlor. Savannah. Another iconic restaurant of Savannah. Great burgers and very nice beer list! One of my favorite places for lunch!
10.  Hudson's Seafood House. Hilton Head Island. What a wonderful little seafood restaurant on the water!! This restaurant offers tons of low country casual character! You may dine on the water instead of inside…but bring your bug spray so the mosquitos don't carry you away.
11.  The Pirates House. Savannah. What a fun place!! This unique restaurant is set in an inn built in 1753. The Pirates House offers pirate tours around the building and engaging servers. The food is quite good as well—especially the Shrimp and Grits. It's a popular stop on the haunted tours.
12.  Cashmir's Lounge at the Mansion on Forsyth. Savannah.  What great ambiance for a bar—upscale, prohibition-style feel. Love this place!
13.  17Hundred90 Inn and Restaurant. Savannah. Our book club loved this reportedly haunted bar!! It was the last stop on our haunted pub crawl and well worth the trip! The Shrimp and Grits was outstanding! We met several locals who regaled us with stories of the "real" stories behind the murder in Midnight in the Garden of Good and Evil.
14.  Sonesta Resort. Hilton Head Island. This resort claims food is art and I believe them! Their Fish Tacos are the best I've ever had!!!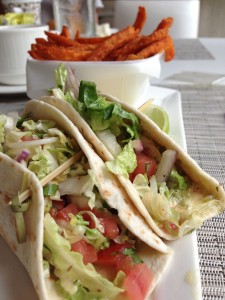 I am still on the lookout for new food-related gems in Savannah as this girl loves to eat! Let me know what your favorites are.