This week was #scotfoodweek on Twitter and, since I had just returned from a glorious week in Scotland, I posted several of my favorites on my twitter page @beckylukovic.  Although I have sent people to the UK for the last 12 some-odd years, I had no idea that Scotland was a true foodie destination.  Besides the first things that come to mind (at least my mind) of haggis, sausages, and scotch eggs, Scotland offers a wide variety of farm-to-table experiences with their Salmon (had no idea), highland beef cattle, duck eggs, crafted cheeses, venison and all sorts of wild game.
In the spirit of #scotfoodweek, I thought I would share my foodie adventures in once place…as a sort of grand finale.
Edinburgh
Sadly in this food-centric city, my time was quite short.  We did have two fine high tea experiences at the Hotel Missoni and the Balmoral (whose house champagne is Bollinger).
Top Left.  This tray, shared by two, has a wide selection of savory on the bottom, scones in the middle and sweets on the top.  The top plate has the lovely Missoni pattern that I just fell in love with!  The middle photo is a close up on the sweets:  an orange cake (just moist as can be – I think soaked in grand mariner), a hazelnut macaroon, a house made white chocolate vanilla marshmallow and a light cream.  To the right is the crostini with the most creamy goat cheese I have ever tasted.  What a way to snack with your tea!!!
At the Balmoral, high tea is served at Palm Court, an impressive dining room!  I highly recommend heading there for an afternoon pick-me-up when in Edinburgh.  The hotel is located right above the Edinburgh train station — you can see the tower and clock from many locations inside the old city.
As I mentioned before, their house champagne is Bollinger…but their selection is quite wide.  I found the combination of champagne and a piping hot earl gray to be oddly comforting! Their scones were light and fluffy–perhaps the best I've had and the local jams (right) were amazing!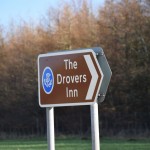 On the road to Aberdeen from Edinburgh sits a delightful restaurant in the middle of the countryside (don't you love those) call The Drovers Inn.  What a fantastic experience!  We stopped there for lunch after our tour of Glamis Castle.  The Drovers Inn is located in the town of Memus (http://the-drovers.com).  The menu was a fine blend of scottish heritage products and contemporary presentation.  It is worthy of a stop!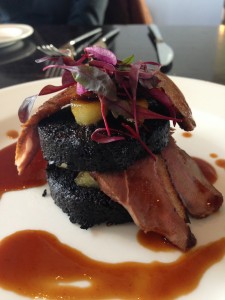 Smoked duck breast with Stornoway black pudding, caramelised apples & port wine jus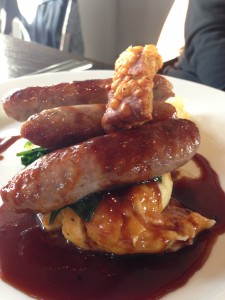 Sausages with Stornoway black budding, mash and apple juice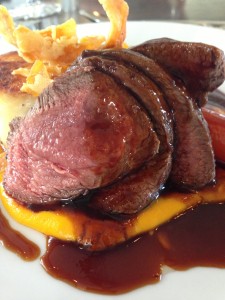 Venison steak with potato fondant, glazed carrot, carrot puree, butter spinach & truffle jus.
My personal favorite was the sticky toffee pudding.  I've had it before at other places and it has always been good, but not fabulous.  I was so incredibly full, that I did not think I had room for a single bite.  We shared the dessert and ended up in fork battles for the last piece.  How wonderful!  I may have to beg and plead for the recipe!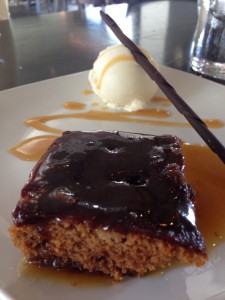 Sticky toffee pudding with malt whisky butterscotch sauce & vanilla ice cream
Click here to read Part 2.