After our decadent lunch at The Drover (and a nap on the bus), we arrived at the Marcliffe just in time for a quick tour, a cup of tea, and evening cocktails.  Our host, the owner, Stewart Spence started us off with a few snacks and a lovely champagne (I do love my bubbles).
Our dinner at the Marcliffe was just off the charts outstanding.  To start, I had the Seared scallops, curried pigs cheek, sweetcorn puree, peanuts, lime and coriander–Mr. Spence recommended the scallops and his recommendation was spot on.  For my entree, I  had a tender Wagyu beef (local Scottish reared Wagyu Beef from Udny by Christopher Leith Fed on 35% Maise, 30% Barley, 20% Wheat Starch and 15% Protein) that had a richness in flavor that the other steaks (albeit very good) could not compare with.  My dining companion and I compared steak notes and tastes.  The menu stated that cell phones were not allowed at the table and no tweeting at dinner, so I respected their wishes and took no photos….until we were presented the desserts…and I could not resist snapping a few quick photos.
The dessert menu had the subtitle of Happy Endings….and what a happy ending it was!!  Mr. Spence recommended his favorite dessert, the Home made banana ice cream, caramelised bananas, hot fudge sauce.  One of my colleagues ordered the Crème caramel, salted caramel ice cream, tarte tatin, caramel syrup.  Both selections were beautifully prepared and tasted even better than they looked.  Mr. Spence presented the table with house made fudge (divine) and chocolates with after dinner coffee and tea.  I was convinced at this point that Scotland is indeed a foodie destination!
Unfortunately, The Marcliffe will close in November to make room for a new office complex in Aberdeen.  There are plans to continue the Marcliffe culinary tradition with a restaurant and spa on the ground floor.  If the restaurant does materialize, it would be a fantastic stop if one is near Aberdeen.
After a hearty Marcliffe breakfast, we headed for the highlands.  We arrived at the historic, boutique hotel, The Torridon (AA Hospitality's Best Hotel in Scotland for 2012 and 2013), just in time for a light lunch of a lovely soup and sandwiches.  Our lunch was served in the bar–a very wonderfully masculine room full of rich colors and textures and, of course, animals along the wall (how very Scottish).  At the Torridon, they use many products from their own garden, have chickens at the owner's property, and raise their own highland beef cattle.  The chef prepares exquisite dishes that are beautifully presented.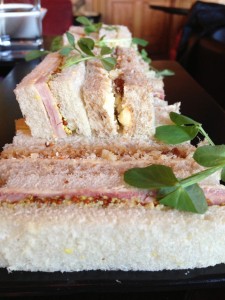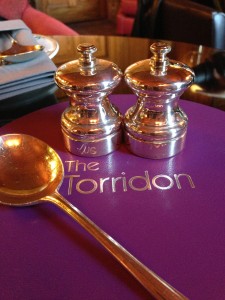 The first thing I noticed was their incredibly vast collection of Whisky (note…there is no "e" in "proper" whisky according to our Scottish driver who never drinks whisky with an "e.").  They have scotch to suit almost anyone's taste and some nice rare bottles as well.  Our group enjoyed a whisky tasting–exploring the different regions of Scotland through tasting the flavors of peat, carmel, vanilla and smoke.  What a delightful experience! 
We tasted the Blair Atholl 12 year old scotch with its nut and sherry undertones with a hint of gentle peat.   The Old Pulteney was actually matured in bourbon casks and is a bit lighter than the Atholl.  Thanks to the coaching of Denis at our local upscale spirits store, Vine and Table, I was able to enjoy the intricacies of fine scotch whisky–I thought that would never happen.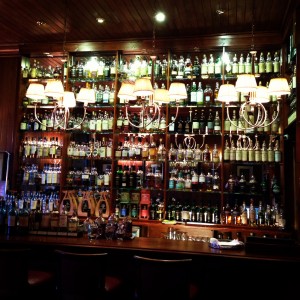 Dinner was served in the main dining room.  Our host for the evening was Dan Rose-Bristow, the hotel's owner.  Torridon Chef David Barnett creates unique five course menus daily sourcing products from local producers as well as from their own farm.  We started with a lovely risotto, superb locally raised lamb and ended with a well displayed cheese course from Britain and France.
The meal was one of our best on our luxury trip through Scotland! When I made it back to my room, I spied a carafe of Scotch near my bed and an assortment of organic teas and hot chocolates for morning along with a bottle of sparkling and still spring water.  My only regret was that my stay at The Torridon was not longer.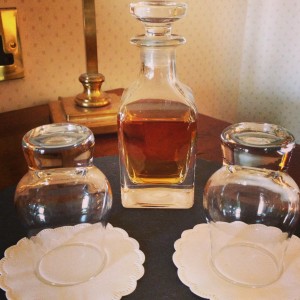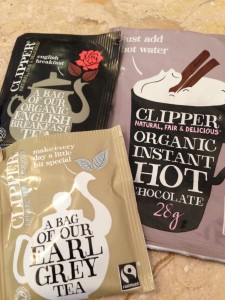 Stay Tuned for Part 3.  To read Part 1, click here.  Check out my Facebook Luxury Scotland photo album with more of my adventures in Scotland.