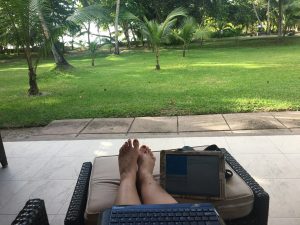 Good morning Seychelles and Indian Ocean!!
As I sit here on my private terrace this morning in front of the Indian Ocean hearing the resort wake up and the rich sounds of nature surrounds me, my heart is full of gratitude. I wish you could hear the sounds in this post!!! Its a symphony of sound–nature's call and response.
I love my job!!! Even when I am at my desk in Atlanta and not traveling the globe, I truly love my job! Not only do I get to experience the world, I get to inspire others to do the same. I get to make travel plans not just for myself, but for people I've grown to care about–people whose dreams I hold in my hands and I love it!
Yesterday, I swam in the warm waters of the Indian Ocean–the freakin Indian Ocean!!! I remember as a girl in elementary school reading about far away places in National Geographic…. In my mind, I was on adventure with them–hungry for more stories of camels, and trade routes, monkeys, and the seven seas. Yesterday, as the sea's soft sand buried my toes underwater, I remembered those longings for adventure…and then realized I am on it!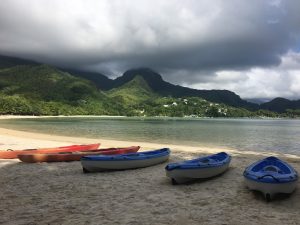 I am so grateful South African tourism and Gilt Edge Tours gave us time to soak in the destination and reflect. Many times in our quest for learning as much as we can about a destination, we forget to pause. I tell people to pause–I remind them to soak it in….but I sometimes forget to do the same for myself. Just be still, Becky. Take it in…. just breathe. Don't get so swept up with the adventure and the "do" that you forget to be. There is nothing on my list right now except to be….
There is more to travel than The List. There is more to travel than the swagger of another destination explored…. It's not the intake of breath…the intake of experiences….it's the exhalation…that moment when you have nothing else to do but just be…even for a moment…
Now it's time for a swim….and to put those toes in that Indian Ocean again.
Next:  How about a Safari? Or read about the lessons I learned the last time I traveled to Greece.