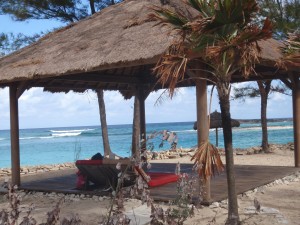 Nothing creates a relaxing extended weekend like an all-inclusive.  There are no worries about food/drink budgets, no decisions larger than pool or beach, margarita or daiquiri, lounge chair or pool float.  You can order what you want when you want and if you don't like something, you simply ask for another.  What a relaxing way to spend the days before or after a holiday!
The Man and I spent five glorious pre-Thanksgiving days at the Sandals Royal Bahamian in a concierge level junior suite with an ocean view off our balcony.   The room had a lovely four-poster king bed, an ipod dock and a stocked mini-bar.  I ask you, what more does a girl need??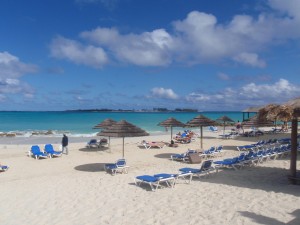 Every morning, I slipped out of bed, slid the glass door open to our balcony and said "Good Morning!" to the Caribbean.   Room service brought a pot of tea, a pot of coffee, orange and pineapple juices and assorted fruit to start our day.  (Of course, we would have Second Breakfast in the restaurant….explaining why my pants won't now button…).  I spent my first waking hour on my balcony, tea cup in hand,  a mimosa from last night's bubbles on the table, and read my book.  It was glorious!  This is why, in my opinion, the room MAKES the vacation!
After spending five days at the resort, I learned things that the web won't tell you—-things that will make your visit to Sandals Royal Bahamian a bit more… fabulous.  Here are my top tips for the resort:
Make your dinner reservations the Moment you arrive!  The specialty restaurants are somewhat small and can accommodate a small number of diners each evening.  Make your reservations early to ensure you will enjoy all the restaurant offerings at the resort.  This resort has three reservation-only restaurants all guests can enjoy at no charge:  Kimonos, Cafe Goombay on the private island, and Baccarat, the French restaurant.  There is a fourth reservations-only restaurant, Gordon's on the Pier, available to butler category guests at no charge, but for the remainder of the resort guests, there is a significant cover charge.  Gordon's was damaged by Hurricane Sandy and is currently being rebuilt.  The other dinner restaurants, Casanova (Italian), Cricketer's (English Pub), the Crystal Room (a la carte) and Spices (buffet) are seated on a first-come, first-served basis.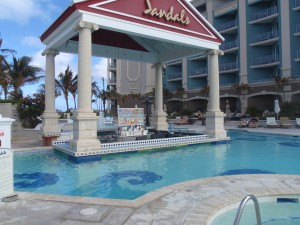 There are two pools on property – a quiet pool and a fun pool.  Both have swim up bars.  The quiet pool has a bit more architectural interest and cubbies where you can get away from the masses, but there is a caveat:  the fun pool is slightly warmer than the quiet pool which meant for me that if I wanted to lounge in-pool, I had to endure the games and activities of the fun side—–lying on a raft, drink in hand, floating with my Man…..it was brutal!  But, being the experienced travel agent that I am, I knew I needed to take one for the team.  The hot tub at the quiet pool, however, is the best one on property—consistently warm!
If you want a beer besides the local, light Bahamian beer, go to Cricketer's Pub.  They have canned Guinness and also pour Heinekin.  Cricketer's is a sports pub, so The Man and I were able to watch our beloved Indianapolis Colts play the New England Patriots.  Unfortunately, it was not Andrew Luck's day….so we drowned our spirits with spicy hot wings (which were rockin) and cognac.
If you want a good drink, don't go to the bar at the beach….for whatever reason, they don't properly mix the drinks there and they tend to run out of beer.  The lines can be long…and slow.  I tasted several drinks (and left them) before I gave up and went to the pool bar.  I would suggest that you find a different bar to get your drink and take it to your lounge area.  The evening bartenders seem to be the best bartenders at the resort.  I was satisfied with my mixed drinks from Cricketer's and the Piano bar.  The bar staff on the private island pool bar were good as well.  Be prepared, however, for super-sweet pool drinks….they seem to add a lot of extra bar syrup and grenadine to all of the pool and beach drinks.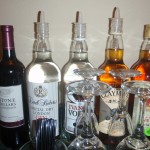 Book a concierge or higher level room.  You're at an all-inclusive, so why book a concierge-level room??  We had a stocked mini-bar….stocked daily.  I wasn't a fan of the Beringer wine they served, but I did like the French sparkling wine they put in the mini-bar for our first night (different than the one they served in the bars/restaurants).  I requested a bottle a day….it was glorious…bubbles every day!  In our room bar area, we had full bottles of rum, vodka, gin, and scotch along with beer, water, soft drinks and juice in the fridge.  This came in handy one afternoon when the rain came in and we hung out at our room playing cards and drinking rum cocktails.  Also, concierge service at this resort allows you to have room service for a continental breakfast.  Although we preferred to eat a more protein-rich breakfast, it was nice to schedule an early delivery of hot tea and coffee and fresh-squeezed juice for my mimosas!   The concierge desk gave us a place to go to ask questions, resolve issues and make reservations.
Keep your expectations in check.  This is not Michelin Starred, elevated cuisine.  It's more along the line of Maggiano's, Red Lobster, and other high-quality chains.  The food is good; it's just a bit streamlined for all the guests.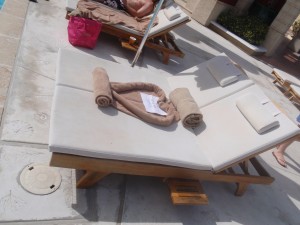 Butler Service is the Bomb! The gold-vested butlers brought drinks to their guests, assisted them with reservations, arranged private dinners and most importantly, reserved their favorite pool lounge chair or even better–bali beach bed. These can only be pre-reserved by the butlers—otherwise it is first come, first served. The butler guests had a cell phone to call their butler. If they left their book or sunscreen in their room, the butler would bring it to them. On the private island, the butler guests not only had reserved beach beds, they had a dedicated wait staff to bring drinks and food at their every whim. I was pea green with envy!!!
Remember – just because it's an all-inclusive does not mean you can't order to your specifications.  Time after time, I modified my entrees and drinks.  It may not be able to happen in every instance, but remember to treat the restaurants just like you would back home and ask for what you want.  If you are in a concierge or higher level room, put a note inside the fridge asking the attendant to replenish your favorite things.
Like restaurants in the Indianapolis area, there will be a wait to get a table at the non-reservation restaurants….you will put your name on the list for seating…just know that in advance.  One of the best meals we had was in the Crystal Room (the main dining room) – the service was impeccable and food perfectly crafted and arranged—and the wait was 45 minutes.  There are no bar areas to wait inside most resort restaurants, but the Crystal Room has a nice bar just outside the restaurant.
Take the number 10 bus from the Sandal's entrance into town to visit Fish Fry and downtown shopping.  I wish we had done this earlier in our visit as we would have done this several times!!  Fish Fry is a group of local restaurants – like a conglomeration of hole-in-the-wall mom and pop places, food trucks, and tourist-friendly restaurants.  The bus goes by the resort every ten minutes or so and costs 1.25 per person each way.  It is simple, convenient and safe.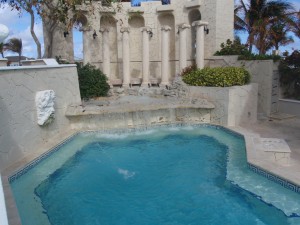 Remember that the Bahamas is subject to cooler weather than other islands in the Caribbean.  It is still pleasant, but as the weather cools, the waves and tide level increases.  In the winter months, some water sports may not be allowed on high-tide/high wave days.
Lastly, although the website states that one can Kayak or sail to the private island, this is actually not allowed—just in case you had dreams of kayaking together to the island.
After our short trip to the Bahamas, The Man and I were rested and ready to tackle the holidays!
Next: It's All About the Romance: Travel Tips
Next:  http://bellatravelplanning.com/hotel-review-secrets-silversands/