Sometimes you just have to get out of dodge…find a quick flight and get your toes in the sand and a margarita in hand–STAT!  The Man and I recently needed a break from the day-to-day grind…wear nothing but swimsuits all day and have unlimited quantities of tequila and guacamole under a palapa.  Enter Secrets Silversands! This gem on the Riviera Maya was the perfect location for our last minute beach fix.  It's reasonably near Playa del Carmen and the Cancun Airport.  Secrets Silversands is part of the Secrets brand that I know and love so much!
Not all all-inclusives are cut from the same cloth.  I've been to a few where the drinks were always too sweet, the food below average, and no beach and pool service–meaning to get another cocktail, you have to don your coverup (a necessity at my age–optional for the beach body 20 somethings), march over to the bar, and wait in line until your turn…no bueno–especially when said drink is all syrup with a dash of tequila.  I like the Secrets brands because their cocktails are consistently good, the food (for the most part) is above average for an all-inclusive, they have several a la carte restaurants, and their attentive pool and beach wait staff are well trained.  At Secrets, you do not have to make dinner reservations–something I really like because it gives you maximum dining flexibility.  At times you have to wait, but it's like waiting for a restaurant at home–you have a pager thingy and you wait at the bar.  The difference is that this bar is included.  🙂
We opted to upgrade to the Preferred Club ocean front junior suite.  I typically like the Preferred Club area because you get a dedicated bar area as well as pool and beach areas.  You also get upgraded room amenities and mini-bar.  At this resort, the only way to get an ocean front room is to have a preferred club room–and I love my view!!!
Honestly, I was a bit disappointed in the Preferred Club for this resort while we were traveling.  The upgraded beach area was not really patrolled so anyone could hang out there.  Normally, I don't really care who is there, but there were only a handful of covered bali beds on the beach and the competition was tough to get them.  I channeled my inner morning person to save our spot, have some alone time on the beach and catch up on the latest trashy beach novel.
The "upgraded" mini bar was only small airplane bottles of random liquor delivered each night (Amaretto and Jack Daniels anyone??), Pringles, and Candy Bars.  Not exactly my cup of tea!  There was beer in the fridge, but no sparkling wine or regular wine could be delivered to my room, so I had to trek down to the Preferred Club Bar for my morning mimosa.  Although it messed with my sittin in my pjs watching the ocean with a mimosa vibe, it did actually assist in my quest for a beach bed, so I got over it.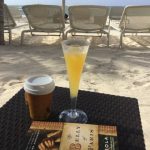 The preferred club lounge was good.  It was right around the corner from the beach beds, so I could get my mimosa and not have to walk too far until the beach bar opened.  Their drinks were good and their people were friendly.  The concierge didn't seem to be too helpful with things aside from getting a new key, etc., but they were nice.  The Man and I are pretty low maintenance….
The beach bar was my favorite place to be!!  Smiling faces, wait staff who remembered your drink.  The beach wait staff come from this area.  Each morning, my smiling bar friend would walk up to my beach bed when the bar opened and asked me if I wanted a margarita or if I was still drinking mimosas.  I love love it when people take the time to remember the preferences of their guests!  The beach bar is a wonderful, shady place to sit with a book and watch the ocean…or a wedding…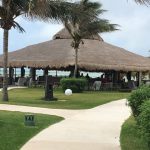 The ocean front rooms were nice – beautiful sweeping views.  There is a pool below the rooms, so there is a bit of pool noise during the day, but that really wasn't a big deal in the scheme of things.  The rooms at ground level with the swim up rooms had their whole room on display for the entire back of the pool.  They did have a dedicated pool chair (I was sometimes jealous)….so it's a trade off.
My red-like-a-lobster shoulders can attest to the fact that shade comes at a premium at Secrets Silversands.  There is not much of it and the chairs go fast–like roadrunner fast!  People do save chairs at the pool so be prepared!  Pool floats also go somewhat quickly as well….  I am a beach girl, but sometimes it was nice to hang out at the pool.  There seems to always be something going on (besides drunk vacationer watching)…  One afternoon, an entire Mariachi band serenaded the pool.  I did love that!
The beach was just okay.  The water had a few large rocks that could be problematic if someone wanted to swim.  There are pockets where you can get into the water away from the rocks, but they are there.  I'm not a huge ocean water swimmer, so it wasn't a huge deal for me.  Next door to the right is a bit unsightly with what looks like an abandoned building–hopefully that will change.  The water was clear, though and perfect for wading…
Secrets Silversands does have a couple of over-pool bungalows tucked into a corner.  My understanding from my tour with the sales manager is that these sell out very quickly.  They have a private pool area, but are right along a path, so privacy may be a concern (not everyone is the same level of a privacy fanatic as I am).  They were cute, though!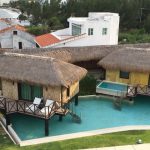 The restaurants were good, although not as good as other Secrets properties I have visited.  The French restaurant, Bordeaux was perhaps the biggest disappointment here–but really in service and not in food quality.  We ordered a nice bottle of wine and the waiter poured himself about a half a glass as "his share," which was off-putting.  Although it is common to give the som a taste of a really nice bottle of wine, I feel as it's ours to give and not theirs to take….he left it untouched at the side of the table for our entire meal, so at the end we decided to split it and were subsequently chided for our wine shenanigans…. We had such a lovely experience at this same restaurant at the Secrets in Cabo, so I think the bar for this restaurant was set a bit high.
The Man and I dined at the outside seafood restaurant, Seaside Grill, a few times and it was the food highlight of our trip! Great service, well-prepared dishes.  We were happy campers!  You just have to remember that in serving this many people in a hotel, the food here is going to be more like a high quality chain restaurant–Maggianos, Bravo quality, etc. and not haute cuisine.
At night, the property is lit up and just beautiful!  Lit statuettes line the way from the room blocks to the lobby bar area and entertainment complex.  I just loved this resort at night!
Secrets Silversand's entertainment was really fun some nights!  I loved the trick roper and the mariachi players!  They were quite talented!  Some nights, the show was awkwardly sexualized (like the pop artist lip synch show with a dominatrix theme) and I didn't love it… The day activities were a place where the resort shines!  There are the obligatory pool games, but also some very focused activities for those not inclined to partake of pool-side shenanigans.  At the manager's reception, they had a casino night where we had a Texas Holdem tourney (and yours truly won a bottle of El Jimador tequila! Poker Face, baby!).  The canapes at the reception were delightful and creative.  The management staff were quite friendly and inquisitive of the opinions of the guests.
During the day, the buffet near the pool was a highlight!  There were giant paella pans and unlimited guacamole (I tried to just take the table-sized bowl straight to my beach bed, but eyebrows were raised).  On the pool-side buffet, the food was fresh and delicious!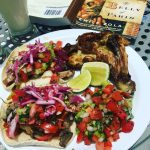 The bartenders at Secrets were very good.  They served drinks with fresh ingredients and the bartenders really seemed to listen to how you wanted your cocktail prepared.  To me, this is key!
Weddings at the resort were held at the overwater gazebo at the resort (at least the weddings I saw).  There are several different wedding location options, but these were the ones I enjoyed watching from a distance.  The beach and the waves made a great destination wedding backdrop!  One bride had a reception in the covered beach bar area with Mariachi bands heralding their arrival.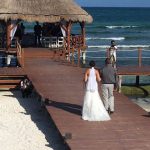 We were sad to leave, but looking forward to our next beach adventure! Adios Cancun!
Becky Lukovic is a destination wedding and honeymoon specialist in the Johns Creek and Roswell, GA area.  She is a romantic at heart and loves helping her brides and grooms create a wedding unique to them.  She also makes a mean (and potent) margarita!