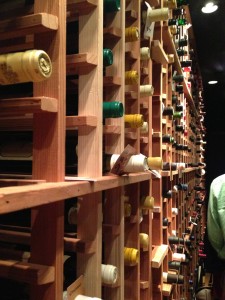 A few weeks back, we experienced a foodie extravaganza weekend in Cincinnati with a few of our Indy Chaine des Rotisseurs friends.  I just love foodie experiences—especially those with multiple dining and wining opportunities.
On Saturday morning, The Man and I arrived at the Findlay Market just as it came into full swing.  We walked up and down the aisles of food artisans and market purveyors—wishing we lived a bit closer to better take advantage of the food offerings.  The Findlay Market is unique in that it offers of market-type products (fresh cut meats, fruits and vegetables, pastries and breads, gelato, spices and more) combined with restaurants, outside food tents, and ethnic stores along the outside perimeter.  You can get cold draft beer in many places and even a glass of wine in the wine shop (or have a wine tasting) on the outside perimeter.  We snagged a few sweet-smelling Georgia peaches, grabbed a pulled pork barbeque sandwich and made our way to meet our friends at the Cincinnatian Hotel.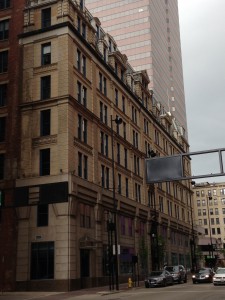 The historic Cincinnatian Hotel recently completed renovations (just weeks ago) and was full of character.  Built in 1882, The Cincinnatian Hotel was originally named The Palace Hotel.  The eight-story French Second-Empire hotel was the tallest building in Cincinnati. The original hotel offered 300 guest rooms and a shared bathroom at either end of each corridor.  The Hotel was an early adopter—providing their guests elevators and incandescent lighting.
The Palace Hotel's name was changed in the early 1950's to The Cincinnatian Hotel. Unfortunately, the quality of the hotel deteriorated over the next thirty years and it was scheduled to be torn down to make way for a parking garage in 1983. However, the historic hotel was saved and it closed for four years of extensive renovation.  $25 million later, The Cincinnatian reopened.
The Cincinnatian Hotel now has 146 guest rooms, including 6 suites.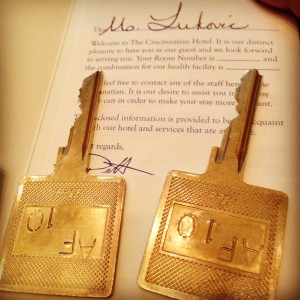 After checking in (where we received tres cool, old school room keys), we took a quick stop into the Cricket Lounge to meet up with a few of our friends and have a cool white wine because it was a bit steamy outside.  Their drink menu offered some nice diversions from the typical hotel bar—a Piesporter Reisling, a California Moscato, a French chardonnay and my choice, a Vihno Verde from Portugal.
Our room was lovely with ample space and a small sitting area overlooking the city.  The bathroom had dual areas with two sink stations—one inside the actual bathroom and one outside.  I love it when we have this dual set-up as it makes getting ready for dinner so much easier (especially since I am a sink space hog).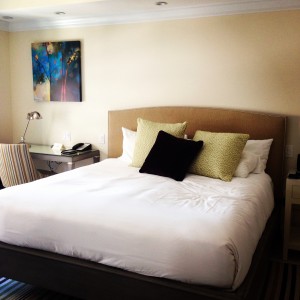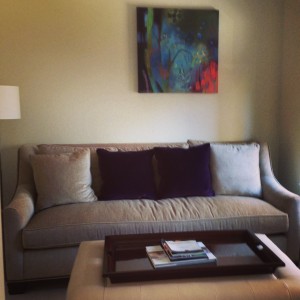 Of course, since this is a historic hotel, each room differs somewhat, but I was pleased with the renovations in my room.  With this hotel, there were a few stages of renovations, with some of the rooms retaining the more traditional type of furnishings and décor and some with a more contemporary style like mine.  The two-bedroom suites offer two different set-ups—one with the living space in between the two bedrooms and one geared more towards families where the rooms connect together with the living space off of one room.  Keep this in mind when reserving these suites.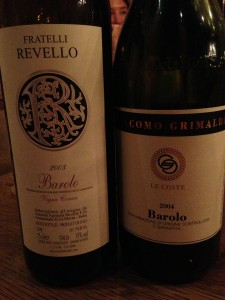 We had an afternoon appointment with Water Tower Fine Wines in Mt. Washington—just outside of downtown (about a 15 minute taxi ride) where we tasted a selection of grower champagnes and perused their selection of unique wines.  Water Tower Wines is quite the charming wine store—it is located in an old farm house with each room displaying different geographical areas or varietals.  Our favorite of the day was the 2004 Pierre Gimonnet & Fils—we liked it so much, we purchased a bottle to take home.  The Man and I also grabbed a couple of racy Italians to bring to our dinner that evening.
Upon our arrival back to the Cincinnatian Hotel, we saw that the Cricket Lounge was starting to bustle with guests watching the Belmont Stakes race hoping for a Triple Crown winner.  There was a jazz trio playing in the background—they were quite good!  The trio plays every Friday and Saturday evening from 6:00pm to 11:00pm.  I had a chance to peruse the drink menu a little more carefully and saw that they offered a wide selections of bourbons, and cognacs as well as specialty martinis, dessert wines and champagne splits.  I chose a 187ml Moet to celebrate California Chrome's victory (but drowned my sorrows for his loss in the second glass).
The Cricket Lounge first opened with the original hotel in 1882 and was the hangout for the journalists for the Cincinnati Enquirer.  The original lounge was next to the hotel, but when the hotel reopened in 1987 after a multi-million dollar renovation, the lounge was moved to the top of the lobby stairs.
Our group reserved a private room at Boca, a contemporary, urban restaurant with a European flair.  Chef David Falk delighted us with a lovely four-course menu for our group.  We had three choices for each course…..and they were tough decisions indeed! I had the Beet and Goat Cheese Mezzaluna Salad and The Man had the Carmelized Brussels Sprouts to start and what a wonderful start it was!! My salad had finely chopped hazelnuts and fresh greens and I practically licked my plate!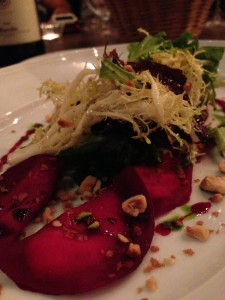 Our servers were quite attentive (we often wondered if they peered through the art to see if we needed anything as they seemed to magically appear at the right moment) and our server was a font of information regarding both the food and wine pairings.  For our second course, I had the cheese-filled pasta delight, the Cappellaci Bolognese and wanted to crawl inside my plate to lick off every single bit…..but I was in a fabulous dress…..so I acted a bit more civilized.  The Man ordered the Seafood Risotto with lobster, scallop, mussels and tomato confit—tempting me to sneak extra bits off his plate.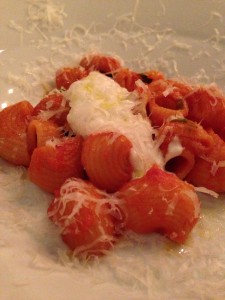 Since we brought two lovely Barolos, I decided to order the Filet Boca to pair with my wine.  This exquisite filet was accompanied by king crab, fingerling potatoes, and a bearnaise sauce—I was so incredibly stuffed, that I ate about half of it….but it was by far the best thing I had that night—just so beautifully prepared!  V had the Chatham Bay Cod with robuchon potatoes, Thumbelina carrot, and parsnips which was prepared to perfection!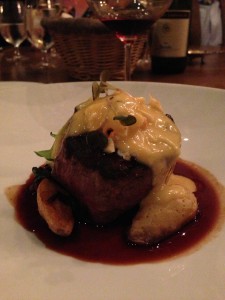 Although I didn't think I could stuff one more ounce inside my belly, the Chocolate Terrine beckoned me from the menu.  This beautiful rectangular chocolateness was topped with toasted pistachios, olive oil (yes, it totally worked), and smoked salt.  It was a delightfully rich, savory chocolate—the perfect ending to our meal!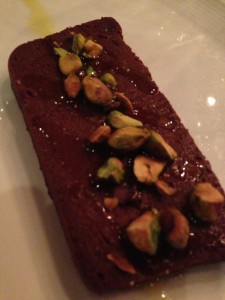 We walked off dinner a bit in the vibrant downtown of Cincinnati—it was hoppin for sure!!
The next morning, we had a private room reserved for our group at the Grille at Palm Court at the Hilton Cincinnati Netherland Plaza for their epic Sunday brunch.  What a brunch this was!!!!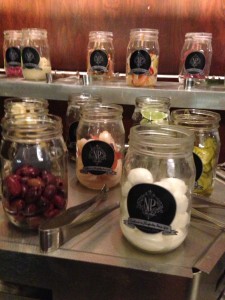 The Bloody Mary bar instantly caught the eye of many of our crew.  Cute chalkboard adorned mason jars were lined up across the table with every garnish and ingredient you could imagine.  My Bloody Mary looked a bit like a salad in itself and had enough horseradish to properly wake me up after an evening of wining and dining.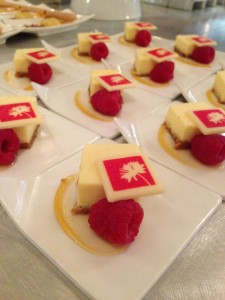 The brunch had an incredible number of stations—pastry, bagel, desserts, salads, fruit, cooked vegetables, ham and beef carving stations, salmon, eggs of all sorts, traditional breakfast fare of bacon and sausage, and an impressive cheese board.  I wanted one of everything!  The private room gave our group a nice space to catch up and enjoy the remainder of our morning together before we went back to the real world of yard work, kids parties, and grocery shopping.
If you are looking for a good, drive-able option from Indianapolis, consider Cincinnati—especially if you are looking for a great food experience!
Next:  Savor Savannah