In one of my favorite movies, Out of Africa, Karen von Blixen entertains Barkley and Denys with dinner on her beautiful Limoges (woman after my own heart), wine, and stories of faraway places. After her beautiful, moving story is done, Denys asks her if she had ever visited the places she talked about and Karen replies, "I have been a mental traveler."
Traveling mentally – gosh that has turned into a reality these days with all things #Coronavirus and #SocialDistancing. Long awaited vacations have been cancelled – trips to exciting places, beach getaways, family gatherings….. I had to cancel my own travels through Europe (a three-week extravaganza from Italy to Belgium to the Netherlands)….and my passport is just….well…sad.
This got me thinking. I said to myself, hey mental traveler, since I've watched all the Netflix things, drank all the rosé, viewed every episode of America's Next Top Model on Prime, and baked all the cookies, let's start a blog series of my favorite travel memories.
Let's be an armchair travelers together–just come along with me. Warning – stories may or may not be embellished for effect, because you know how stories go—they get bigger and better – like that fish you caught when you were 12….
Join me on my next blog series: The Arm Chair Traveler: Travelfornia Dreamin
So I brew a pot of some fancy schmance tea I bought the last time I was in Paris, lit the fire, and started dreaming of the last time I was in my favorite place in ze world: Positano. (Cue blue water, dramatic landscapes, and warm, salty air).
For my fiftieth birthday year (yes, I got a year–as is proper), we brainstormed with our neighborhood besties to go somewhere special and rent a villa—Positano was the destination. Our villa overlooked the Mediterranean Sea waaaaay up on the cliff (754 steps to be exact) surrounded by bougainvillea (I just loved waking up each morning and saying bougainvillea).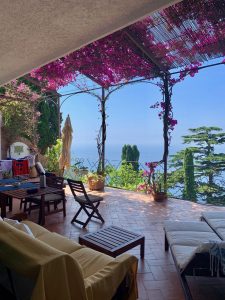 We spent the day on the sea with our own 43-foot private boat and captain, David (Dah-Veed – ya gotta say it right to make it work). As we stood on the concrete pier near the beach in Positano, towels in our hands, we tried to spy which boat is ours. I called Captain Dah-Veed to get boarding instructions and spied him standing behind the wheel in all white — barefoot – navigating the vessel towards us. So.Very.Italian.
He pulled down a (very small) plank and we walked aboard. I was first and Captain Dah-Veed took my hand to steady me – then kissed my palm and said "welcome aboard, beautiful." Gosh I love Italy!!! Captain Dah-Veed helped my bestie girlfriend aboard in the same fashion and just smiled at the men and welcomed them to his ship.
We leave the harbor of Positano and tell our Captain what our priorities were – swimming, lunch somewhere non-touristy, and seeing the coast as far as we could. And we were off! The water was crystal blue with the waves trimming the edges like white lace on a navy blue dress. The Boat rocked gently and the salty spray kissed my face. I am totally in my happy place. Commence plans to sell the Luko estate and purchase a boat in Italy stat!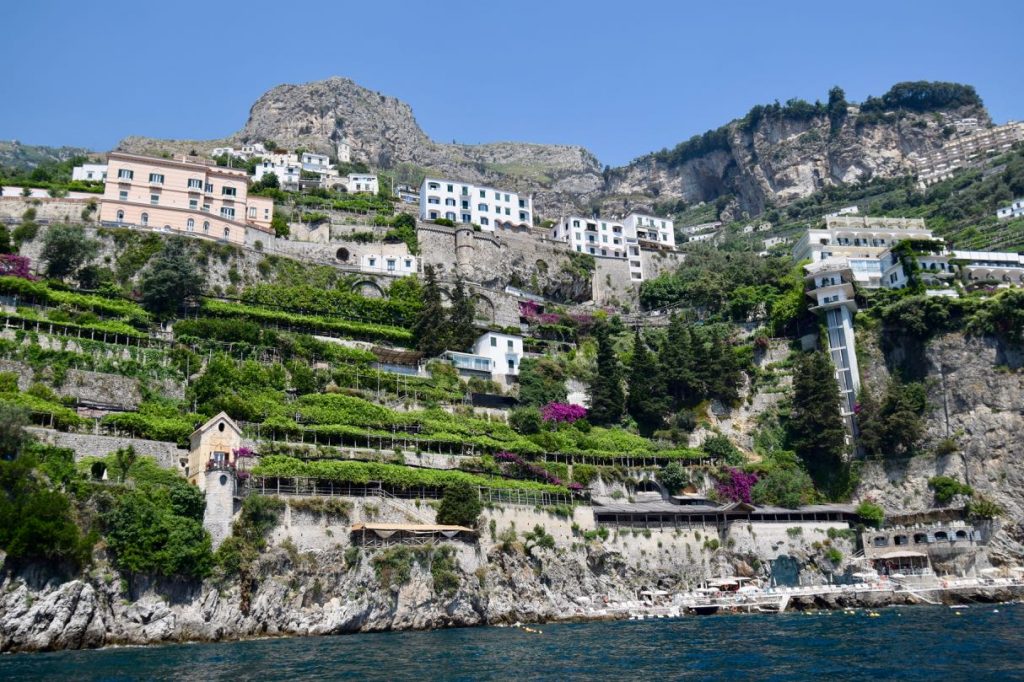 Lifestyles of the Rich and Famous
We passed other boats and yachts (was that Beyonce? George Clooney??) and soon became so enamored with the feeling of being free—being on the water—that everything else disappeared except friends on a boat (and Captain Dah-Veed). Glorious – just glorious!! I really cannot think of anything better…..
The Adventure Continues:
Captain Dah-Veed slowed near an island rock formation where many boats were rolling in simply to let their passengers jump in – what a cool place!!! We asked if we could jump in, and he replied "it's your day, you do what you want." One bestie jumped in – he's ready to hit the water and takes no time to dive in the sea.
The three of us remaining began looking for swim noodles, taking off our cover ups, checking sunscreen, removing sunglasses and then putting them back on, taking pictures of the bestie in the water waiving….just taking our own sweet time. We didn't notice Captain Dah-Veed shifting nervously in the background….
Suddenly, he says, "Signora, give me your camera." I am like why? He said, "just give me your camera – now the three of you – Pose nicely – quickly quickly quickly."
Seemed strange….until we see the coast police coming up to the boat and we start to understand…. There was a reason the boats all went in and out quickly just letting their people jump in and swim around the formation to the other side…. Apparently this situation was no bene…
I hear Italian discussion and then something about just taking a photo his passengers by the pretty rocks…
louder Italian….
even louder Italian…..
discussion amongst the coast guard police people (whose boat looks eerily similar to the boat in Jaws)….
more loud Italian….I am starting to wish my rudimentary Italian skills included legal terms and boat words…. Suddenly, Captain Dah-Veed starts the engine and departs. The three of us look at each other wondering what the heck is going on….
Bestie in the water waves pensively and we go to the other side.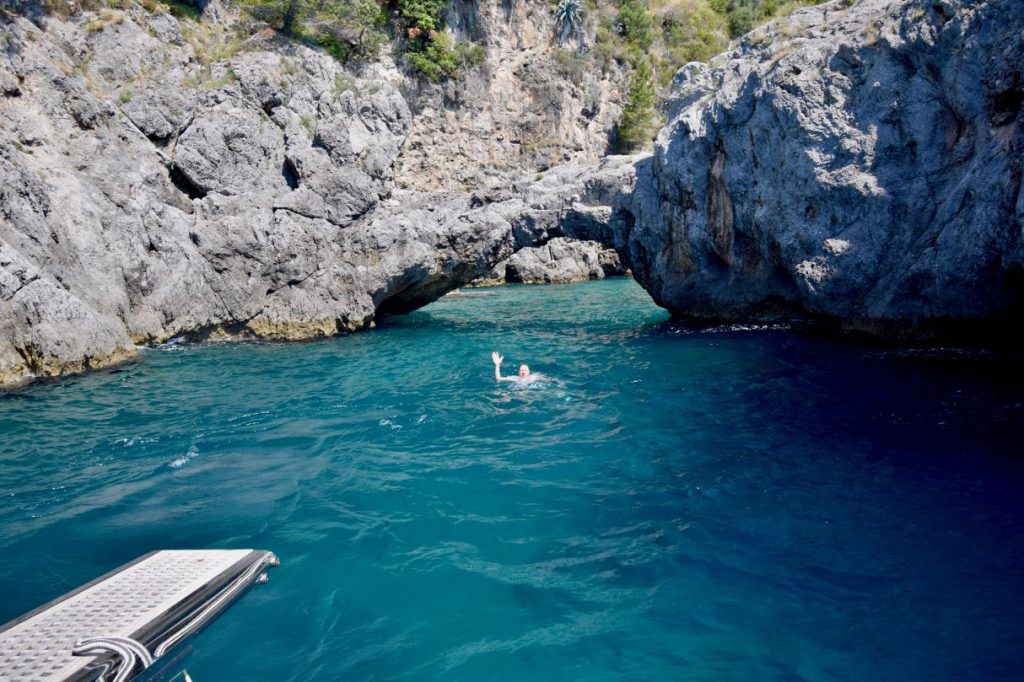 Now before you panic, know that this was a good swimming area and boats are on the other side of the rock formation island, so there was no danger to the bestie in the water…..
The boat stops and we put down anchor. The water police return and the terse talking continues. Captain Dah-Veed brings papers up from the office below deck, and puts them in the telescoping fish net the Water Po-Po thrusts at our boat. Captain Dah-Veed paces – I know that pace – I've seen that pace when my Daddy got annoyed.
Captain Dah-Veed briskly goes downstairs (more papers???) and brings up a perfectly cooled Prosecco and some boat appropriate cups.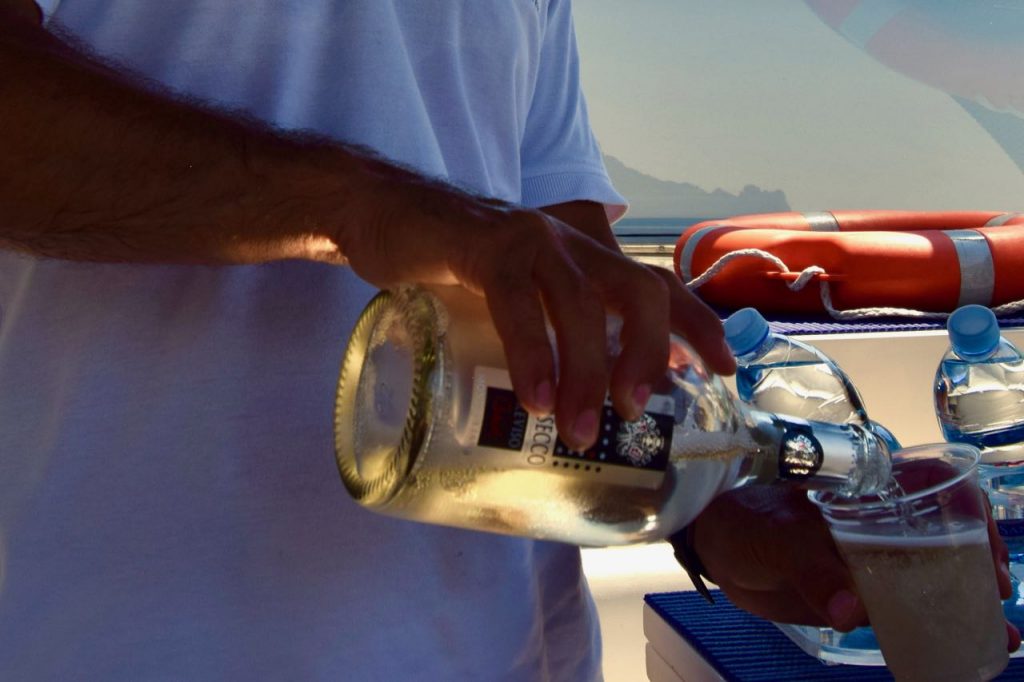 "It's all normalé, don't worry" Captain Dah-Veed says…."just normalé." He brings some cheese and bread to our table. The other bestie, The Man, and I sip fresh prosecco as the boat gently rocks and think "this is livin."
Meanwhile the first bestie is floating in the blue, salty Med waiving and thinking WTF??
The moments pass and the Water Po-Po leaves and Captain Dah-Veed moves the boat closer to Bestie. We anchor, grab our brightly colored noodles and join Bestie in the water. Gosh I love Italy!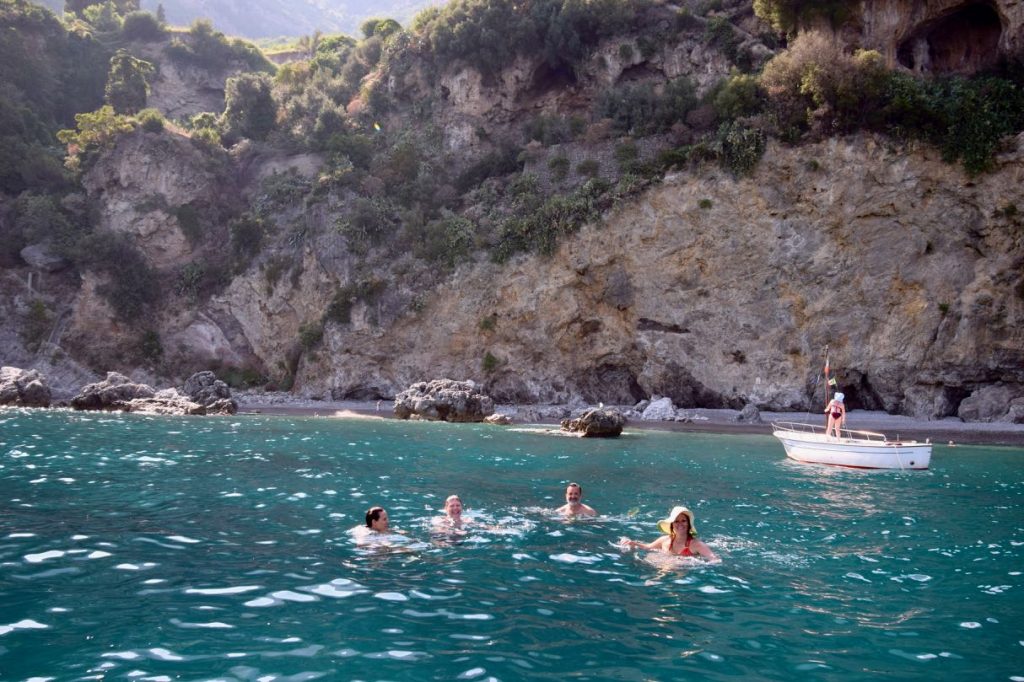 After being in the water long enough to be all pruny, and wondering if there is more cold Prosecco, we re-board the boat for a bit of sightseeing….and a nap on the back of the boat. Truly, there is nothing more glorious than napping on a cushion in the back of a luxury charter boat while motoring down the Amalfi Coast.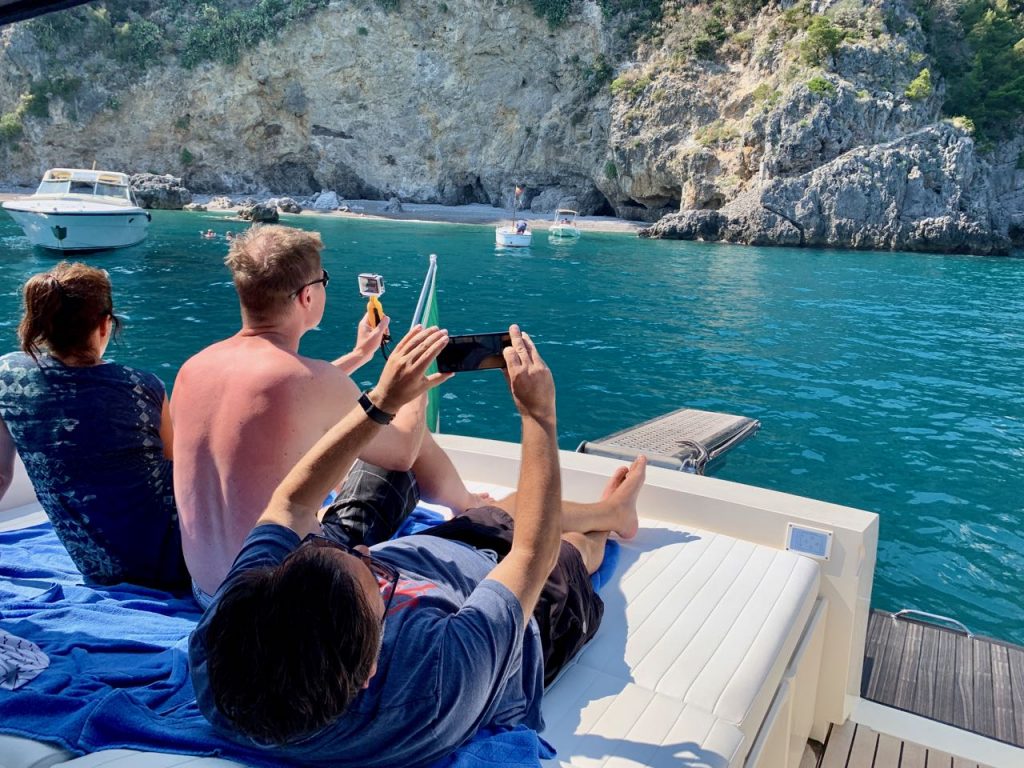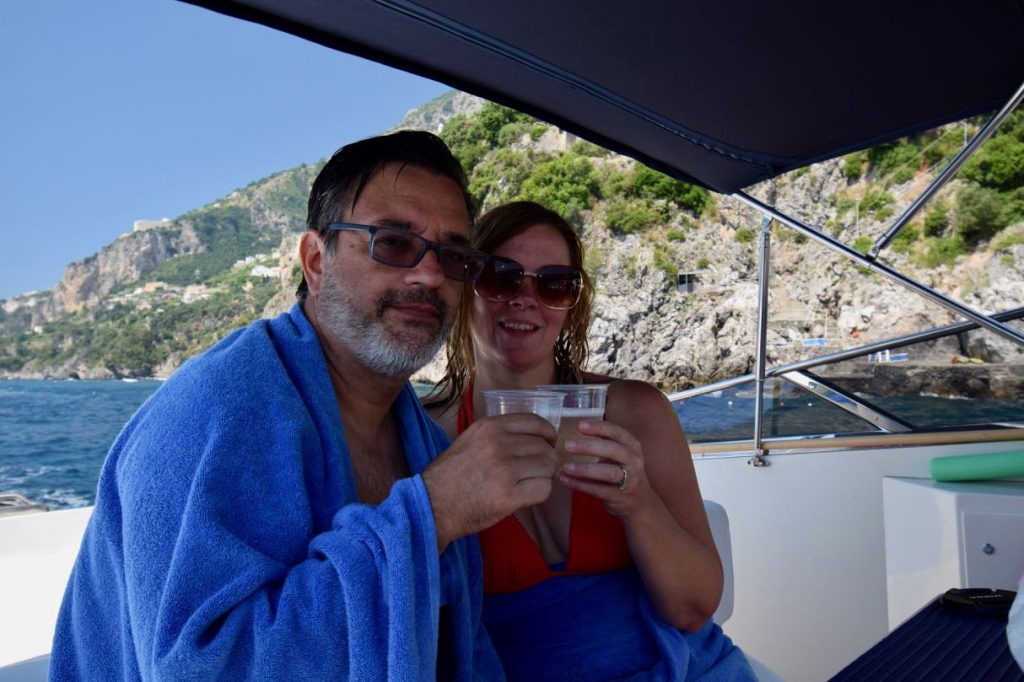 The Nap
After a short nap on the back, the Man (who takes his naps seriously) decides he needs a professional nap in the bedroom underneath the main level. Yes, our little speedboat has a lower level – with a bedroom. We are stylin!
The Besties and I are now awake and the Prosecco continues to flow… We wonder how many bottles does he have??? We are truly kindred spirits the Italians and I….
I stand at the side of the boat watching the scene of cliffside hotels and homes wondering if I could spy a mermaid—or if I have enough prosecco if I could *be* a mermaid….
Captain Dah-Veed comes over, moves in close, and whispers loudly, "Signora….your husband is downstairs…..asleep….." The Prosecco bubbles up inside me and explodes out as a loud guffaw and I quickly turn towards the besties who are laughing their booties off – and asking for more Prosecco.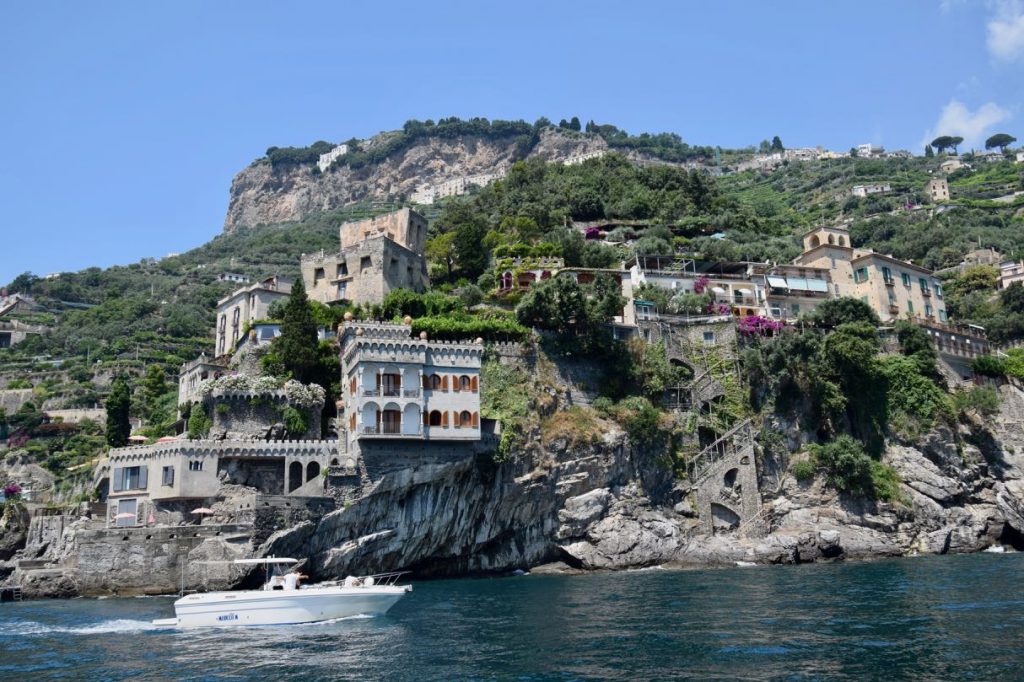 I start to wonder if we could extend our stay on the boat – maybe another day, week, month….forever. The freedom to just stop and swim and go from town to town at your will was just intoxicating.
Lunch
We sailed up to the lovely little town of Cetara (which always reminds me of the Count of Monte Cristo where the first mate calls the Count, Zatarra, meaning driftwood…but I digress…). It was time for lunch and some exploration of this cute little Italian town. I was excited to get to practice more of my Italian menu skills.
We disembarked the ship – again on the plank – walking the plank to the other side. A small wave moved the boat and The Man tripped a bit doing a perfect drop and roll soccer maneuver (or perhaps it was a flop??) exclaiming Captain Dah-Veed hit the "Eject Button" to catapult him off the boat so he and I could sail off into a prosecco-infused sunset with Dream Weaver playing in the background… The besties and I laughed. The Man laughed. Captain Dah-Veed laughed….. We'll never know the truth….
Our crew wandered the small streets of Cetara, stopping in a small market to buy some fresh, bright red tomatoes and some hand made decorations. We spied a cute restaurant with covered outdoor seating and walked in. We ordered (in Italian, of course) and snacked on tuna carpaccio, fresh anchovy fillets, beautiful pastas, and of course, wine. We lingered, we laughed and felt like Italians soaking up the summer sun.
When we were done, a quick phone call to Captain Dah-Veed brought the boat back to the pier to pick us up – we walked the plank back on board (The Man ever so carefully walking and eying Captain carefully to ensure he doesn't hit the Eject button again) and once again we were back in the azure waters of the Amalfi Coast.
Do We Have to Leave??
After a few more swims and enjoying the never-ending supply of Prosecco and snacks, the sun was moving closer to the edge of the horizon and it was time to return home. We gathered our things and I've never walked so slow in my life to get off that boat – I didn't want the day to end….our day on the Tyrrhenian Sea. It was glorious!
Today as I sit in front of the fire, I am taken back to those smiles, those laughs, the shared stories. That's what travel is all about. It's not just checking off the boxes, it's making the memories to share to the next generation. It's the feeling in your soul when you remember adventures with dear friends and how it changed your life ever so subtly. As an extrovert facing #SocialDistancing, these memories restore my soul as I await for the time to take my next adventure.
Next: Get in touch with your creative side with Mask Making in Venice or go on an adventure with Sabi Sabi South African Safari.
Becky Lukovic is an extrovert (social distancing may do her in!!) and expert travel advisor in the Johns Creek, Roswell, Alpharetta area just north of Buckhead. Her favorite items to stock up for #SocialDistancing are large format bottles of Rosé, soup-making supplies, and cheese – lots and lots of cheese. She is an Italy expert and hopes to soon resume planning fabulous adventures to her favorite country.