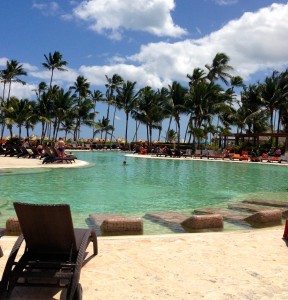 Two of my favorite all-inclusive resorts in Punta Cana have announced the beginning of a large enhancement project over the next few months.  Secrets Royal Beach Punta Cana and Now Larimar Punta Cana will commence renovation starting in early June 2014. This project will undoubtedly enhance the vacation experience for future guests staying at both resorts.
Guests at the adults only Secrets Royal Beach Punta Cana will be able to enjoy enrichments to the following resort areas:
Restaurants:

New Seaside Grill, which will serve breakfast and lunch to Preferred Club guests and dinner to all guests, and will be located in front of the Preferred Club pool (construction starting August 4th)
New Portofino Restaurant, to be rebranded and replaced with the current Seaside Grill
Beach Area:

New photo shop and towel area, to be in close proximity to the beach restroom facilities
Rooms:

New coralline terrace in all Junior Suite Swim-Up rooms, providing better access to the pool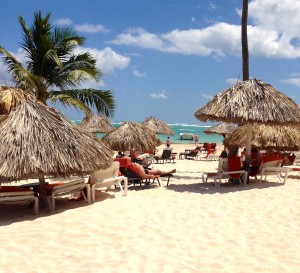 Additionally, guests at Now Larimar Punta Cana will be able to experience a number of first-class upgrades and additions in the following areas:
Main Lobby:

Newly painted walls in the lobby area and new furnishings such as chairs, sofas, curtains, pillows, lamps and contemporary décor
Redesigned Moments Lobby Bar, including elegant décor and furnishings
Preferred Club:

Addition of 80 rooms to the Preferred Club room inventory, which includes the rebranding of 80 standard room categories
Expansion and redesign of the Preferred Club Lounge, including new décor and furnishings
Rebranding of the "Relax pool" to become a Preferred Club pool, with the addition of a pool bar (construction starting September 1st)
Beach Area:

New Water Sports Center and Barefoot Grill, which will be connected and located in front of the Preferred Club pool
New restroom facilities on the beach redesigned
Restaurants:

The following restaurants have been redesigned:

Mercure Restaurant: New sophisticated European décor and furnishings.
Tamarindo Restaurant: Completely rebranded with authentic, colorful design and furnishings.
Carnival Restaurant: Given a fresh new look with stylish European décor and furnishings, including lamps that were crafted by Dominican artisans.
Castaways Restaurant: New, colorful ambiance and décor.
Spice Restaurant: Graced with new Asian-inspired décor.
Convention Center:

New carpeting and panels, as well as a new storage room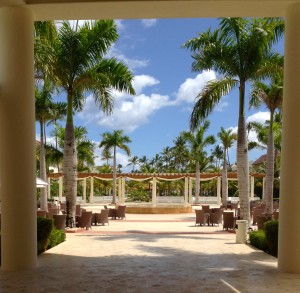 During this construction period for the new Preferred Club rooms at Now Larimar and for the new Seaside Grill at Secrets Royal Beach, nearby room areas may be closed to avoid disturbances. Any guests affected by this closure will be accommodated. There will be a minimal visual and noise impact for guests in all other construction areas during this time. We anticipate that these renovations will not be completed until the fall season, however, we will provide an estimated time of completion for this project in the near future.
I look forward to seeing the shiny new resort offerings!  
Next:  https://bellatravelplanning.com/hotel-review-secrets-silversands/