Luxury cruising is moving up a notch as the Ritz Carlton introduces it's first Super Yacht. Yes, you heard me correctly–Ritz Carlton Yacht!! We are trembling with anticipation here at Bella Travel Planning!!  Debuting in 2020, the new vessels will feature the height of casual luxury in the cruising world. While still under development, the new super yachts will appeal to the luxury traveler looking for the relaxed pace of a yacht and curated experiences ashore.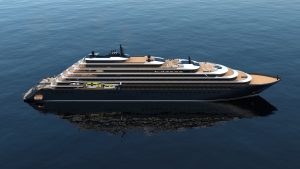 Feel like you are on your own private yacht!
Designed to have a residential feel, each Ritz Carlton Yacht will accommodate only 298 guests – all berthed in suites with private terraces.  The yachts have the highest percentage of larger suites available in luxury cruising! Some of the suites are combinable for family or friends groups who want to spend more time together in connected rooms.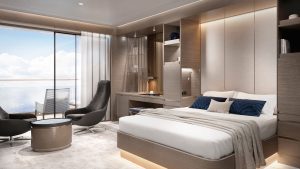 The space has been designed to allow you to connect with family and friends–or just unplug by yourself.  Luxury and comfort go hand in hand, here.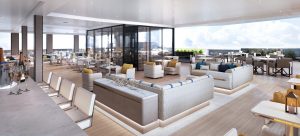 This luxury, all-inclusive yacht includes practically everything – exquisite meals, craft cocktails, wine, beer, entertainment, activities, gratuities and wifi.
Legendary Service by the Ladies and Gentlemen of the Ritz Carlton
Most importantly, the yachts will showcase the Ritz Carlton service and standards (!!!!).  With a staff ratio of 1.21 Ritz Carlton staff member to each guest, your every need will be met with genuine care–or as my Ritz Carlton friends call it:  Legendary service by the ladies and gentlemen of The Ritz Carlton!
The Ritz Carlton Yacht personalized service is at the very heart of your experience. Everything from creating a craft cocktail for that sunset toast (how I love sunset toasts!) to planning a bespoke shore excursion, the service is focused on what will make your stay special.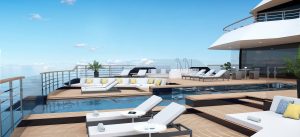 It's about the dining experience!
The five dining venues will include an la carte restaurant created by the three chef, Sven Elverfeld of the three Michelin-starred Aqua restaurant at the Ritz Carlton Wolfsburg (it comes at an additional charge, but it's going to be fabulous! Reservations will be required), an asian fusion venue, an outdoor grill, main dining, casual dining, plus 24-hour room service.  Social spaces on the Ritz Carlton Yacht will include a solarium and bar.
Dip your toes in the deep blue water!
A unique marina style platform on the back of the yacht will allow guests direct access to the water for sporting activities. Oh Man how we love a sea level platform!!!  It just begs for spontaneity and enjoying all the water sports!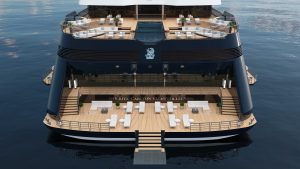 This is not your grandfathers cruise!  Look for significant innovations onboard the Ritz Carlton Yacht and in the itineraries. Don't expect to see lines or crowds on the journey through the Mediterranean in summer and the Caribbean in winter.  Most cruise lengths are seven to ten days long, and they offer the ability to combine voyages without repeating ports.
When on Land
The five themed excursion categories offer a plethora of experiences:
Iconic Sites to discover the highlights of a destination–the art, the history
Concierge Ashore to have a private, bespoke experience
Stir the Senses to soak it all in — practice yoga on a private beach, walk through a lavender field, create your own perfume
Epicurean Experiences to join the somm at an exclusive winery, have a leisurely lunch at a Michelin Starred restaurant, browse a fish market with a celebrated chef
Cultural Connections to spend a day helping endangered wildlife or participate in an activity to create awareness for a local cause
Be the first to experience this gem!
Most importantly, prepare to be wowed by the onboard service, relaxing pace, overnights, and destination experiences.  Sales are expected to open in June 2018 for the first mega yacht, with two other yachts to follow.
Give us a call to reserve your space–or to charter the boat now!  Bella Travel Planning 770-702-0787.
Like the Ritz Carlton?  Check out our review of the Ritz Carlton Cancun.