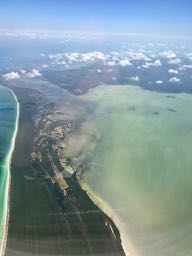 Like you, sometimes The Man and I need to get out of dodge…to have a frosty cocktail delivered to us in our private cabana…to wake up to the azure ocean water….and have some sand decorate our flip flops.  We chose the Ritz Carlton Cancun for our quickie beach getaway and I am so very glad we did!
We were only going for a few days, so we wanted to be reasonably close to the airport (no hour long transfers in the cards for us).  Cancun seemed like the logical choice.  I am not typically a big Cancun girl (I was almost apologetic when I told my people where I was going….like almost a whisper….we are going to Cancun but shhhhhh), but honestly, it's a great value and you do not have to sacrifice quality—especially at the Ritz!
Mexico has all those M words I love…..Margaritas, Mariachi, and Money-Saving!!  My dollar goes farther in Mexico and I love to spend those extra pesos on a better hotel, a better room, and more cocktails….
Typically, The Man and I stay in an all-inclusive resort for these type of getaways.  We love our pool drinks and guacamole…. We drink tons and tons of water (well…perhaps The Man drinks tons of water….I just hope to get my H2O from the melted ice) and those items add up (seriously…have you priced bottled water at a hotel lately??).  An all-inclusive is a great way to do manage the extra costs—even if you go to dinner (or lunch) outside the resort on some nights.
The Ritz Carlton Cancun has the best in-between option—the Club Level.  I just love a club level!!  At the Ritz Carlton, the club level area offers five food presentations per day.  By food presentations, I mean food presentations.  All sorts of food and snacks are present and you'll not go hungry.  Morning, late morning, lunch, early afternoon, evening.
The club level provides bottled water, soft drinks, the all-important cocktail, wine, and morning mimosas. Photo below:  my favorite vacation breakfast of hot tea with a side of Mimosa (or perhaps that is Mimosa with a side of hot tea….)…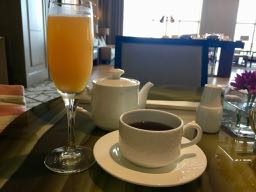 I was a bit concerned it would be a problem to go from the beach to the club level for breakfast and lunch (who wants to get dressed to eat then back in the beach gear), but I found that the area was very casual during the day – beach attire was okay as long as you cover up and are not wet.  In the evenings, no beach wear is allowed in the club level, but honestly, no one seems to be in beach wear in the evenings at the hotel anyway.
This is what makes it very close to an all-inclusive experience.  AND the wine was definitely a better quality that at the all-inclusive resorts and the cocktails were significantly better.  We did pay for some beach cocktails and our wine with dinner, but you know—they were beautifully made, so I didn't worry about a couple of extras on my bill….
Our room was spacious, had a nice terrace, and overlooked the pool area and bright blue sea.  It had a comfy reading chair by the terrace and a desk/table area (for the champagne bucket and room snacks)–no working at the beach–unless you are me and your work is mimosas and margaritas…and roof gifts–room gifts are an important part of my work…how else am I going to know what *you'd* like to have?? But I digress…  Take a peek at the room…. (main room area with bed and comfy chair, side table/desk, and balcony terrace overlooking the pool and beach).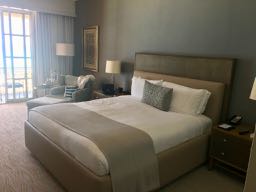 The Ritz Carlton Cancun Club Level had a dedicated concierge who assisted me with reserving the beach cabana (fabulous!! More on this later), the cooking class (fabulous—More on this later), and our dinner reservations.  He also assisted us with our pre-booked return transfer as we needed to confirm the exact pick up time.
The beach in Cancun has sand brought in from time to time because the waves erode it somewhat quickly.  At certain times of the day (because of the tide), the beach is very angled (giving your calves quite the workout).  But it's soft and a beautiful color.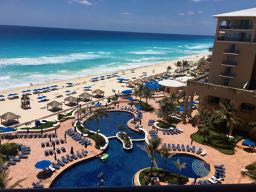 The pool is a nice size.  There's not a ton of shade, but the attendants can find an umbrella to give you a respite from the Yucatan sunshine.  It's relatively quiet–it's a chill kind of place.  Even though our room overlooked the pool, I never felt like I was in Vacation Central.
We rented a beach cabana one day and what a treat!!!  It's a bit of a spendy item, but in hindsight, I wish I would have rented it every day!  Just plan for it to be part of your room cost.  The cabanas have two comfy beach chairs, tables, another chair, and a hammock to relax in.  Our beach cabana was mere steps away from the sea.  The cabanas offer butler type service (the attendant even sweeps the sand out of the cabana from time to time), frozen treats, and even a fun little head massage using this pronged device….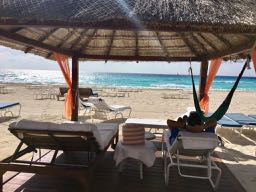 I got to catch up on a bit of beach reading for my book club in the hammock (What Alice Forgot was a wonderful beach read by the way….).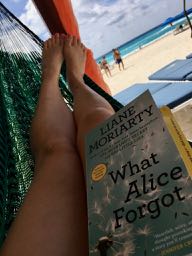 And ate my weight in guacamole at the cabana–oh man I just love good guacamole!!
The next day, we sat under the umbrellas at the pool and I ended up with a bit of a lobster pink theme going on….even though I was under the shade the whole day.
Our evening cooking class was quite the adventure!  It was a chef's table format and started with Avocado Margaritas, which made me and the chef besties….
You'll find the recipe for the Ritz Carlton Cancun Avocado Margarita here.
Chef walked us through traditional Mexican cooking methods, spices, and cooking philosophies.  We prepared some dishes (even made our own blue corn tortillas) and then feasted with Mexican wine (which was actually very good).
Eight couples enjoyed the cooking experience together.  It was a very intimate experience.  We shared travel stories, food adventures, favorite restaurants, and even cooking tips.
The Man and I decided to celebrate our anniversary a smidge early (again research!).  The concierge suggested dining at the same seaside cabanas we loved during the day.  Wow!!  It was spectacular!  We were meters from the beach.  The cabana was lit with candles and torches and was quite romantic!!  What a fun way to spend our last night in Cancun!  There are just a few cabanas open for dinner, so V and I felt special!
And a special experience deserves Tattinger Rosé….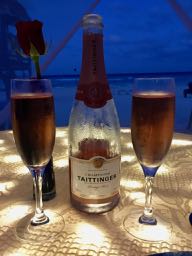 We were packing up to leave and noticed a sweet note from the Ritz Carlton Cancun's concierge and club level staff with a little gift.  It said "like the Caribbean sea turtles who return year after year to our beach, we hope you will soon return to the same stretch of sand."  It made me cry!!  What a special sentiment!  We will be back to the Ritz Carlton Cancun for sure!!!
Becky Lukovic is a luxury travel specialist in the Johns Creek and Roswell area.  She makes an amazing margarita and loves a good beach experience.  Be sure to follow her adventures on Instagram!
Next:  For an all-inclusive experience, try Secrets Silverands.