Sometimes you wonder if it's all worth the hype…you know…the fabulous new kid on the block restaurant with a hip vibe…  I've wondered this about Staplehouse for the last year (although friends have told me it was *that* good).  Staplehouse is the hottest ticket in town in Atlanta.  Reservations are unbelievably difficult to come by – reservations are released once a month at noon and fill up quickly.  Diners may opt to go on the waiting list or try their hand at the eight-seat bar for walk-in seating.
Soooo….when a friend of mine had a reservation for four and their dining friends cancelled, I jumped at the chance to try this gem.  I cancelled everything–book club, tennis practice, afternoon meetings (the dining reservation was a bit early) to ensure I was Staplehouse ready!
We walked downstairs to a cute, vintage industrial room with an open kitchen and a dining room all abuzz.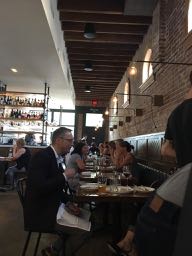 The menu was seasonal and tapas style (shared plates), which were perfect for trying a bit of everything.  Herbs–holey moley some of the herbs they used from their garden were completely new to me–and I cook a lot!  Maybe it is placebo, but the gold utensils really add something to the experience. How exciting to taste completely new flavors!!  Their seasonal menu changes daily (and I have forgotten some of the menu items), but enjoy their plating artistry in the photos below.  I do remember learning that sorghum can be popped like popcorn as seen atop the dessert below (the last photo).
I really loved that our selections were brought over by a multitude of servers (and even the owners).  It's a popular thing now days, and it made for a fun experience.  Our primary server, Molly, was trained well and quite attentive without being overly so.
I can see why Staplehouse was chosen as the best new restaurant of 2016 by Bon Appetit Magazine.  It's worth the extra steps to get in–trust me!!  I know I can't wait to go again!
Becky Lukovic is an Atlanta Travel Advisor specializing in Food and Wine travel.  She is a regular at her neighborhood Barre and TRX classes trying (somewhat unsuccessfully) to work off her fine dining addiction.