Wow 2018 just flew by—like at warp speed!!! Here at Bella, we are already in full planning mode for 2019 travels and beyond—but I wanted to take a moment this morning, sit by the fire, sip some amber-colored hot tea from Paris (sigh), and reflect on how fabulous this year has been.  2018 brought rich travel experiences, time with good friends, time with My Man, and so many amazing meals that a January detox is high on my must-do list if I want to fit into anything but yoga pants again!!  All the cool kids are posting and emailing their "Best of" lists and far be it from me to be left out. This year, it was hard to pick a few clear favorites, so I am going to share them all with you.  My personal list of The Best of 2018.
The Best of 2018 Books:
Oh how I love a good book! I wanna get sucked into the story line, be sad when it ends, and just feel something—happiness, sadness, anger, amusement….that is what makes a good book for me. The characters need to be rich—and I need to care about them. I want to learn something—history, theory, or even just insight into someone not like me at all, but yet just like me.
Where the Crawdads Sing by Delia Owens
The Tea Girl of Hummingbird Lane by Lisa See
Little Fires Everywhere by Celeste Ng
The Secret Wife by Gill Paul
Pachinko by Min Jin Lee
The Best of 2018 Hotels (where I stayed at least one night):
I am a hotel lover! Those of you who say a hotel is just a place to sleep and doesn't matter where you stay will probably hear my reply that you obviously haven't found the right hotel (insert smiley face)! To me, the hotel is an integral part of the trip. That is not saying your trip will suck if you don't have the right hotel (but then again….the wrong hotel can ruin a vacation), but a hotel you just love will enhance your experience exponentially. It will make your well thought out trip that much better!!! The hotels I chose as my favorites were not just good—I stay in many, many good (even fabulous) hotels—but these were over the top memorable to me.
Shangri-La Paris – perhaps one of my all-time favorite hotels. Set in the palace of the black-sheep nephew of Napoléon…oh those views—inside and out!!! I seriously wanted to hole up in my room and have a Yoko Ono/John Lennon-style Bed-In for Peace….and never leave….ever….after all, I can order Champagne from room service….
The Shangri La Paris

This Suite – OMG!

Perfect Place for a Suite Dance Party!

Spectacular Breakfast Area!

Yes, there is a pool!

View from my Eiffel Tower Room
The Milestone London – the service here was amazing from the cutie patootie doorman to the concierge team to the front desk to the wait staff to the bartenders (Italian bartenders nonetheless—doesn't get better than that!!!). The Milestone offers cozy decor, a warm fireplace, and currently a Mary Poppins-themed afternoon tea service.
The Milestone

Mary Poppins Tea

Love the antique touches!

The Meghan Suite

Warm cozy bar

Look at this bathroom!
Hermitage Bay in Antigua – stunning location, authentic service, chef-driven cuisine, private plunge pools on the hillside overlooking the sea—I wanna go back every year!!! 
Our Private Villa's Plunge Pool

Love seeing the villas go up the hilltop!

Views for days!

Quiet beachside pool area

Sunsets just beckoned for champagne and our private pool

View from breakfast…
Faena Miami Beach – the colors, the art, the service, the beach…..I love all things Faena!!!
Great stretch of beach!

Cocktails in style!

Love the restaurant decor!

Ample balconies!

The rooms are all different – love the style!

Just raise the flag for more rosé
The Best of 2018 Travel Experiences
My list is so long and I cannot seem to take anything out because they were all so special. For brevity's sake, I'll just list them and not explain—but I could talk for hours about all of these!
Seeing the Eiffel Tower in her nightly sparkly display from my room at the Shangri La.
Dr. Faustus by Candlelight at Shakespeare's Globe in London.
Cocktail Class with New Orleans' own Chris McMillian at Revel Bar.
Lunch on the beach in the red and white beach pods at the Faena Miami Beach – with someone to come by and cool my sand-drenched feet….oh and rosé….lots and lots of rosé….
Watching the ponies race at Oaklawn's Carousel Club in Hot Springs, Arkansas.
Lazy River at the Four Seasons Orlando – the ultimate in relaxation!! Cocktail in hand, of course…
Learning about the politics of art and architecture from Pablo, my private guide at the Louvre in Paris.
Experiencing a magical Disney wedding replete with carriage and footmen.
Dinner in the rooftop suite at Faena Miami Beach – this suite was bigger than my house!!!
The Best of 2018 Bar Experiences – where you'll always find me when I travel!
La Botaniste at the Shangri-La Paris – The Nectar was served inside a bee-styled glass and included bee pollen, which I credit for eliminating my next-day hangover….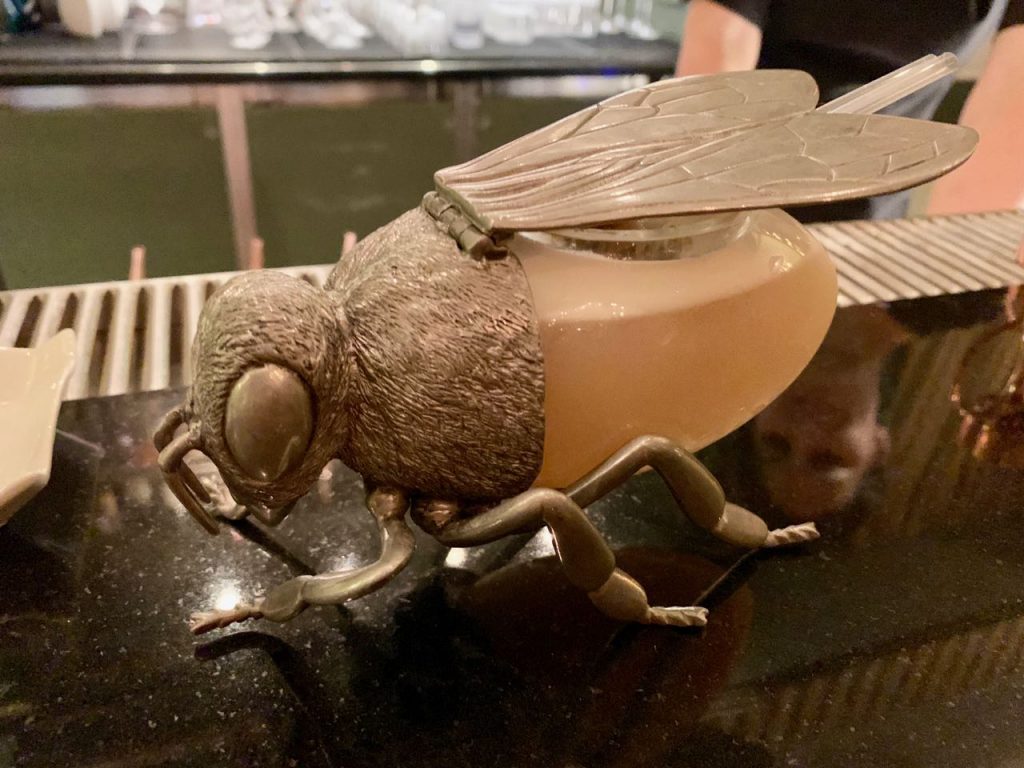 The Carousel Cocktail at the Milestone London (I went home with the recipe!!) You seriously need to see my Insta post with the glass sitting atop the moving carousel, which stops at the moment the ice is sufficiently melted. My Italian bartender convinced me to trade in my champagne glass for this cocktail creation and I.was.not.sad.
Sazeracs at the Carousel Bar New Orleans.
Cocktails with a view at the Shangri-La London at the Shard – serious, serious view here! You could see the London Eye waaaaay down below….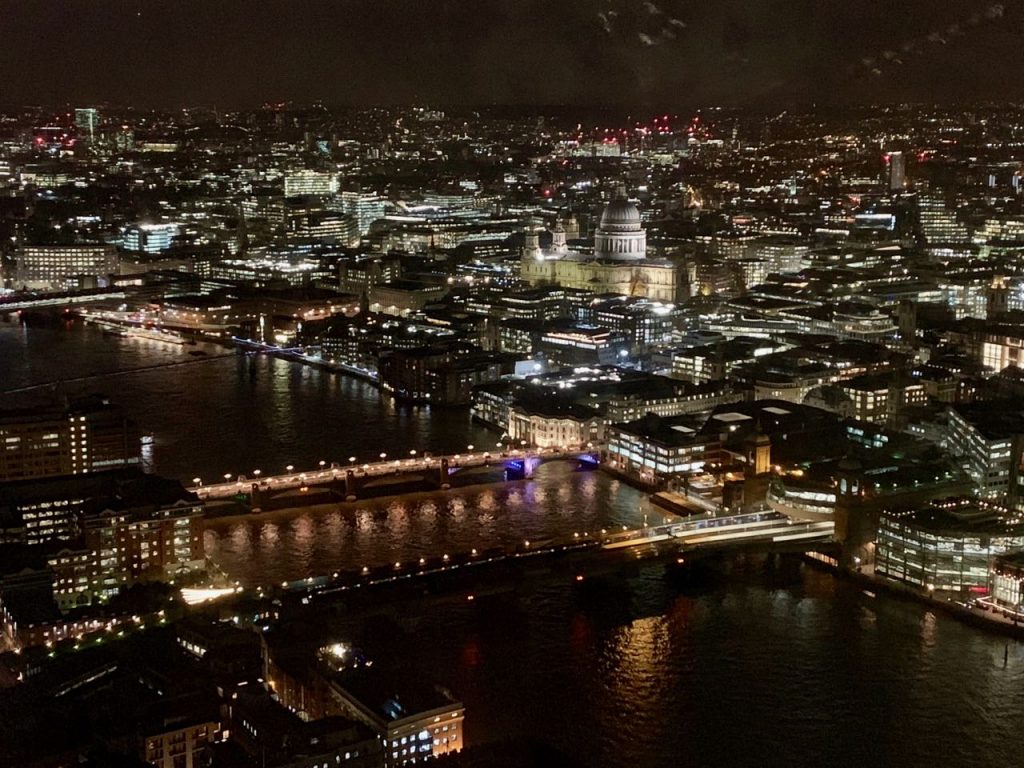 Morning French 75s at Antoines New Orleans – our daily Big Easy habit.
Bar Galerie at Hotel Barriere Majestic in Cannes after a day at ILTM – networking at its finest…
Bar Margot at the Four Seasons Atlanta.
The bar at Hermitage Bay–those guys made amazing, fresh cocktails!!!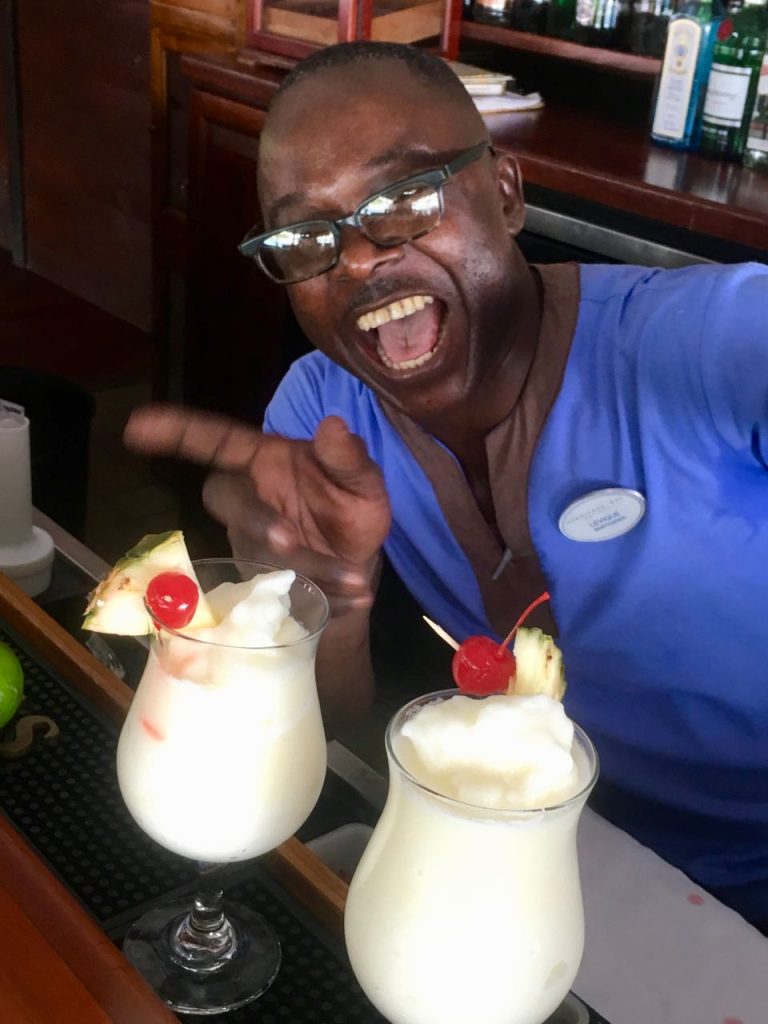 The rooftop bar at The Clermont Hotel in Atlanta. Views.For.Days. Craft cocktails, too!
Salsa music at The Living Room at Faena Miami.
The Best of 2018 Restaurants:
Pages – Paris
Kitchen W8 – London
Boulevard – Vancouver
Chantecler – Nice
Beach Bistro – Anna Maria Island, Florida
Alain Ducasse au Plaza Athenee – Paris
Herbsaint – New Orleans
The Surf Club – Miami
La Sirenuse – Miami
The Best of 2018 Special Meals:
Tea at the Connaught – London.
Beignets at Café du Monde – New Orleans.
Shrimp and Grits at Terrenea Resort – Rancho Palos Verdes, CA.
Shrimp and Grits at the Dewberry – Charleston.
Dinner at Kaiser's Chop House with the Atlanta Chaine.
My induction as Bailli of the Atlanta Chaine des Rotisseurs at Polaris.
The Best of 2018 Local events in Atlanta – Gotta give some props to My Town!
Atlanta Food and Wine Festival
The Dogwood Festival
Savor the Boulevard at Avalon
Atlanta Crawfish Festival (with Cowboy Mouth)
And the Best of 2018 Travel Tips
These are things I learned (or refined) in 2018. They may not be new on the scene, but they are new to me!
WhatsApp – I just love this app! Although I began using it in 2017, I realized in 2018 that I could use WhatsApp to easily contact drivers, suppliers, tour guides, etc. in other countries with a simple text. You can also use this aboard a cruise ship to communicate while on wifi.
Venmo – I was super late to the Venmo game, but it's now part of my life. Having drinks with friends and need to pay them back – just venmo them. Splitting a cab – just venmo them. Fabulous!
Google Maps – now I know this is nowhere near new, but I realized in Paris, that you can open the app *while walking* to see where you located in the city and see your walking progress. In the past, one had to open the app first on wifi and then it would track you a short distance, but these days you can open any time. Also, if you open while on Wifi and put in your walking destination, you can also see that pin point even after leaving the wifi.
Axus – Ask your travel professional if they use Axus or another travel itinerary app. This one is my favorite out there. I love the air travel notifications and also the ability to view maps and addresses on my mobile phone or ipad with one easy click. On Axus, I give my travelers easy to access tips, photos of meeting points, mini travel guides, and more. When plans need to be updated while traveling, the changes are immediately visible in their mobile itinerary.
Corksicle wine glasses. These are perfect for the beach!!!
As 2018 comes to a close, I am again reminded of how blessed my life is! My job is not only to experience these things first-hand, but most importantly, to help others experience their dreams. That is where the real fulfillment begins! I love hearing your travel stories and about your favorite experiences! I hope this list of the Best of 2018 inspires you to have an even more fabulous 2019!
Cheers and Happy New Year!
Becky Lukovic is a travel advisor in Roswell, GA. She celebrates New Years Eve on European time with champagne at 6pm EST and New Year's Day with Red Beans and Rice and Blackeyed Peas for prosperity–with champagne, of course. You may reach her at becky @ bellatravelplanning.com or at 770-702-0787. Follow her adventures on Instagram.
Next: How to Honeymoon Like Will and Kate  or if you are looking for a summer beach read, click here.