This blog post about honeymooning in the Seychelles by Becky Lukovic first appeared this spring on the Jones Crossing Banquet and Event Center website.  Jones  Crossing is a premier wedding venue in the greater Indianapolis area.  Check out their blog for wedding inspiration!  
Royal Fever abounds these days!!! Megan Markle, Prince Harry, Kate and Wills…. We love their hair (kate's sylish blowouts and that Megan Messy Bun!!), their fashion (those cute coats!), and many of us wish we had their glamorous lifestyle (guilty!).
Guess What—You can honeymoon just like Will and Kate—seriously…..it can happen!  And the best part is you don't have to be a prince and princess to afford it or make it happen—you just need the right connections (an awesome travel advisor helps), some inspiration, and a flight that is a wee bit longer than you may be used to….(just order another glass of wine or two).
The Seychelles sit in the Indian Ocean off the east coast of Africa between 4 degrees and 10 degrees south of the equator.  Most flights to the Islands connect in Dubai or Doha, but you will also find flights connecting through Europe.  The Seychelles also makes a great combination with an African Safari where you fly straight from Johannesburg to Mahé.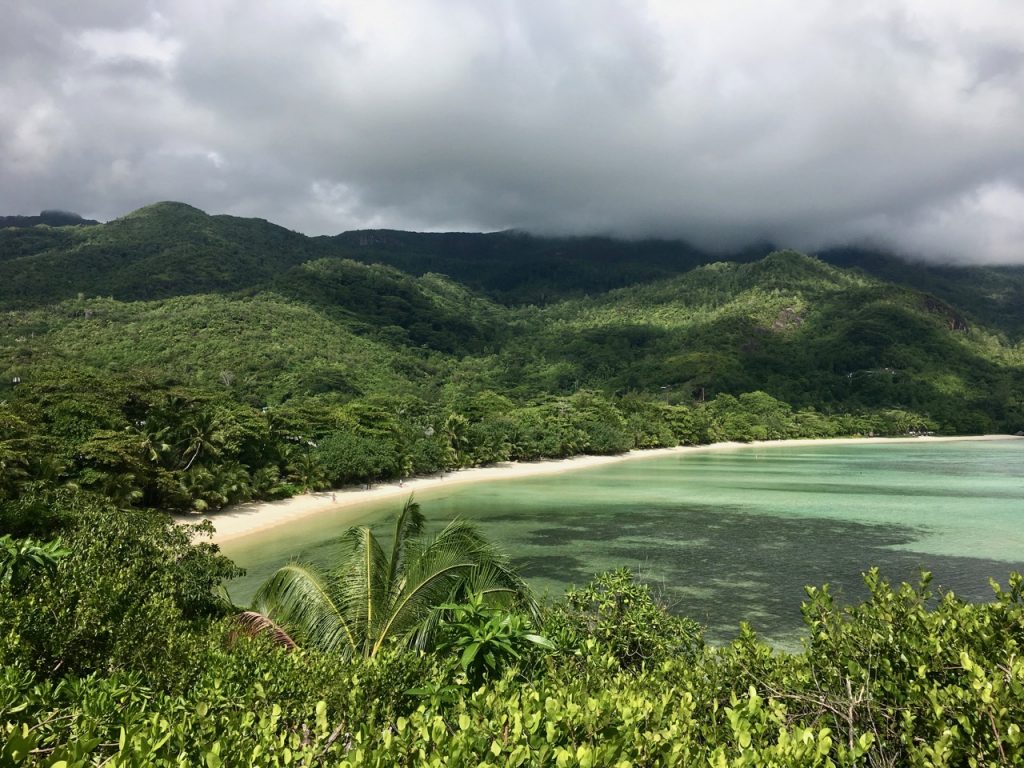 The Seychelles is about unspoiled beaches, nature, and romance….lots of romance!  Will and Kate gloriously honeymooned in the Seychelles on the North Island.  The couple fell in love with the Seychelles after spending a romantic getaway there on the island of Desroches before the wedding.  After spending time in the Seychelles last fall, I agree with the Prince and Princess—the Seychelles is a fabulous way to spend a holiday.
When I arrived in the Seychelles on Mahe, I was taken with the dramatic beauty of the island.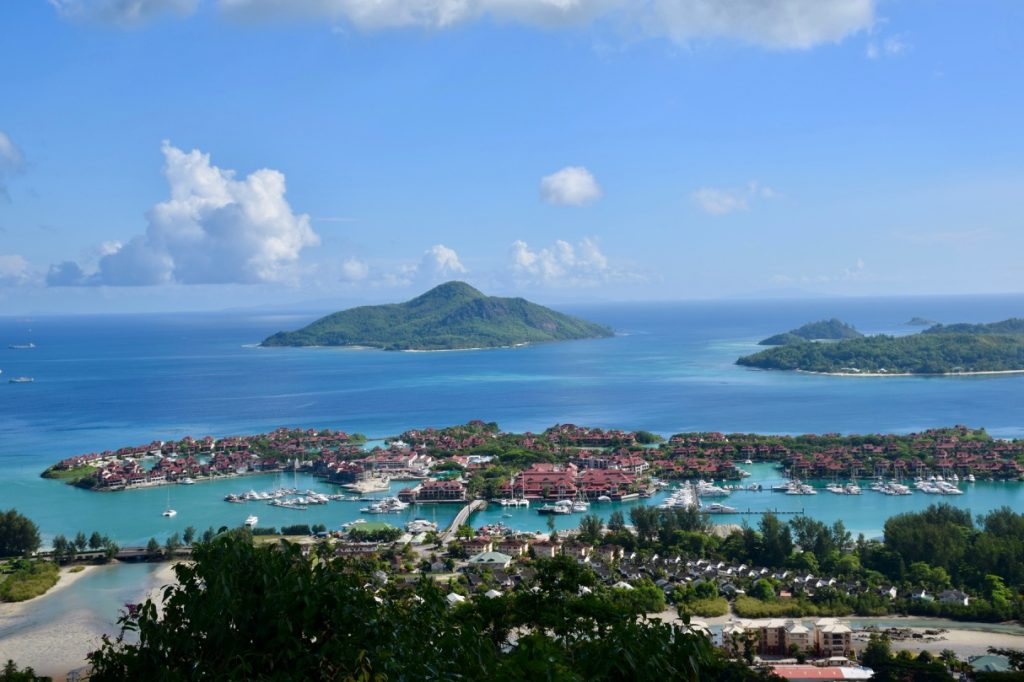 We visited the main island, Mahé, which was quite mountainous. And oh that turquoise blue water—that gets me every time!!!  The beaches were natural and pristine.  This is not a fancy beach party beach club type of place—it's all about the barefoot experience….but in a fabulous way!!  The Indian Ocean was warm and welcoming and in many places, I could walk out quite far and still touch bottom.
Now you may not want to stay on the uber exclusive North Island (but if you do, I can help!), however you can now stay on Desroches (just like will Will and Kate) at the brand new Four Seasons Desroches Island.   Let me tell you, it's fabulous!!!  The hotel is set on a pristine tropical sanctuary edges by 9 miles (!!!) of soft, white beaches.  It's secluded, it's fabulous, and it's a lovely luxurious experience.  If you are a blended family celebrating a honeymoon together, the Four Seasons offers family friendly bungalows, villas, suites, and residences with private pool and beach access.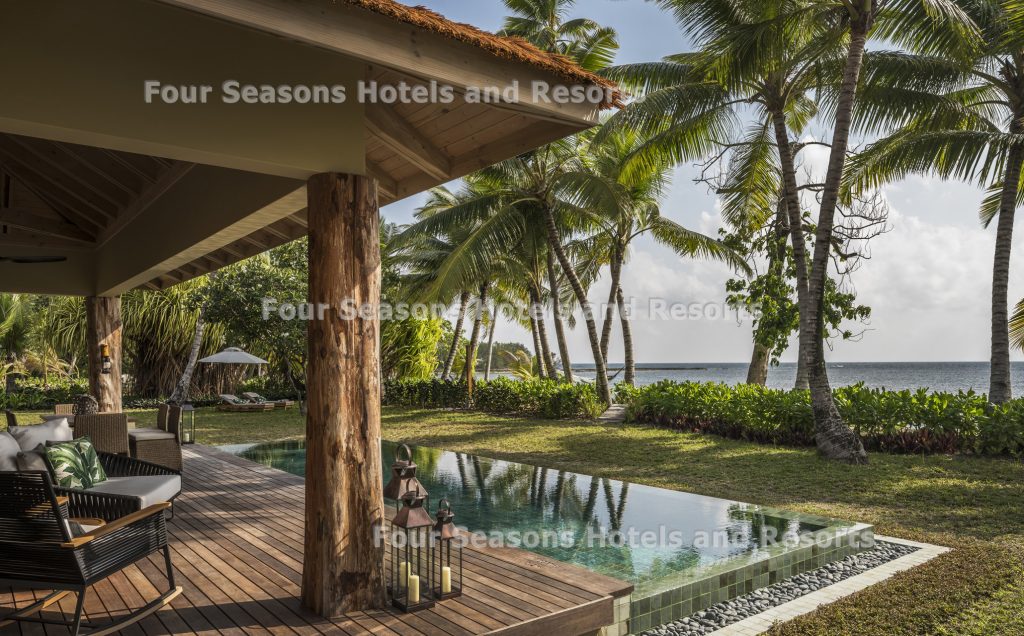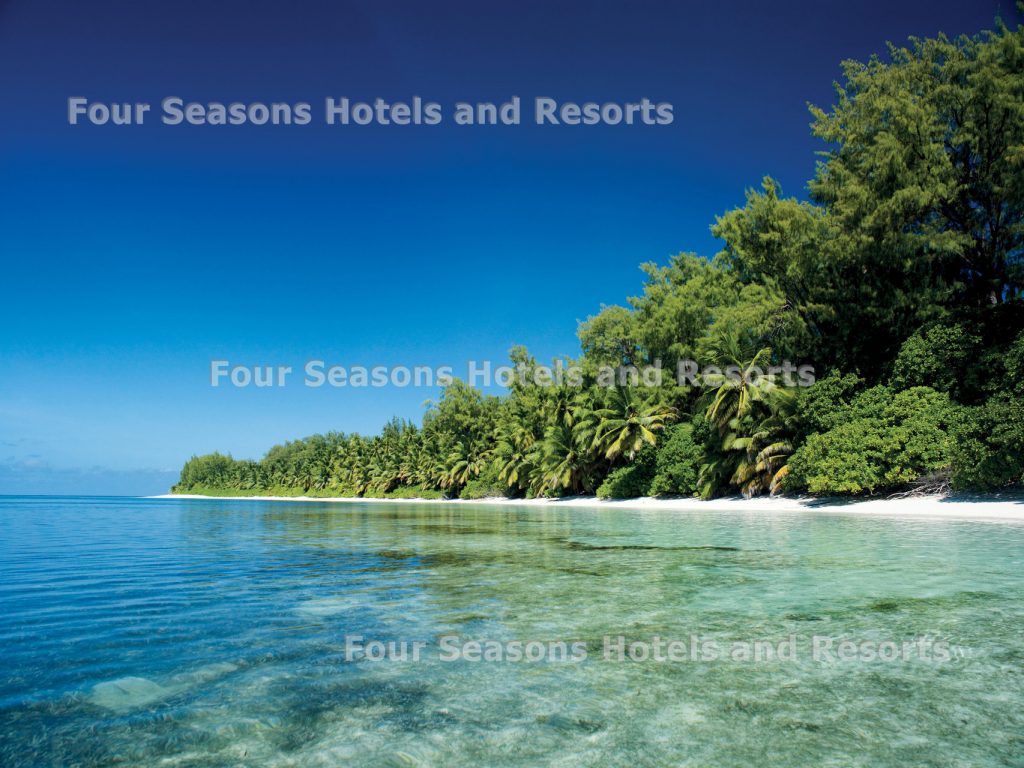 Desroches is one of the Amirante Islands (actually coral atolls), which are considered some of the world's most pristine and untouched islands—and you get the Four Seasons experience!  Bella Travel Planning's important guests receive enhanced VIP amenities at this property to make your stay extra special.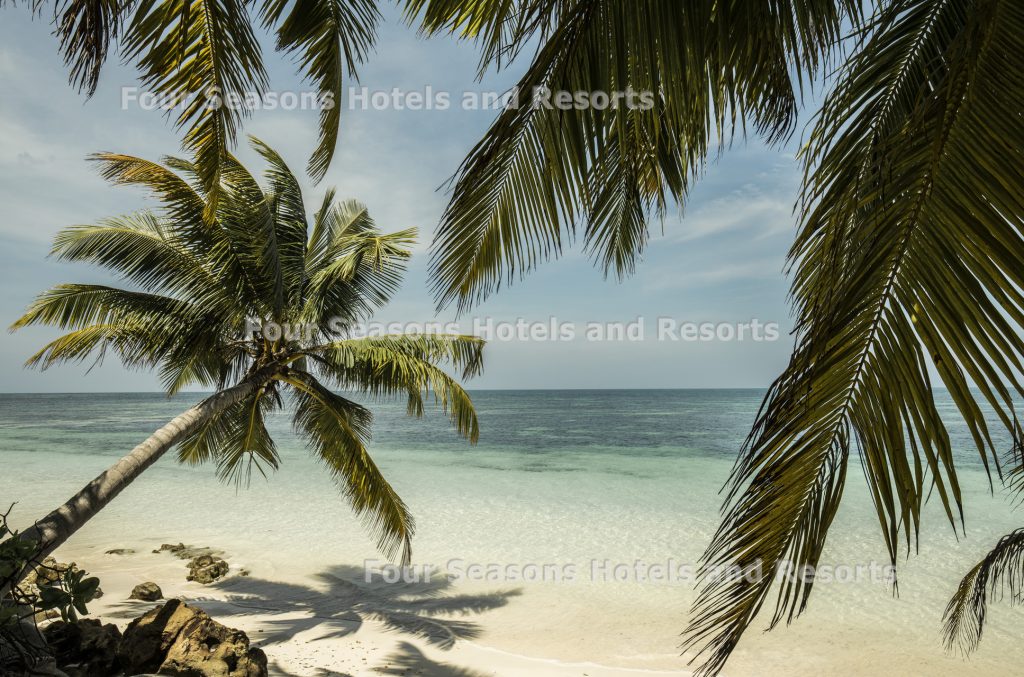 On Mahé, I absolutely fell in love with the Maia Luxury Resort, a member of Leading Hotels of the World.  If you follow me on Facebook or Instagram, you would have seen my uber-excited Facebook Live session at the resort (I was so excited, I didn't even put makeup on!!!). This beautiful resort is made up of ten oceanfront villas (you have to stay in the one I had!! It's the GM's favorite!!), and twenty panoramic villas—all with private pools….and butlers. I honestly thought they were going to have to pry me out of my villa—I did not want to leave!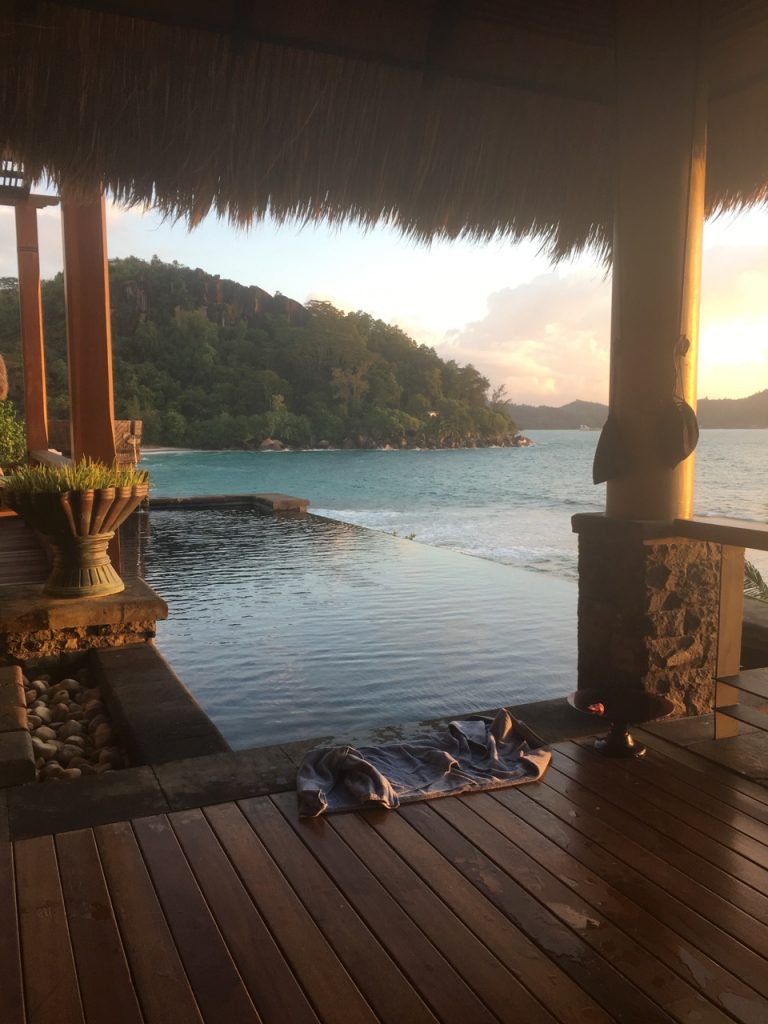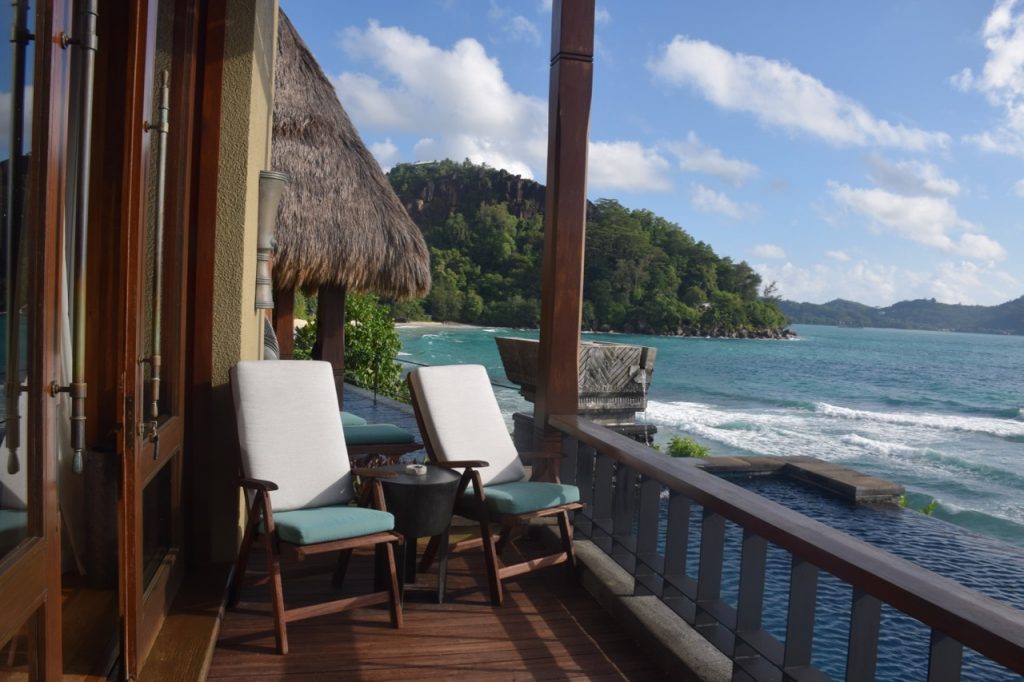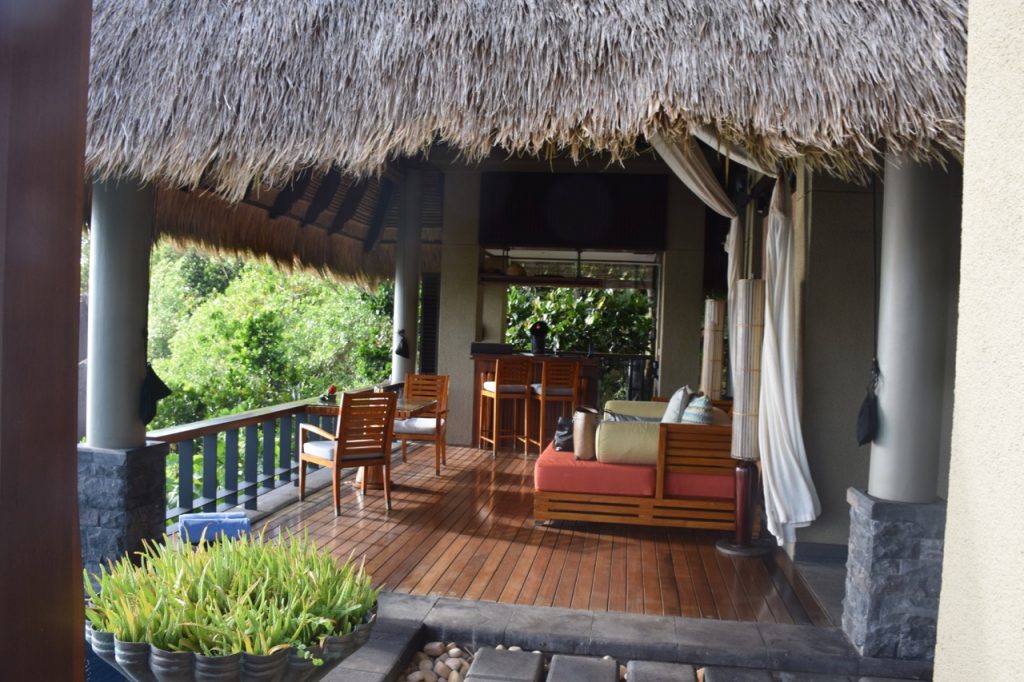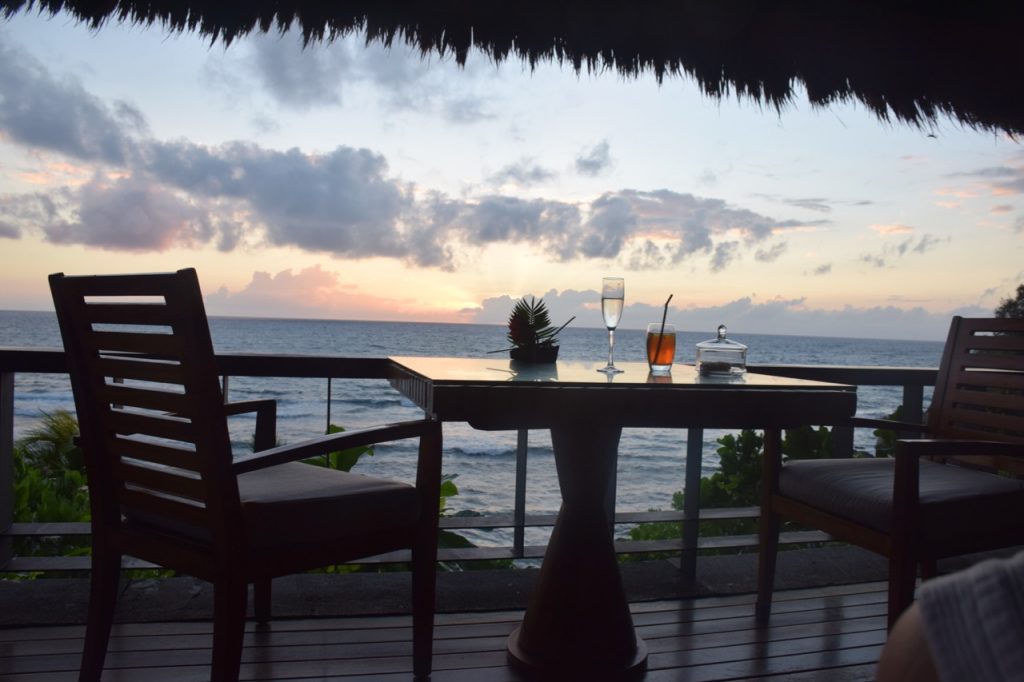 Our dinner was exquisite—you cannot go wrong with a candle lit dinner on a helipad, the spa was soothing to my soul, and my butler made sure all my favorite things were in order!
If you are looking for a more moderate, mid-level property to ease your honeymoon budget a bit, but still want a fabulous experience, you still have options in the Seychelles.
If you are a Hilton Honors fan, then this hotel group has some wonderful offerings.  Honestly, I came to the Hilton properties thinking they were going to look and feel like….well….a Hilton.  I was quite pleasantly surprised with the sense of place I felt at these resorts.
Hilton Northholme sits dramatically on the coast of Mahé.  Northholme is set on the location where Ian Fleming wrote For Your Eyes Only(perhaps my favorite James Bond movie—love Roger Moore!).  You can actually sit at a table in the restaurant created from parts of his room. I sat down and gazed over the crystal blue waters and reflected—just as he did—well actually, I sat there and sang For Your Eyes Only….I'm a bit geeky like that….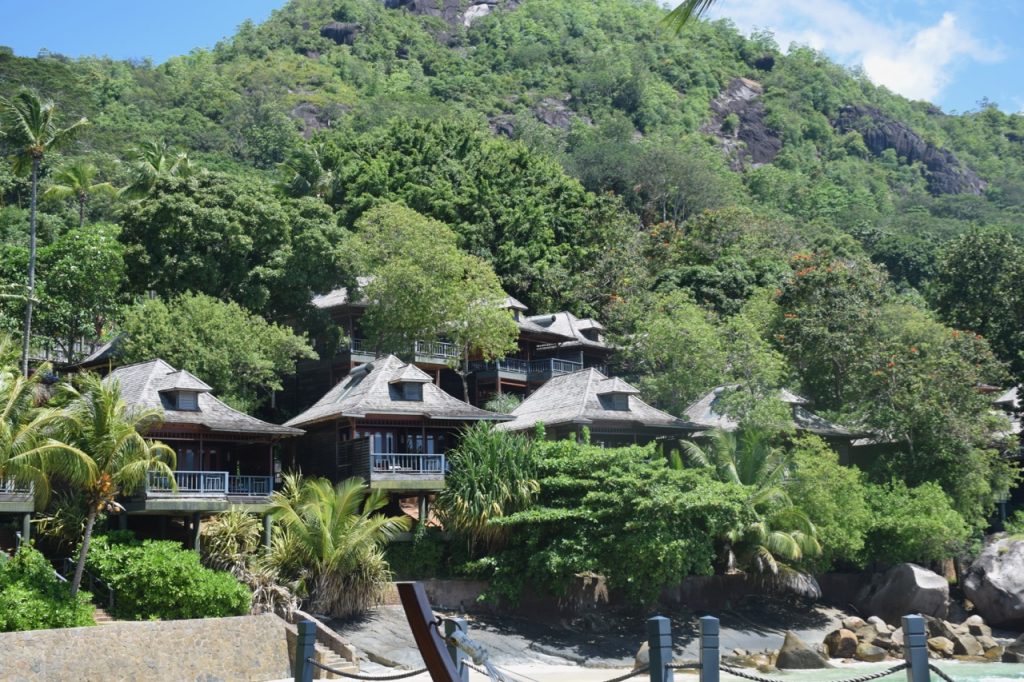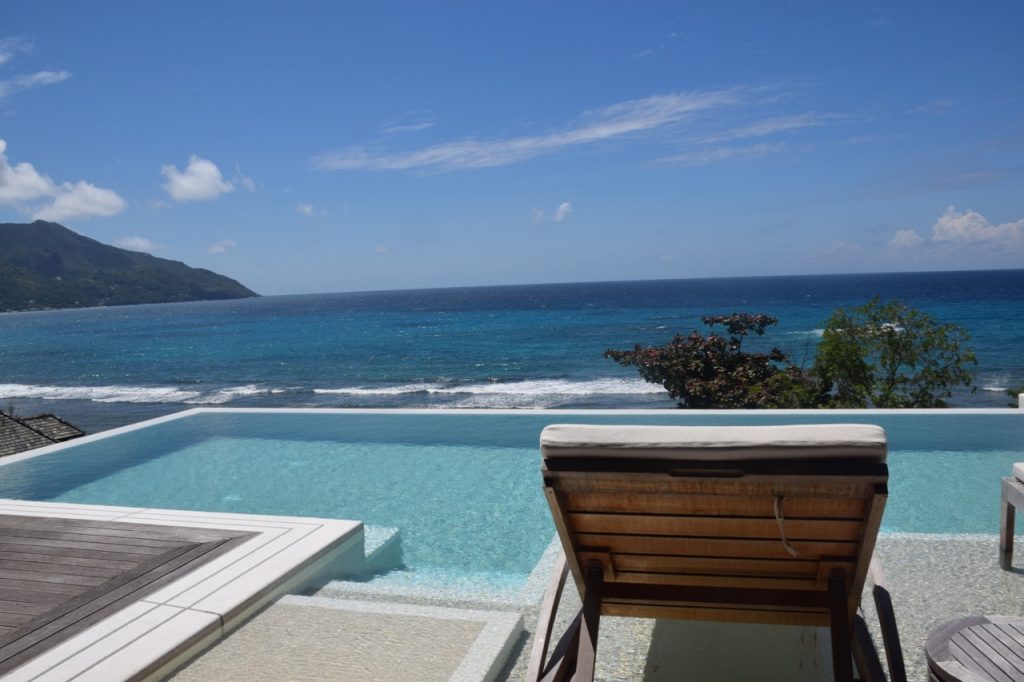 Hilton Labriz sits on nearby Silhouette Island.  It's just a quick boat ride from Mahé.  This property absolutely charmed me.  My villa had direct beach access and a private mangroved off beach sitting area. I really felt I could spend a week right in that spot and never leave!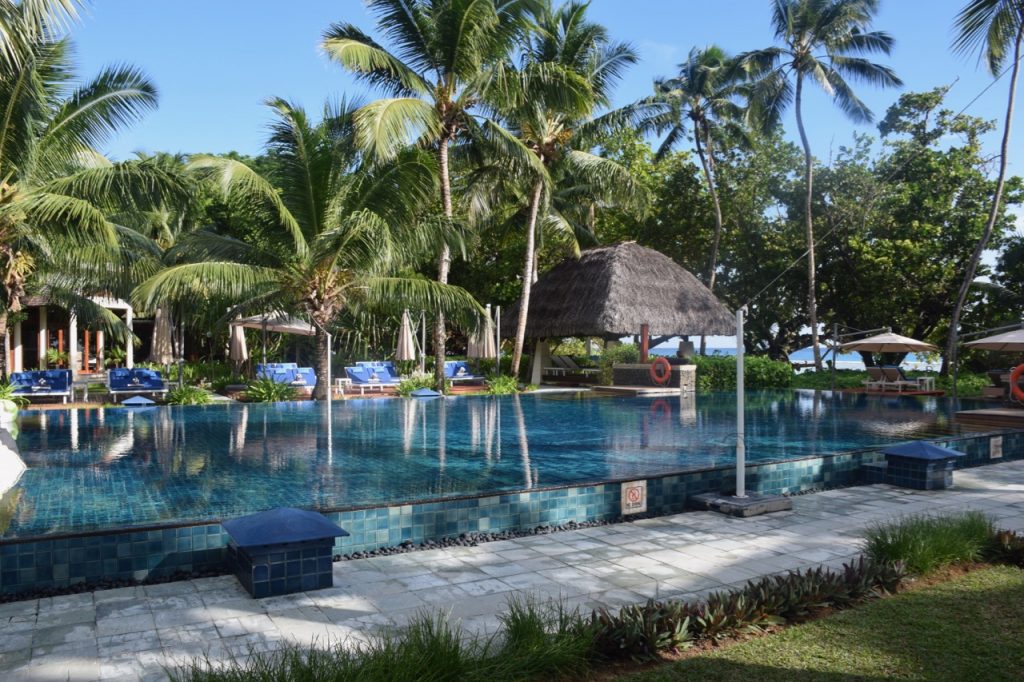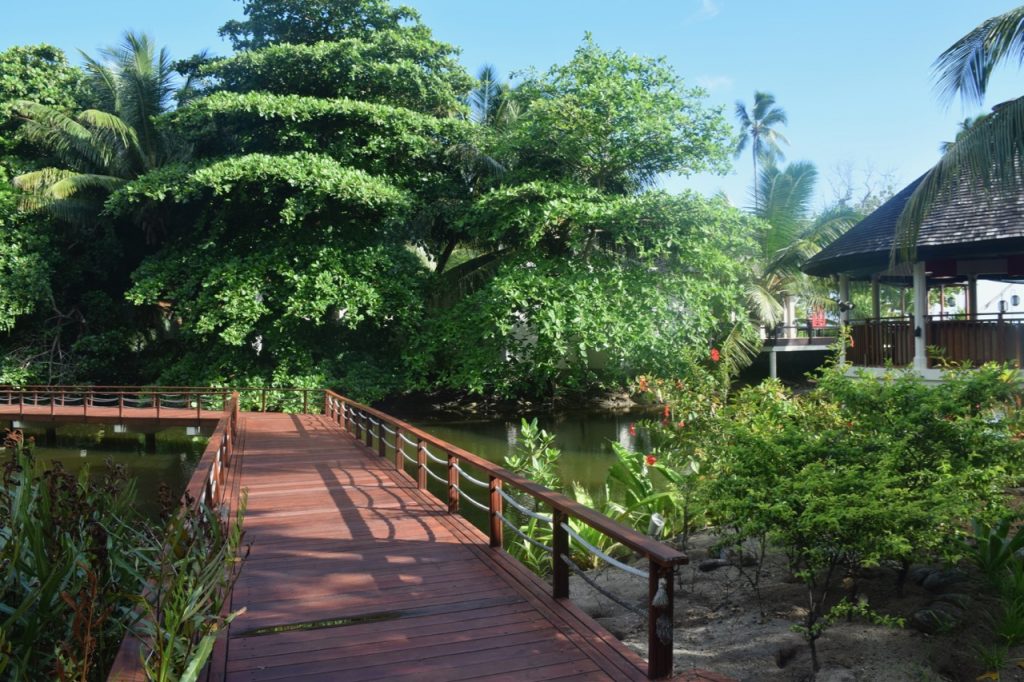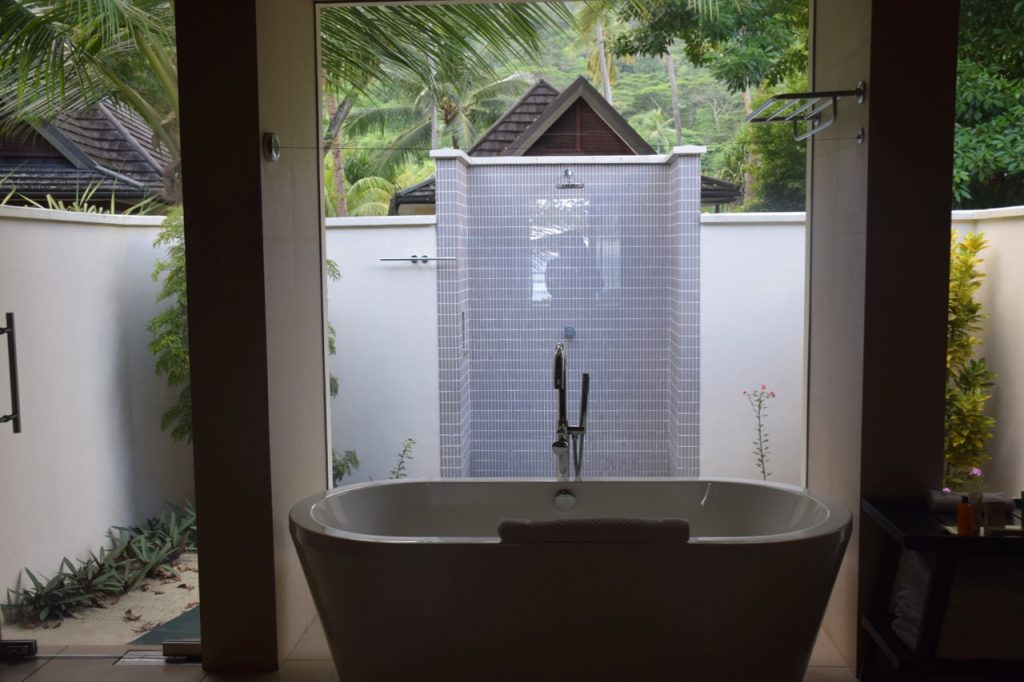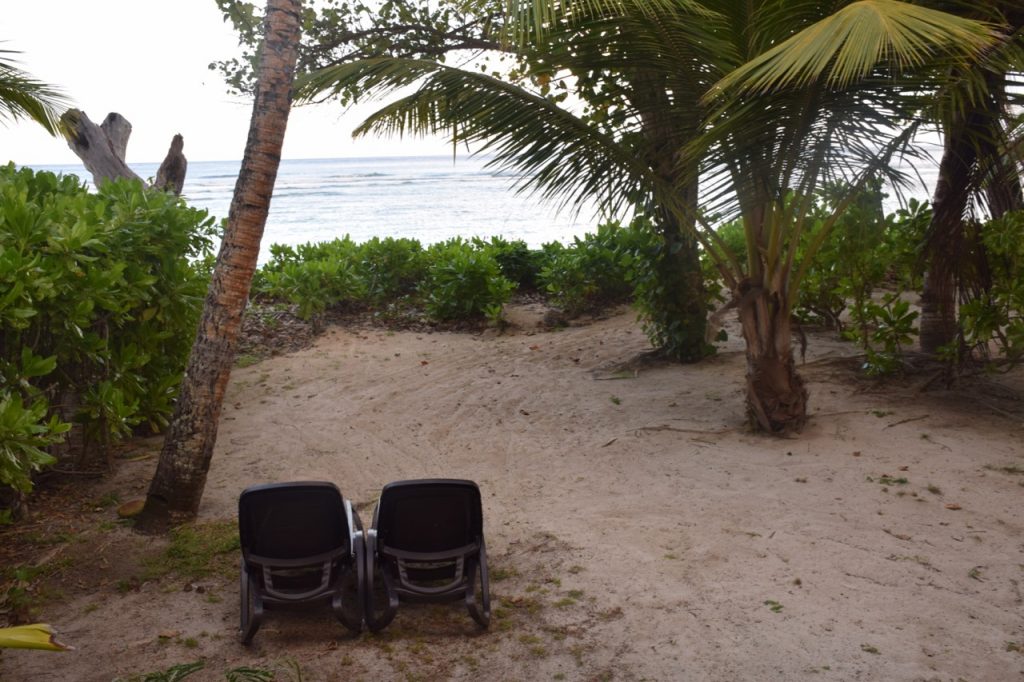 The spa here is set up into the rocks and was perhaps the coolest spa setting I've ever experienced—and I've experienced a lot!!!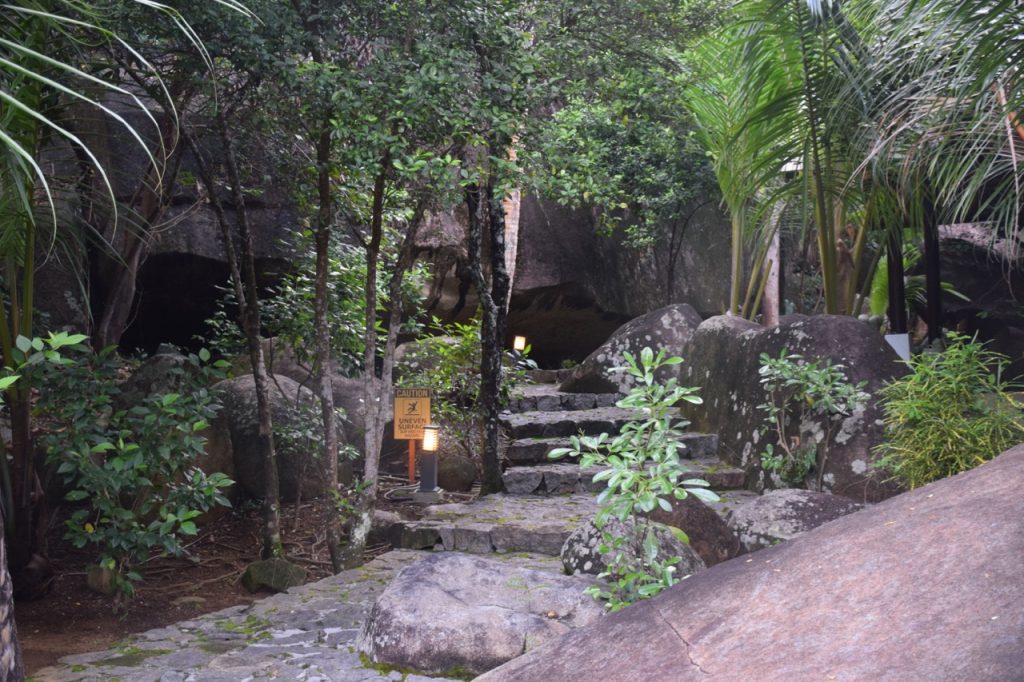 The resort offers 111 private villas, seven restaurants and bars, and a host of things to do.  The cuisine was a bit streamlined and Americanized, but over all, it was a lovely property.
The Constance Ephelia Resort exudes the true Seychelles barefoot vibe.  The resort sits on 120 hectares (almost 300 acres) of lush landscape. The property offers two beaches—one more private and quiet and one that is a bit more active with paddleboards, boats, etc.  The resort boasts six restaurants and five bars with a variety of cuisines and themes present.  I really enjoyed the relaxed, beachy vibe here!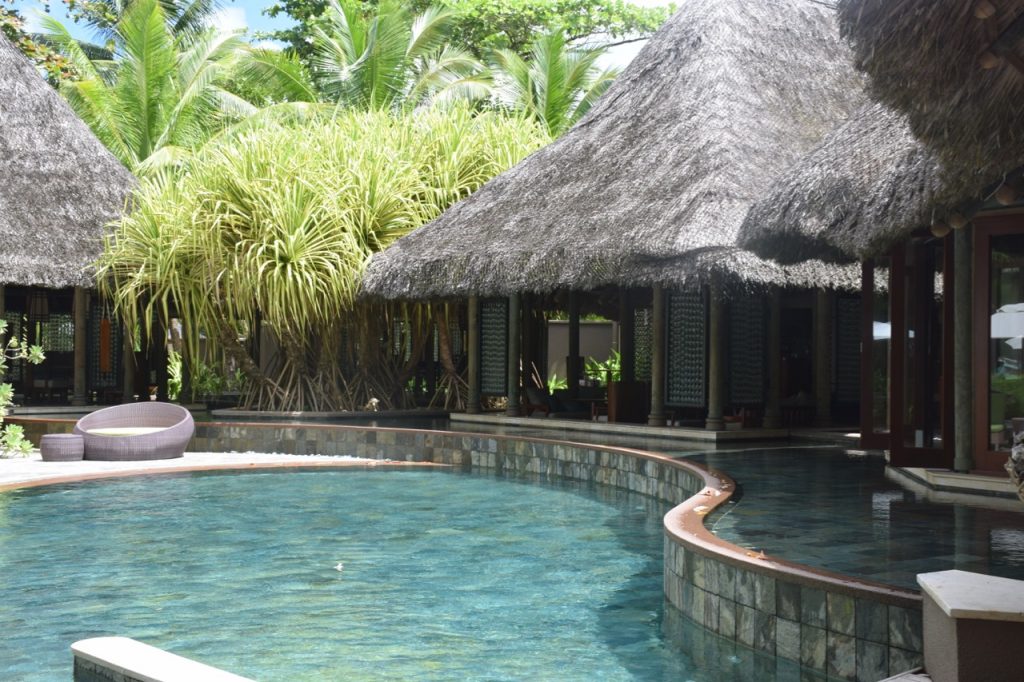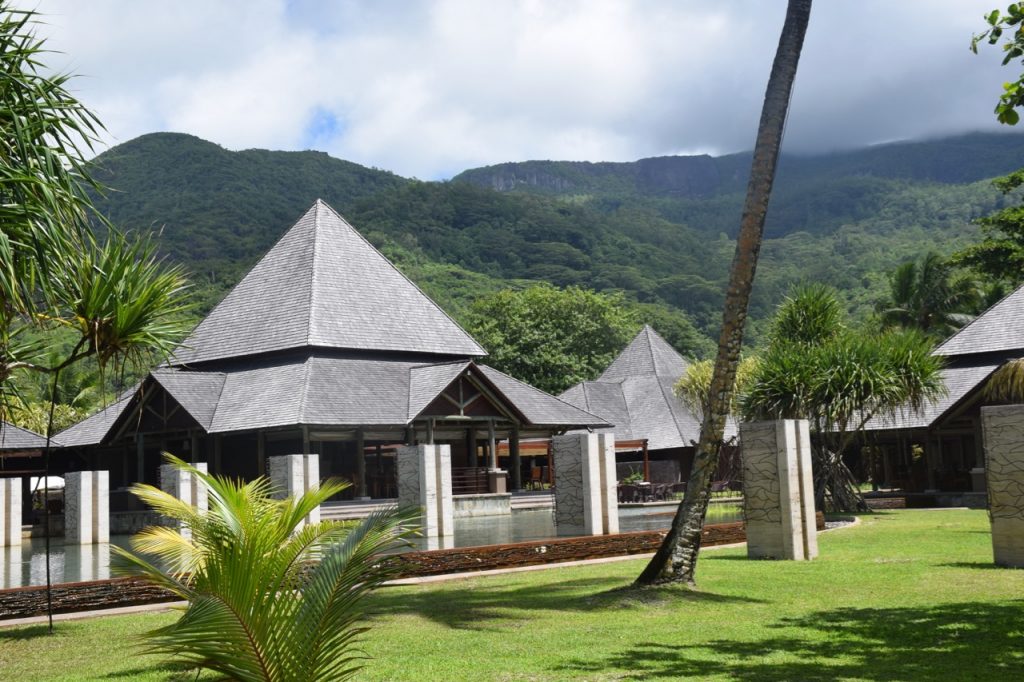 So as you dream about your honeymoon destination make sure you dream prince and princess-sized dreams!
Next:  Musings from My Terrace in the Indian Ocean
Next:  Your Punta Cana Honeymoon
Next: Sabi Sabi South African Safari
Becky Lukovic is the owner of Bella Travel Planning.  She is a honeymoon specialist who custom-designs romantic journeys worldwide.  Her romantic tendencies make her a good fit for couples looking to add special touches to their honeymoons, destination weddings, anniversary trips, and milestone celebrations.  She can be reached at becky @ bellatravelplanning.com or call her at 770-702-0787.  Follow her personal adventures on Instagram.