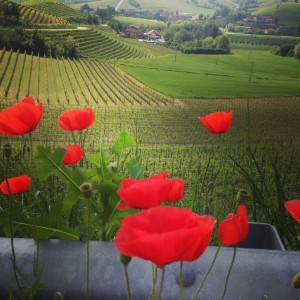 My Fiat Cinquecento buzzes
down the hills of Barolo to my first appointment
and I try not to stall the engine…again.
We dubbed the Fiat St. Benito,
patron saint of lost tourists
and tight roundabouts.
St. Benito speeds through a maze
of dirt roads
past an orange sign we translated detour…
or was that dead end?
I practice "I am sorry for being late"
in Italian and try not to chuckle
at the word, ritardo.
As my foot hits the freshly scrubbed floors
of the hundred-year-old cellar,
I am enveloped in a scented stream
of yeast, Barolo and bleach.
Stainless steel soldiers line up along the wall
holding bold Barberas
awaiting their coming of age.
Barriques of Slovenian wood
soften year-old Nebbiolo
imparting hints of oak for balance.
The tulip-shaped Riedel balances in my hand.
Its fragile, soft stem supports my tendency
to over-swirl as I tilt the glass
to examine the rich, red wine.
My palate plays with pepper and spice,
raspberry and chocolate.
dolcetto,
barbera,
barolo,
nebbiolo
06, 07, 08, 09
La Signora holds a turkey baster
full of wine from the top of the barrel
of last year's harvest.
The baster is a wine thief in English
and I ponder if I could
slip out a half-empty bottle
of Riserva in my giant red travel bag.
I savor the young, purple, yeasty offering
and wonder if it will round with age
like a woman after childbirth.
The sun sets over the
vine-covered hills of the Langhe
bending its orange glimmer through my glass.
Scribbles and ratings line my brown leather journal
a remembrance of tasting
twenty wines in four hours.
I hope St. Benito knows the way home!
Next:  Mask Making in Venice